Design Show
In the first year of the two-year Manufacturing Engineering Tripos (MET) course, teams of three or four students complete a major design project to develop a new product, with real business potential.
Dr James Moultrie was awarded a Pilkington Prize in 2017 for his exceptional work on the Design Show.
Design Show 2019
Manufacturing a Better World
Having first identified a customer need, they research the market, developed original design concepts and create a full business plan. Projects from past years have generated some exciting new ideas and innovative technology, with a number of prototypes going into commercial production and winning national prizes.
Students put together displays to explain the technical ideas and business potential behind their design work. The projects are always diverse and normally include conceptual solutions, technical and experimental designs. Students are encouraged to produce and show working prototypes wherever possible.
---
CocoPress
CocoPress provides a manufacturing solution to create a biodegradable fibreboard from waste coconut husks. This creates a higher value product for coconut farmers to sell, ultimately improving their livelihoods.

In 2016 the price of coconuts dropped by 60%, leaving millions of coconut farmers suffering. 44 million tonnes of coconut are farmed each year and 70% of this mass is the coconut's husk which is discarded as waste. Creating value
from waste is one of CocoPress's core principles, using the abundant husk to create our fibreboard. CocoPress down-sizes an existing industrial process to make production of fibreboards accessible to farmers at a local scale. Our frame withstands 50 tonnes of force to apply the high pressure required to make the board. The prototype has incorporated an electric heating mechanism to facilitate the lignin reaction. In practice, a woodchip boiler would apply heat in a controlled way. The boiler can be powered by coconut husk charcoal, meaning the farmers incur
minimal fuel costs during the process.

CocoPress'' fibreboard has comparable properties and applications to Medium Density Fibreboard (MDF). The high lignin content in coconut husk acts as a thermosetting binder when it is heated above 150°C. This means, unlike MDF,
coconut fibreboard does not require the use of a toxic resin to bind it, making it both bio-degradable and non-toxic. The price of timber is rising and making MDF more expensive. CocoPress's fibreboard will become increasingly economically viable in comparison to MDF as timber prices rise and will also reduce deforestation by reducing demand on timber.

The CocoPress has versatile applications. It can produce strong tiles for flooring or construction. With other moulds, it can be used to produce biodegradable dinner plates, bowls or cutlery. An upcoming ban on single-use plastics could facilitate an increased demand for these products, supporting a steady secondary revenue stream for coconut farmers.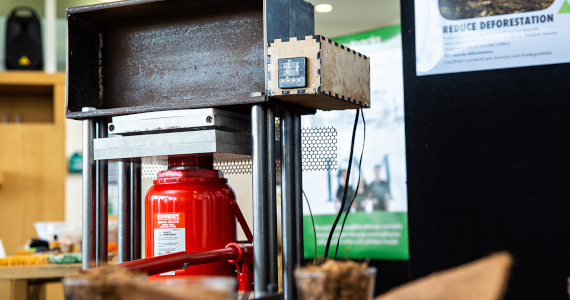 Team: Taejoo Kim, Ryan Ng and Georgia Semple
---

CoCoal
CoCoal's open-source technology aids communities in rural Kenya. Our low-cost method produces high quality cooking briquettes from coconut charcoal.This simultaneously reduces waste, deforestation and household energy expenditure.
In Kenya, wood fuel comprises 70% of the national energy mix, with approximately 90% of rural households reliant on either firewood or charcoal. This is leading to vast levels of deforestation. The FAO estimates that 75 million hectares of African forest were lost between 1990 and 2010. In addition, global charcoal prices are expected
to triple by 2050. This combination of high reliance on charcoal and rising prices is putting significant pressure on the environment and the finances of rural households.

Coconut shells contribute up to 20% of all waste in many rural regions of Kenya and can take up to 20 years to biodegrade. These shells are energy dense and provide an opportunity for tackling the charcoal problems outlined above. However, direct burning of coconut shell releases toxic gases and loose charcoal does not burn well, limiting their current utilisation. Our technology exploits this opportunity by enabling rural communities to construct a low cost machine, using locally available materials, that produces high quality cooking briquettes from loose coconut charcoal.

Our multi-stage process first crushes the charcoal down to an optimal particle size, before being mixed with water and Cassava starch, a locally available binder material. The mixture is then pressed in batches and allowed to dry, to form
solid briquettes.

By open-sourcing our technology to rural communities, we will enable them to produce energy-dense cooking charcoal from their food waste. This will provide Kenyans with a viable business opportunity, will limit deforestation and will decrease household spending on cooking.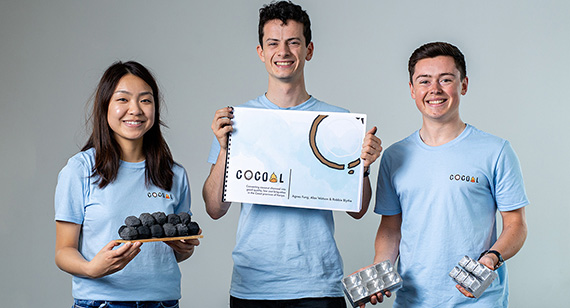 Team: Robbie Blythe, Agnes Fung and Alex Watson
---
The River Point Project
The RP01 from the school-based River Point Project classifies microplastics from surface-water samples according to size. The data is then centrally collated and made accessible to researchers worldwide.
The River Point Project is a global community-based initiative with a dual purpose. It aims to educate school children on the environmental impacts of microplastics by bringing lab-scale technology into the classrooms, whilst providing valuable crowdsourced data to researchers and organisations across the world.
Microplastic contamination is a field of study that has been gathering momentum in recent years. However, there is still much work to be done to fully understand the extent of microplastic pollution globally. Almost all available methods of collection and quantification of microplastics in sediment, sand, and surface-water samples are lab-based, labour intensive and lack standardisation.

With the non-for-profit River Points Project and device, we hope to develop a field-based solution to the above issues. Samples from local rivers can be collected and fed into the RP01- a fully integrated device that is accessible and easy to use. The sample undergoes a preliminary filtration stage before being pumped through a microfluidic flow cell. The flow cell employs the principles of pinched flow fractionation causing microplastics to be separated from organic material, and classified by size. A final filtration stage with optical microscopes is used to collect and quantify the microplastics. The data is then logged onto a central database, which we hope to share with researchers across the world.

The short term objective is to introduce the Project to selected local schools and any findings will be used to refine the design. The following step is to distribute the device to schools across the UK. Our ultimate goal is to develop collaborative relationships with schools and research institutes worldwide and build an extensive information network on microplastics whilst contributing to the education of the next generation.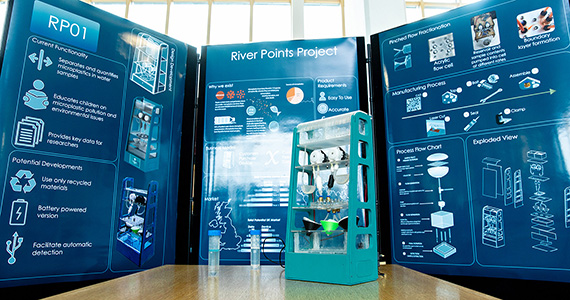 Team: Georgia Everest, Shwan Rasoul and Helen Shao
---
Senserene
A pod proving sensory reduction, safety and comfort to children suffering from autism spectrum disorder. It is designed with flat-pack principles and ease of assembly in mind.
Children with autism spectrum disorder often suffer from extreme sensory overload. This can cause significant stress and anxiety, with the effect being amplified in a school setting. Many classrooms fail to provide the necessary tools to support children with autism and teachers often lack the required training and knowledge to assist.

Senserene's sensory pod aims to provide a safe and quiet space for distressed children with autism in both the classroom and for domestic use. The pod provides three main features for the reduction of sensory overload. Firstly, the pod obstructs the majority of external light, with a sliding door allowing for complete isolation. Internal lighting is available allowing the child to choose the brightness and colour. Next, the pod provides substantial sound insulation, distancing the child from the commotion of the outside world. The final feature is comfort, with soft padding on the inside and a textured finish on the door, while the thick side panels provide the feeling of complete safety.

Similar prototypes to the Senserene sensory pod have been made in the past. We aim to improve on their designs by taking this novel concept and converting it into a real manufacturable product. The pod is assembled from a flat pack, with an intelligent kerf design allowing the curved sliding door to lay flat. The product can be assembled rapidly by one person, with three major components sliding in from a single face. Each component has been designed with careful considerations to mass manufacturing capabilities with the aim to produce an economically feasible product
for schools and households.

We hope that our pod can provide a truly safe, calming and comfortable environment for children with autism while simultaneously helping support teachers and carers, providing an increased quality of life for everyone.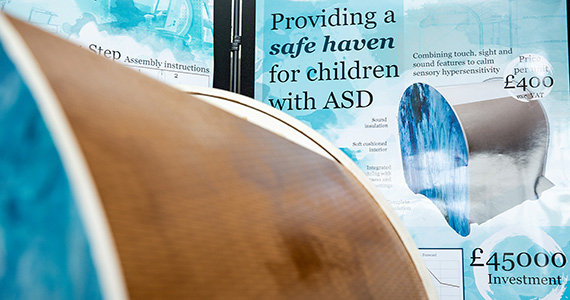 Team: Jonathan Heywood, Daniel Hyman and Erica Lee
---
PuriFlow
PuriFlow is an electrostatic precipitator designed to remove particulates from the air. Mounted on lamp posts, and completely self-cleaning, this technology can be rolled out in cities, where pollution is worst.
Nine million people are killed every year as a direct result of exposure to air pollution; 91% of the world's population lives in places where air quality exceeds WHO guideline limits. We are releasing 10 billion tonnes of pollutants into the atmosphere every year and this is undeniably a serious problem for the planet. Something needs to be done and we believe that we have a technical solution to this problem.
Whilst it requires a more fundamental societal change to reduce the worldwide level of air pollution from human activities, we believe that a solution can be developed to locally clean the air we breathe. This is why we have created PuriFlow; an electrostatic precipitator (ESP) which uses the Corona Effect to charge and eliminate particulates from the air. ESPs already exist in households, as well as on the industrial scale, but there is yet to be a high volume application of this technology on roads. We have created this ESP to provide an affordable and effective solution to the urban air pollution problem.

In our proposed design, the ESP will be deployed in batches of tens of thousands, strapped to lamp posts across busy metropolitan areas. We aim to reduce the operating cost and preserve the effectiveness of the ESP by innovating a self-cleaning system. The self-cleaning will be achieved by periodic vibrations to loosen the collected matter, which will then be collected in a container that only requires cleaning once every few years.

We look to work with government agencies in implementing this solution and we aim to deploy this product in heavily polluted cities, such as Beijing and New Delhi, particularly where traffic congestion is a significant contributor to air pollution. PuriFlow aims to become the main distributed air purification solution provider to governments worldwide.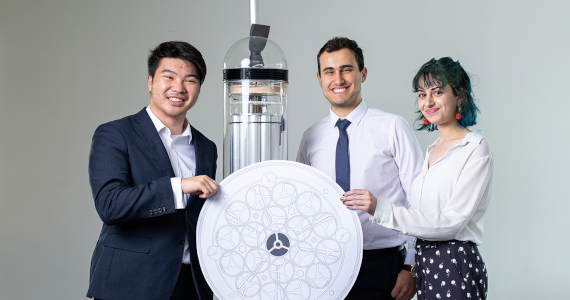 Team: Darius Danaei, Sian Evans and James Lee
---
Pulpacks
Pulpacks provides a unique packaging solution for small eco-conscious businesses. The automated process converts recycled paper into pulp packaging by using suction onto a 3D printed mould.
Recent legislation on single-use plastic and the 'David Attenborough Effect' have brought the problem with current packaging solutions into the public eye. Consumers are increasingly making purchasing decisions based on how green the packaging is. Most commercial plastic is non-renewable and non-biodegradable, which leaves a scar on the environment, especially in the form of ocean pollution. Paper is a sustainable alternative which can be easily recycled.

Pulpacks leverages these properties to make sustainable packaging using moulded paper pulp. Small businesses would benefit from unique eco-packaging for their products, but the current cost and minimum order size limits what they can economically choose. Pulpacks will provide a new option for these companies using
3D printing technology to make customised moulds for moulded pulp packaging production. With our automated system, the capability for small batch sizes and fast mould swaps will allow for a leaner, more agile and more flexible approach to packaging. Transportation is effectively reduced by the distributed manufacturing network, further enhancing the environmental benefits of our product.

The feedstock is provided in the form of blended water and paper. 3D printed moulds, which are tailored to the business' products, are dipped into the mixture and the suction from the pump traps paper fibres into a layer of material on the surface. Complex channel structures allow for even suction. A reverse mould releases the packaging forms. The packaging is then baked and ready for use.
Pulpacks has the potential to expand its product to include integrated baking and blending technology, as well as advanced computational tools to automatically develop mould channel designs for optimised suction.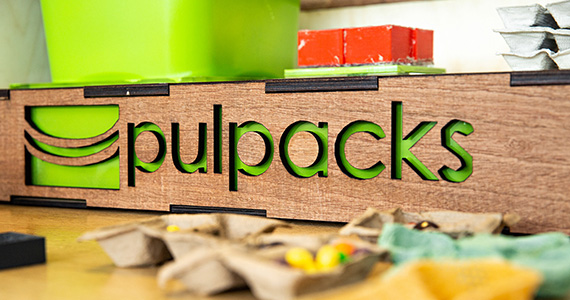 Team: Harriet Caisley, Owen Chen and Chrisian Repole
---

MeatFreeMe
MeatFreeMe encourages everyone to reduce their meat consumption by providing a delicious alternative. Simply add the ingredients in the morning, and by evening have your very own vegan chicken breast.
Healthy Diet. Healthy Life. Healthy Planet.

More than a third of people in the UK are either vegan, vegetarian or trying to reduce their meat consumption. This has a large environmental benefit, as going vegan can reduce the carbon footprint of a typical diet by 40%.

The MeatFree Maker provides a simple and delicious alternative to store bought products or making vegan products by hand. It integrates the kneading, blending and heating stages, which leads to protein alignment and mimics the texture of real meat. The process is automatic and can be controlled by an app, which means the only user input is adding the ingredients at the beginning. After the processing is complete, the resulting vegan meat can be cooked in many different ways. This allows the user to experiment with cooking without meat, changing the recipe to fit their own particular tastes. There is no other product currently on the market which allows the user to do this in such a quick and easy way.

By providing this alternative, it is hoped that more people will reduce their meat consumption. Therefore a major aim is promoting universal understanding of sustainable lifestyles, or Goal 12.8 of the UN Global Goals. It has the further benefits of promoting healthy lifestyles for the individual, by offering convenience and the ability to control their diet at a low cost.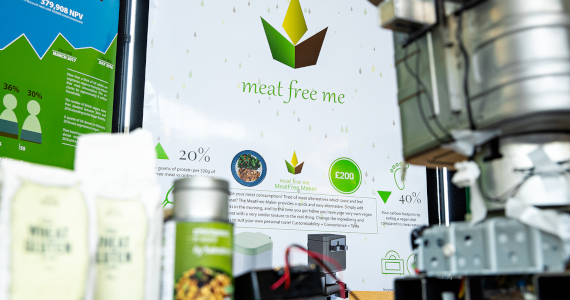 Team: Patryk Balicki, Lin Bowker Lonnecker and Becca Clarke
---

PastePadi
PastePadi aims to reduce tomato wastage in Nigeria. Using pedal power, low cost materials and a bit of exercise, farmers can create tomato paste and transform their lives.
In Nigeria, approximately 45% of tomatoes produced are lost due to a variety of post-harvest losses such as a lack of storage facilities, long distance to market and the poor transport network.
Although Nigeria is the 11th largest tomato producer in the world, it is currently the largest importer of tomato paste. However, with the impending ban on tomato paste imports, the market for locally produced tomato paste is set to grow exponentially. By using this machine, farmers in tomato-growing regions will be able to gain a secondary source of income and extend the shelf-life of their tomatoes. As the processed product is worth significantly more than the raw material, this product will dramatically improve the livelihood of the farmers.

The first stage in the process is boiling the tomatoes, then crushing and sieving it before finally evaporating the excess water and packaging it. The machine we have developed uses a pedal-powered crushing mechanism, creating a simple way to separate the skin and seeds from the fleshy insides.

Our design focuses on easy assembly. Using our starter pack, simple instruction manual and an old bicycle, any farmer will be able to create their own tomato paste machine.

In order to reach as many farmers as possible, PastePadi will be a not-for-profit social enterprise partnered with charities and government organisations. Although we start in Nigeria, this product can potentially give value to farmers in many developing countries around the world.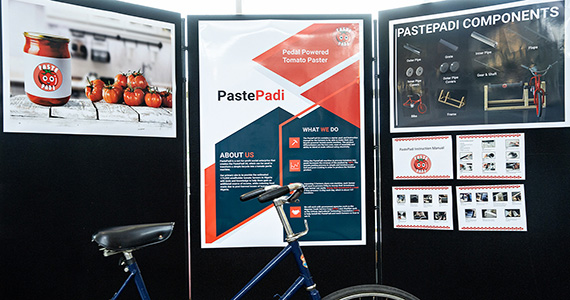 Team: Tami Austen-Peters, Cathleen Law and Owen Underwood
---
RAD TouchCut Pro
An educational tabletop CNC router, where the cutting paths are drawn directly onto an image of the workpiece via a touchscreen. Much safer. Much faster. Much more inspiring.
The secondary school Design and Technology curriculum is often criticised for being too far from industry. Younger students (Year 7-9) in particular, can struggle to understand how certain complex machining operations are carried out in the real world. TouchCut Pro aims to bridge this gap between the classroom curriculum and the industry processes, while providing a practical classroom tool for student projects.

The operation of our product has been designed to be as user-friendly and safe as possible so students are able to use the product without direct supervision from teachers. A student can clamp any piece of wood (within A2 size) onto the machine bed. They use the built-in camera to capture an image of the material which is displayed on the touchscreen. Next, they draw shapes to be cut out, directly onto the image, then watch as the machine follows an identical cutting path to the one drawn on the touchscreen. In order to allow the student to gain a greater understanding of the machining process, our product is partially transparent so the mechanical system inside can be viewed.

The touchscreen interface has been specially designed to be interactive and kids-friendly with the utilisation of bright colours and large, intuitive buttons. With the aid of basic and advanced tutorials pre-loaded onto the router, students should be able to get familiar with the CNC router controls much quicker than those on traditional machinery. Similar to the touchscreen interface, the design of the overall router will incorporate primary colours and standardised controls.

In the near future, an online open-source platform will be developed which will allow teachers to design lessons centred around using TouchCut Pro, and share them online allowing them to be downloaded anywhere in the world.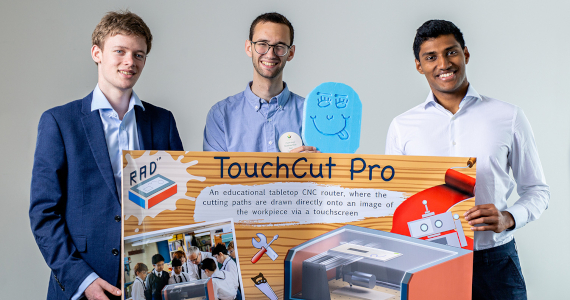 Team: Dylan Bogod, Rory Dyer and Akhil Sonthi
---

PowerTrak
PowerTrak is a comparatively cheap device for measuring the power you expend in cycling. Thesemeasurements will be transmitted via Bluetooth and can easily be viewed using our PowerTrak app.
Welcome to the PowerTrak, a comparatively cheap device for measuring the power you expend in cycling. This will be achieved using a laser and camera set up mounted on the crank of the bike. This measurement is transmitted via Bluetooth to your phone and your performance can easily be viewed and tracked using our free PowerTrak app.

Our main motivation for making this power meter, besides our shared passion of cycling, is that current power meters on the market are extremely expensive and so we wanted to find a cheap way of making one while using advanced, but affordable technology. The PowerTrak aims to bridge the gap between the average cyclist and cycling enthusiasts. Enthusiasts will have an interest in keeping track of their performance, monitor their strengths and work on their
weaknesses.

Many power meters on the market are already positioned on the crank arm. Our product differentiates itself from these by not using a strain gauge/load cell configuration, which is the main reason these appliances are priced highly as these components are expensive. Instead, we opted to use a laser and detector set up, as these components can be sourced cheaply; this gives PowerTrak a competitive advantage. The main function of our project is to demonstrate the functionality of this technology; we recognise it may need further development and investment in
order to take it to the mass market.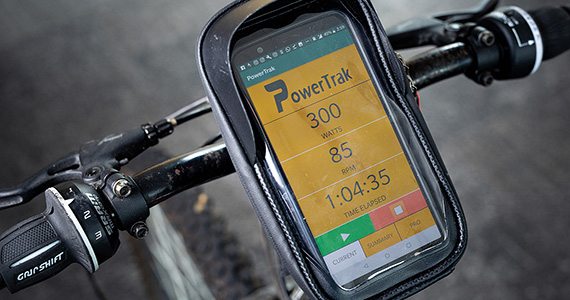 Team: Anirudh Govil, Kyung Mo Koo and Abdi Oma
---
Previous Design Shows
Check-out the entries from previous years: