Design Show 2015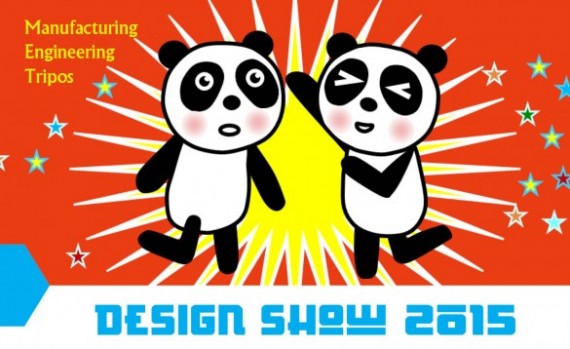 Teams of third-year MET students have completed a major design project to develop a new product with real business potential, which they then presented at the Design Show on 3 June.
The Manufacturing Engineering Tripos (MET) course is a programme for third and fourth-year engineering students who have successfully completed the first two years of an engineering degree.

MET takes the best engineers and provides them with the management competence, business acumen and interpersonal and organisational skills they need to become world-class leaders.
Below is a list of the 2015 projects presented at the Design Show:
---
The Dot.Motion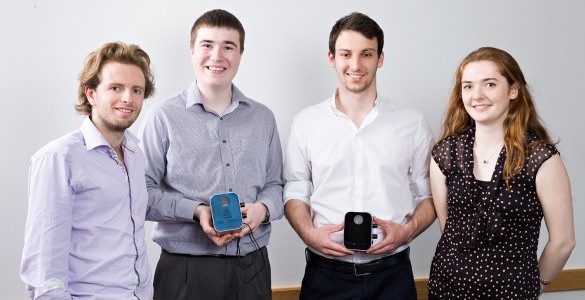 The Dot.Motion is a laser music visualisation system. When music is played through it, a series of laser patterns are created which 'dance' on the wall in time to the music.

A laser beam is reflected off a pair of mirrors, which are attached to two speakers. As music is played through the speakers the mirrors vibrate, creating dynamic and exciting patterns which appear to 'dance' in time to the music. Unlike existing competitors, our system offers a higher level of reactiveness to music without needing to spend vast amounts of time programming complex effects.

The focus on the aesthetic design of both the product itself and the effects produced offers a refreshing change from the low-quality and unimaginative options currently available. Additional key features include a strobing effect, filters to improve visual output and multiple laser colours to enhance the user experience. A 'volume' control is also used to allow the size of the patterns produced to vary from a subtle display through to a spectacular, immersive experience.

At first, we will target the poorly exploited retail and hospitality market as an alternative to their current interior decoration products, such as fish tanks and artwork. With an estimated global demand for 470,000 units and a high margin, this is a strong initial market. Entry into more competitive markets, such as home users, would follow soon afterwards, using the earnings from initial sales to fund future development.

This will be a premium product leveraging good looks, superior performance and high levels of usability to create value for customers. Through extensive use of standard parts and quick-to-assemble design, the manufacturing costs are kept low, which gives the potential for high profits.
Team
Robert Alner
Louise Ashenden
Jørn Emborg
Daniel Yanev
---
Ice Ice Maybe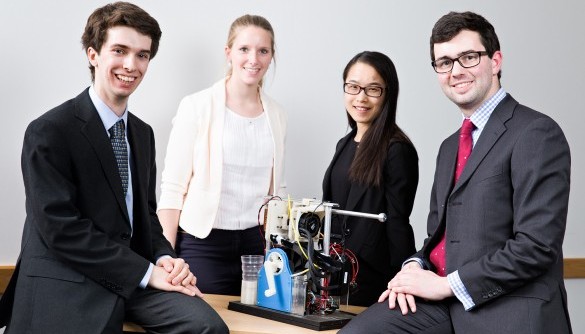 A compact and stylish on-demand ice-maker that frees up freezer space used by traditional ice makers. Innovative cooling technology forms cubes from any liquid, or cools your drink directly.
Consumers pay a premium of several hundred pounds for 'American-style' fridge-freezers with built-in ice makers, which make ice in trays over several hours and store it for later use. Aside from being expensive, these ice-makers can occupy up to a third of the space in the freezer, can only hold a limited volume of ice, and are not retrofittable to existing freezers. Stand-alone ice-makers work in a similar way, and need to be left out on a counter, so are usually only used in hotels and pubs.
Our on-demand ice-maker is compact, easy to use, and attractive enough to be stored or kept on the counter, like a coffee machine. It can be developed to produce a number of ice cubes from fresh, filtered water, or from your drink in seconds – so melting ice doesn't dilute it. It can also be configured to cool a drink instantly as it flows through the de ice.
The team looked at a variety of ways to cool water to form ice rapidly, and form it into cubes – a difficult technical challenge. A standard refrigerant cycle is too slow and requires complex (and expensive) components, so instead they exploited the thermoelectric effect, where passing electricity through a junction between two dissimilar metals produces a temperature difference. This allows thin layers of ice to form quickly, but then this ice layer insulates the cooling element, making it hard to form whole cubes. Various ways of making these thin layers into cubes were explored, drawing inspiration from industrial processes such as injection and dip moulding. A key challenge was dissipating the heat removed from the water, achieved by using a closed-loop water cooling system with radiator.
The 'proof of principle' prototype on display demonstrates basic functionality but could easily be scaled up for faster production.
Team
Jack Fellows
Martha Geiger
Archie Lodge
Kaimei Zhang
---
Beacon ACE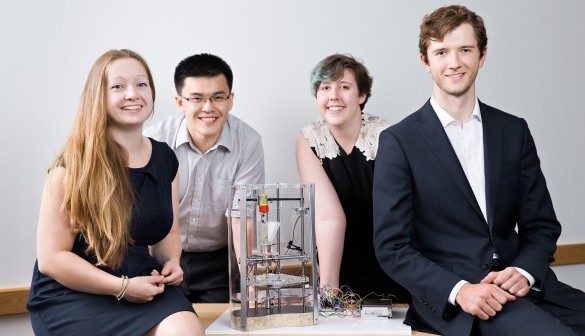 Our project is an automated variable candle-maker for the luxury gadget market, aimed at arts and technology enthusiasts. The machine can be programmed to print many different candle types.
Unlike current commercial 3D printers which use plastics, such as PLA, we decided to extrude wax and use that process to form candles. Although there are some specialised wax 3D printers, there are currently none for the commercial market, and nothing specifically for making candles. The overall vision for our product is a candle-maker where the candle produced is influenced by external inputs from the surrounding environment (such as motion, manual control, noise, light etc.) Our product would be aimed at the luxury arts and crafts market, intended for use in the home and in art-related shops and galleries.
There are many interesting challenges associated with wax extrusions and candle formation: how to incorporate the wick in the design; how to control the temperature of the wax so it could be extruded in near-solid state, not dripped; how to control the feed rate of the wax and subsequently the motion of the 'printer'; how to control the shape of the candle; what are the limitation of the shapes we can produce; and many more.
Our aim for the project was to produce a functional prototype that would be able to print a simple candle design from wax pellets. This prototype would need to store wax, feed into a heating element at a steady rate, have movement on three axes (radial movement of extruder, vertical movement of bed, rotation of bed), and control all these actions. This involves significant mechanical and electronic challenges, but we are confident we can deliver a working prototype, paving the way for future development. In the future we would hope to improve our product by adding support for more complex designs and environmental interaction.
Team
Ellie Griffiths
Melissa Leonard
Titas Sokolovas
Edmond Wang
---
ReelCycle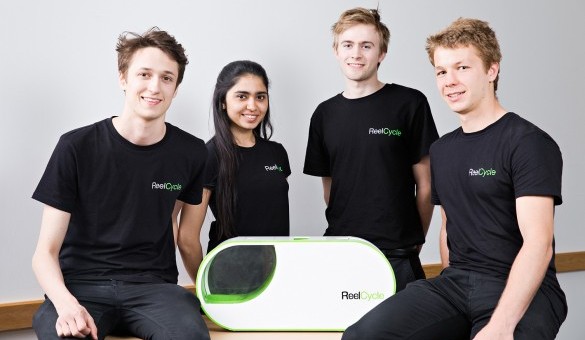 3D printing is exploding in popularity, but generates considerable scrap plastic. The product recycles this back into a cartridge for the printers, saving £30/kg for the operators. Unlike existing machines, it is fully integrated, making it the most consumer-friendly on the market.
Despite 3D printing's innate appeal and potential, it is currently expensive, unreliable and complicated to use. Many businesses already use 3D printers for prototyping during the design process, but many are now increasingly harnessing it in more conventional manufacturing, particularly in niche industries such as motor sports and personalised medicine. As the technology becomes more accessible and is used by mainstream consumers, businesses and academic institutions, it must become more reliable and cost-effective.
The ReelCycle makes 3D printing cheaper and greener to use. It allows businesses and individuals to produce new reels of plastic, which are used in 3D printers as cartridges. These reels are produced using scrap printed parts, or inexpensive pellets, thereby reducing material waste and saving money on printing materials. It requires minimum user input and is reliable, making it appropriate for helping the 3D printing market transition to a more mainstream user base.
The primary customers within the market will be educational institutions and businesses that use their printers enough to generate significant quantities of waste plastic. The ReelCycle will be offered primarily on a service-based model, further simplifying the maintenance for users. The service will work such that the product is provided on a rental basis to the customers, with a monthly charge based on usage of the machine to produce new reels of plastic. Maintenance or replacement and assistance will be provided to customers when required.
Team
Jack Agass
Will Harborne
Nirali Patel
Theo Snudden
---
ProSort CC-60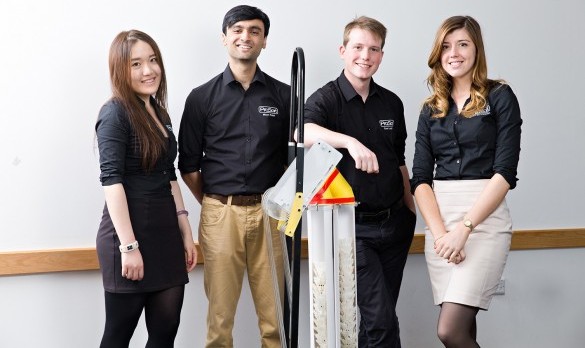 The ProSort CC-60 is a mechanical device to collect, sort and stack shuttlecocks dispersed over badminton courts after training drills. For club and professional players: tedious, manual sorting is history!
500,000 people play badminton every week in England. The game is even more popular in Asia, with 250 million badminton players in China alone. Speed, stamina, strength and agility are essential for developing as a badminton player at all levels, and consistent improvement is achieved through badminton training drills. Drills are a series of repetitive shots performed by a player on one side of the court, with a coach or launcher machine feeding shuttlecocks continuously from the other side.
Although crucial to player development, these drills lead to hundreds of shuttlecocks being dispersed around the badminton court. Players must manually gather and stack shuttlecocks back into long columns, typically 20 each, ready for the next set of drills. This is a time-consuming, tedious and tiring task for players, especially straight after intense training drills. Doing this task by hand was the only viable option, until now.
ProSort is proud to present the CC-60. As the first in the Cambridge Collector (CC) series, the CC-60 is a compact, effective and efficient mechanical device collecting, sorting and stacking up to 60 shuttlecocks. Players no longer have to waste time and energy gathering and sorting shuttlecocks by hand, but instead can use an efficient, effective and entertaining device to do the task with ease.
The CC-60 has a wide entrance to maximise collection of shuttlecocks dispersed across the badminton court. A brush sweeps shuttlecocks harmlessly onto ProSort cables, consistently orienting shuttlecocks head down. A wheel-powered gear mechanism drives the cables, raising the shuttles, and dropping them into 3 ProSlot tubes. Our solution provides a high capacity, easy access and instantaneous stacking effect. Shuttlecocks are sorted and ready for immediate play.
Team
Sarah Barrington
Tianyi Li
Thomas Louth
Milan Patel
---
Strings 'n' Things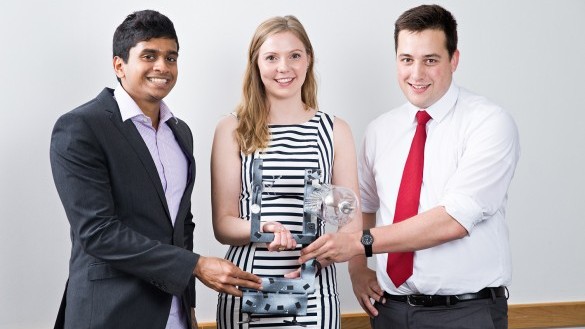 Strings 'n' Things is a new and innovative recycling process. PET bottles are cut into long continuous strings which can then be wound or woven into lampshades, vases, ropes or mats.
Strings 'n' Things enables low-volume recycling to be economically feasible and provides a low-energy method of transforming waste bottles into new products. With further development, the project could contribute to a reduction in the proportion of PET bottles sent to landfill.
At the heart of the project is a simple and effective machine that cuts waste bottles into strings. The strings are then wound around a mould in a unique pattern and heated in an oven. The heating causes fusion of the crossing strings, resulting in beautiful hollow forms when the assembly is cooled and the mould is removed. This process takes advantage of the properties of the string to produce aesthetically pleasing products.
The Strings 'n' Things process would source waste bottles from existing materials recovery facilities. The bottles would then be reformed and the resulting products sold to retailers in the home accessories market who would, in turn, sell them to ethically-minded consumers. The scheme works for business and local government as it reduces the costs associated with sending and storing waste at landfill sites. It is also appealing to retailers and end-users as the products are both aesthetic and environmentally friendly. The low cost of production makes it an economically viable project.
String 'n' Things has the potential for future development beyond the time span of this project. The PET string can be alternatively processed to weave ropes and mats. The business would establish itself using its core process and moulding. Then profits will be reinvested to expand the range of Strings 'n' Things products. The project demonstrates that the solution to a growing problem of waste can provide the platform for a sustainable business.
Team
Benjamin Evans
Susannah Evans
Michael Lin
Naythran Thayakaran
---
Fabricate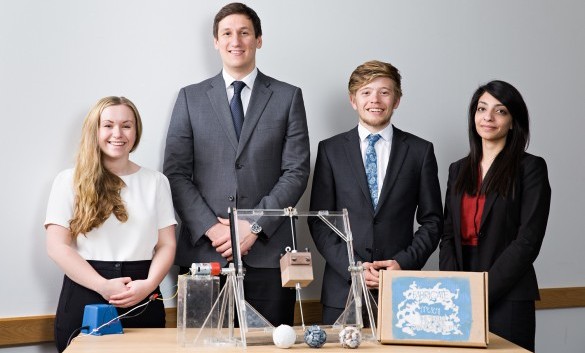 This project is the development of a process for recycling fabric into a composite suitable for diverse applications. Cotton sourced from old clothing acts as the fibre in a matrix of silicone rubber.
250,000 tonnes of recyclable fabric is wasted in the UK each year. Various binding agents can transform this fabric into a product of the desired characteristics and shape. Multiple experiments revealed that silicone rubber was superior in dimensional accuracy, as well as producing a detailed surface finish and a rubbery texture. The project direction then became optimising the process to create a useful composite. A prototype rotational moulding machine, which spins the mould biaxially, was constructed to distribute the silicone rubber uniformly in the mould. Different compositions of silicone rubber and fabric were evaluated to determine possible properties of the composite.
The final product is a kit containing a rotational moulding machine for self-assembly, moulds of varying shapes, silicone rubber and an instruction manual. The kit targets the growing craft market, which is currently worth £745 million. This niche product is aimed at young adults interested in crafts or aspiring craft artists. It can be used either with the included moulds or personalised moulds produced by the customer for their specific application. The product serves two key purposes: firstly, it provides craft artists with the opportunity to explore fabric composites and develop its applications, some of which include practice cricket balls, plant pots, fashionable bracelets and non-slip mats. Secondly, it showcases an interesting technique for reusing fabric which recycling companies could use to run workshops during conferences, presentations and awareness events.
Team
Amy Spruce
Dan Jones
Rabbiya Naveed
Will McDermott
---
The Inclusion Chair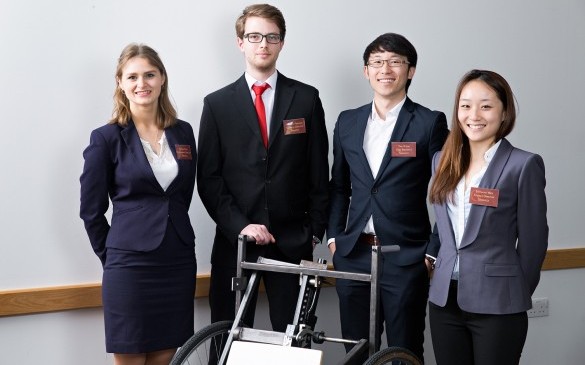 The Inclusion Chair is a revolutionary mobility device that tackles the social exclusion of locomotor-disabled individuals in India from their culture of interacting and living at floor level.
India's diversity has inspired many writers to pen their perceptions of the country's colourful culture. However, a cohort of 2.13% of India's 1.3 billion population is often neglected and hidden behind closed doors. This cohort is the disabled population of India. Where social interactions and living occur at floor level, locomotor disabled individuals are unable to participate when using the only medical device on the market: a conventional wheelchair.
The Samavesa (which means 'Inclusion' in Hindi) is our solution. A mechanical system allows a user to lower themselves to floor level for social interactions whilst maintaining the functionality of a conventional wheelchair at sitting level. We have created a modular design that allows for a vast amount of customisation to accommodate different body shapes as well as variances in disability types. The design not only uses sustainable materials such as a bamboo frame, it also incorporates low-cost and easily accessible materials to enable simple manufacture.
As a social enterprise, our strategic objective is to maximise the profit to society. To achieve this, our goto-market stream is mass distribution of our design in the form of a graphical instruction manual through partnerships with local Indian charities and UK charities with operations in India. Charities have the infrastructural network available to reach geographically inaccessible regions, allowing our target market to have their Samavesa built and maintained by local handymen.
We have hosted a focus group at DIAL disability centre in Peterborough and conducted market research through disability and cultural societies in the University of Cambridge to further understand our user's needs. As winners of the Sustainable Product Design Competition hosted by Ecohouse Initiative, we have also been able to develop our design with external consulting from Cambridge Research and Development (CRD).
Team
Tian Xi Lim
Mateus Pniewski
Georgia Ware
Stephanie Wen
---
L.E.D. Zeppelin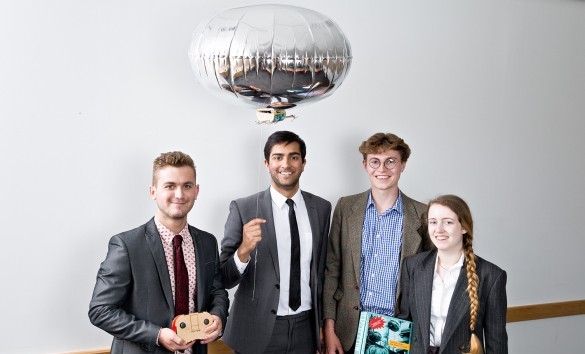 L.E.D. Zeppelin is an interactive toy aimed at the children's, young persons' and office executive toy markets.
A pair of helium airships do aerial battle under the remote control of two (or more) players, firing infrared beams at each other in order to score 'hits' and disable the opponents' control systems. Players start with a fixed number of lives with the winner of the game being the first to eliminate all opposing players.
Our product is built around the Arduino micro-controller using a custom-coded radio control system and game logic. Two-way communication is possible between the airship and the controller allowing in-game feedback and score tracking displayed to the player via the controller.
Our branding parodies the popular rock band Led Zeppelin and this theme has been carried throughout our product. The bold colours and geometric shapes of our art deco-inspired design have been drawn from Led Zeppelin's 'Celebration Day' album cover. This decision was validated by the results of our market research, which also directed us in our gondola design.
Our route to market envisages initial distribution of the product through hobby shops and to hobbyists for testing and promotion. Production will initially be completed in-house on a small scale, using the facilities available at the IfM. Working alongside these first adopters, we plan to continuously improve the product while increasing market share with the eventual aim of approaching a national toy retailer.
Team
Freddie Ashford
Ben Brebner
Mudit Dubey
Elizabeth Fletcher
---
For more information, please contact: