Overview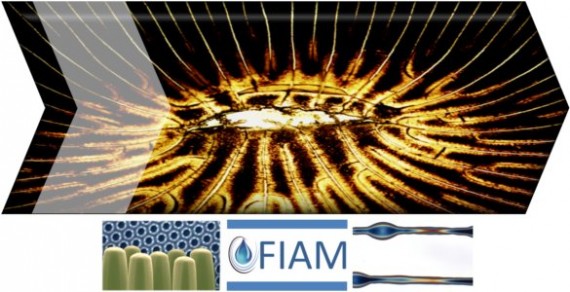 The Fluids in Advanced Manufacturing research group examines chemical and physical phenomena of polymeric, biological and nanomaterials when exposed to advanced fluid-based manufacturing techniques. Our goal is to join emerging technologies with novel routes to incorporation into devices. In a multi-disciplinary and industry-linked agenda, we also consider vital downstream risk factors to allow rapid integration of our work into a functioning industrial value chain.
An exciting programme of research is underway linking fundamental science with fabrication, metrology, characterisation and manufacturability challenges. The application of fundamental scientific analysis is essential when exploring emerging technologies such as nanomaterial-based biosensors or new self-assembled functional polymeric materials for regenerative medicine. Along with this basic research, manufacturing technologies are also being developed and explored to make sure that there is a route to capture value for the UK economy. This involves close cross-disciplinary collaboration with manufacturing management and technology research groups as well as industrial partners. The goal is to leverage these close collaborations spanning the manufacturing system, identify risk factors facing emerging technologies and through scientific understanding of advanced manufacturing drive rapid translation of scientific advances, using a process of "Smart Scale-up".
Our research is currently divided into four aligned themes. These themes have developed from an underlying common interest in the analysis and control of single and multiphase liquid interactions, with a goal of applying this understanding to improving specific approaches to advanced manufacturing.
The four themes are:
Controlling and manipulating the hierarchical structure of polymers, gels and biological materials to develop versatile materials with different chemical, physical and biological properties.
Our research focuses on using digital fabrication techniques to enable novel platform technologies that can be used in environmental sensing, biosensing, drug delivery and biomaterial design.
This work examines the challenges of integrating novel sensing technologies into MEMS, microfluidic and paper-based devices, with an emphasis on flexible fabrication and configuration at the point of manufacture.
Identifying key 'manufacturability' challenges facing emerging technologies. Working closely with the Centre for Science, Technology and Innovation Policy, we aim to develop a systematic process for early identification of manufacturing risk factors.
For further information please contact:
Dr Ronan Daly
T: +44 (0) 1223 766065
Share This