Design Show 2012
MediBox
An innovative solution for the transportation and monitoring of temperature sensitive medical substances. Ed West, Simon Holroyd, Sidharth Khandelwal, Elliott Dobson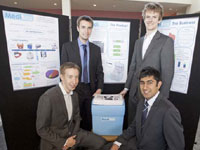 Unlayered
A revolutionary 3D printing technology that exploits submerged material consolidation for a rapid and novel manufacturing process. Logan Bishop, Mason Edwards, Charlie Hughes, Wai-chuen Cheung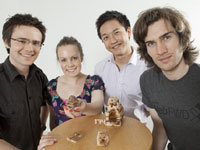 Hefti
A beekeeping aid to monitor the hive weight enhancing the chance of bee survival in the winter. Dan Ayres, Poppy Brewer, Fiona Gillanders, Jenk Kilich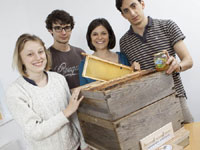 Pulse
Pulse enables deaf users to perceive sounds and their directions in unfamiliar environments.
James Lobo, Helen Hoogewerf-McComb, Lawrence Baynham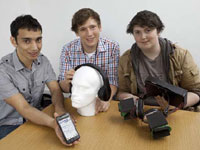 Rotary Cone
Safer, cheaper and more hygienic powder-lump prevention for the food processing industry.
Pippa Horton, Arron Rodrigues, Robin _míd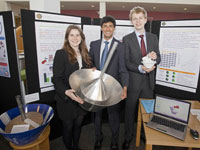 Soteria
A device to protect motorcyclists from injuries caused by excessive head movement during collisions. Helen Dean, David Hotchkiss, Sam Massey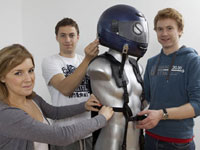 Refleks
A solution to reduce the impact of potholes by forewarning motorists. Nick Schweitzer, Justine Shek and Bryan Sin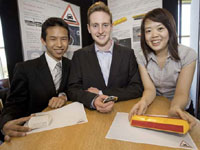 Ectotherm
A device that enables skiers to vary the insulation properties of their jacket. Chris Ashby, Beth Keith, Joel Chong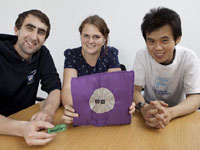 Pegasus Polo Boot
An innovative, hi-tech, polo pony leg protection system. Karin Bergvall, John Ginger, Lukas Wong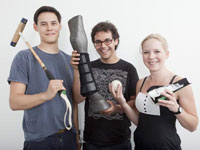 WHB Acoustic C3
High-end headphones that unfold to become a pair of portable speakers. Will Benjamin, Matt Hall, Simon Wolf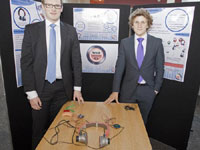 The Ablus Equip
A device for manual wheelchairs to promote independence and improve safety on gradients.
James Evans, Richard Totten, Edward West