Design Show 2016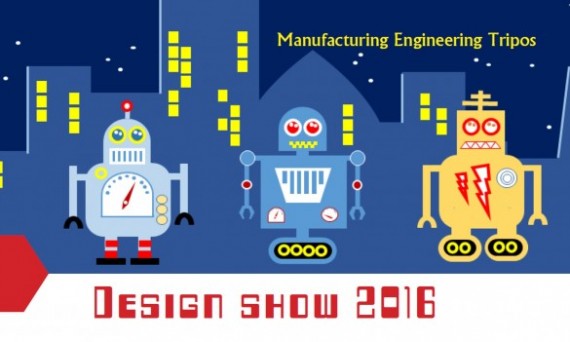 The Manufacturing Engineering Tripos (MET) course is a programme for 3rd and 4th-year engineering students who have successfully completed the first two years of an engineering degree.
MET takes the best engineers and provides them with the management competence, business acumen and interpersonal and organisational skills they need to become world-class leaders.
Over the last year, teams of three or four MET students have completed a major design project to develop a new product, with real business potential. Having first identified a customer need, they have researched the market, developed original design concepts and created a full business plan. The projects have generated some exciting new ideas and innovative technology.
---
BrekTech Wafflestation
The BrekTech Wafflestation is a revolutionary continuous flow waffle production device for commercial use, with potential industrial scalability options. Redefining a standard, it is unlike anything else in the marketplace.
Aimed at small to medium-scale commercial catering, the Wafflestation enables a less laborious continuous approach to waffle production. We've identified an opportunity to challenge the existing standards of the traditional waffle iron that is currently used for both home and mass production – and introduce an automated solution for smaller firms that would not have previously considered this approach. Initially inspired by our College brunches we quickly realised the scope of the market and possibilities within cafes, restaurants and more. We estimate there are over 100 potential business customers in Cambridge alone, from some of whom we have already received highly positive feedback.
The Wafflestation's core competency revolves around its two counter rotating silicon belts that gently extrude waffle in a continuous stream. The belts both support and shape the batter throughout the cooking process with their unique tetrahedral profile. Batter is dispensed from a hopper at a carefully controlled rate before being conveyed through the heating chamber and sliced automatically once cooked. The Wafflestation's adaptive temperature and speed controls enable carefully calculated production and batch consistency. In addition, it is robust to many recipe varieties and consistencies.
The machine itself can be Bluetooth controlled and live data displayed on a screen, enabling remote operation and monitoring – potentially a massive time-saver in a busy and dynamic kitchen. We feel strongly this is an exciting and novel business opportunity in a massive global industry.
Team: Adam Gristock, Anthony Rubinstein-Baylis, Zoscha Partos.
---
Crispeasy
Crispeasy is a compact appliance that produces delicious spiral crisps from the comfort of your own home. The powerful oven and automated slicing system make baking crisps easier than ever.
If consumers want to treat themselves to crisps, they currently have two options. They can either go to the supermarket and buy a packet of crisps or they can make them themselves in the oven. However, a 32.5g storebought bag can contain up to 14% of your daily recommended fat intake and making crisps in the oven is a long and cumbersome process.
Crispeasy offers an elegant, fast and simple solution to this problem. The machine uses an automated slicing system that cuts half a potato at a time into a unique and exciting spiral. The spiral then moves into a powerful oven powered by four heating elements, which allows the process to be completed in under 15 minutes. The oven also contains a pump-powered oiling system that aims to balance the healthiness and crispiness of the snack. Finally, Crispeasy comes equipped with a removable end-mount that allows the user to safely remove the crisps from the oven and store it as it cools.
Even though there are alternative methods for cooking crisps, there is currently no direct competition to Crispeasy. The small cooking appliances market is forecasted to have a CAGR of 2% between 2015 and 2020. Filling this gap in a growing market will help make this a profitable product. We envision Crispeasy being released by Philips, an established firm with a large presence in the kitchen appliance industry. This will allow us to take advantage of the brand image and distribution chains already available at Philips.
The current prototype demonstrates 'proof of concept' and the aim is to develop it over the next 24 months. The final product will be ergonomic and compact as well as coming equipped with the ability to use Nespressostyle flavour capsules and being compatible with a wide range of fruits and vegetables.
Team: Samuel Cole, Daniel Madridejos, Flora Stevenson.
---
AdaptaMould
AdaptaMould is an innovative way to rapidly create moulds for use in vacuum forming. The system uses a series of pins, electro-mechanically controlled to create the desired shape.
3D printing is bringing rapid prototyping to the mass market. Vacuum forming, where a sheet of heated plastic is pulled down over a mould and then a vacuum applied to produce a shaped plastic piece is far from as quick or easy as 3D printing. The process of creating the mould can take up to a week, as they are normally made from wood and require careful sanding to make the correct shape. Our team aimed to greatly increase the speed of this process.
The concept of AdaptaMould is to feed a CAD model into our product, which will then create a vacuumformer ready mould within minutes. The system we have devised consists of two modules. The upper module comprises rows of pins, which can be raised and lowered to create the desired shape. This module fits inside a conventional Formech vacuum former. The second module connects to the bottom of the top module, and consists of a series of motors which move the pins.
We would initially target AdaptaMould at the education market, where the time consuming process of producing a mould is currently a large disincentive to using vacuum forming. Producing a representation of a computer model within minutes would be a valuable tool for any teacher or student. We envisage our product being developed and sold through a vacuum forming company such as Formech.
Team: Michael Daley, Danyal Hasan, Edward Holt, Jordan Salmon.
---
BRICK-E
BRICK-E is a robot designed to reduce the skilled labour requirement in brick laying. With this semi-automated device, unskilled workers can construct brick walls autonomously at low cost. Unlike existing brick laying robots, BRICK-E completes all tasks required to build a straight wall by travelling on top of the wall. This allows it to be cheaper, lighter and more compact.
In the UK, there is expected to be a shortage of 244,000 brick layers by 2020. In Australia, the shortage has driven up the cost of labour to an average of $100,000 a year. Using BRICK-E to replace a skilled worker with an unskilled worker, even at current wages, will result in substantial cost-savings.
The robot will lay both cement and bricks requiring the worker to simply perform a set up and feed supplies. At a length of 80cm and weighing less than 25kg, a single worker can position BRICK-E with ease. By using a unique spacing structure, BRICK-E is able to bypass the traditional constraints on build speed imposed by cement drying. Carrying the load through the spacers rather than the cement, a given construction project can progress at a rate much beyond the typical 6 rows per day. As such, not only will it be cheaper, but also faster than relying on traditional work methods.
BRICK-E will be sold or leased to construction companies. This will enable a developmental relationship in the initial stages of bringing it to market. There are also opportunities to distribute BRICK-E through DIY stores where individuals could rent the equipment as needed.
Team: Maximillian Schinke, Gina Curwen, Hugo Sloper.
---
PolyPack
PolyPack is our innovative solution to creating beautiful, sturdy and environmentally sustainable packaging. The packaging consists of a soft fibrous interior transitioning to a hard plastic shell to provide twofold protection.
PolyPack currently uses shredded PET – sourced from plastic bottles – as a raw material with which to create this pioneering packaging product but could potentially use other plastics. With further research it may even be possible to recycle different plastics simultaneously: a feat that is currently unattainable with conventional plastic recycling methods. Our design offers a unique, low-energy solution to the issues of plastic recycling and packaging waste by turning waste material into something both practical and beautiful.
Our method involves two processes to transform shredded PET to fibres to packaging. The initial process – inspired by candy floss machines – heats a spinning bowl and softens the shredded plastic to be forced through a row of holes. This creates fibres that offer impact resistance and thermal insulation. The secondary process involves filling a heated mould with the candyfloss like material. With careful control of process parameters a hard outer shell is produced with an optimum thickness to balance the requirements of structural rigidity and finish against those of efficient material use and interior cushioning. Through intelligent mould design, PolyPack can also integrate patterns and branding on the outer surface of the packaging to allow a company to produce bespoke and distinctive packaging in-house as part of its manufacturing process.
PolyPack will allow manufacturers and distributors to set themselves apart with original and environmentally conscious packaging.
Team: Cameron Hardman, Laura Tuck, James Veale.
---
Paperbot
Paperbot is a unique new take on the paper mache formula. It aims to layer newspaper and glue on a rotating mould to build up a product, such as a lampshade. Paper mache is usually a messy and time consuming process, but with our machine the process can be dramatically improved, particularly for large scales.
Paper has been around for over 2000 years and is amazing material but it consumes trees that we cannot afford to lose. So we must recycle it but, unfortunately, after 4-6 times the fibres become too short or weak and the paper quality goes down. Upcycling is a popular new concept employed by Paperbot to make a valuable and lasting product by reusing paper without having to break down the fibres again.
Paperbot is a machine that produces paper lampshades by semi-automating the handmade process of paper mache. The bespoke GreenLight lampshades have a handmade, rustic look because of the exposed newspaper without the intrinsic labour cost. High value + low cost = revenue.
The Paperbot machine begins with a hopper of paper and a reservoir of glue. Using a motor, gravity glue is applied to the paper and dropped on to a mould. An innovative positioning system is at the heart of the system that moves the glue feeder back and forth along the mould.

Apart from eliminating labour costs, Paperbot allows for flexibility in the shapes of lampshades that can be made. As this process uses recycled newspaper and inexpensive glue – PVA – the materials costs are also very low. The final product to be marketed and sold is GreenLight, which are unique and desirable lampshades. Although this technology is in its infancy and can only produce lampshades it has the potential to make other products and maybe be improved to be used in other industrial contexts, such as coating.
Team: Lewis Beresford, Seb Fuller St Arroman, Alice Huntley.
---
Bottle Brick
Bottle Brick – the small-scale community PET bottle recycling solution. It recycles and reforms waste plastic bottles into building bricks for the developing world, eliminating use of concrete and reducing landfill waste.
Bottle Brick introduces a novel process of reforming a waste PET drinks bottle into a stackable, interlocking, tessellating shape which may be used as a structural brick. We identified an existing practice in some developing world countries such as Nicaragua and Nigeria whereby bottles are removed from local landfill sites, filled with mud and stacked as building blocks, held together with mortar. The result is a robust housing structure. Having seen this we questioned how the process might be improved. We set ourselves the challenge of making this production process cheaper, easier and even more environmentally friendly. The existing 'bottle wall' requires at least 25% concrete in volume. Not only is concrete expensive, it is non-renewable, non-recyclable and its manufacture contributes to 5% of global CO2 emissions. And so we sought to minimise or eliminate the use of concrete.
We have developed a vessel for the process of heating and blow moulding a bottle at 14 bar through manual labour with the use of a bicycle pump and then cooling the bottle. The output is a well-defined, intricate brick which successfully stacks in a honeycomb formation, significantly reducing the required volume of concrete. The working prototype successfully provides 'proof of concept' and is designed to be easily scalable in order to produce bottles in larger quantities. The rate of production of one bottle is 6 minutes. Scaling to 10 units would allow a rate of production of 100 bottles per hour.
Our organisation would be run as a not-for-profit social enterprise, distributing this product through existing charitable organisations to areas which may benefit from this practice. To our knowledge there is currently no other company which recycles bottles by directly re-blow-moulding them, making this project a worthwhile venture in its own right.
Team: Ruby Gunn, Tom Parker, Laurel Townsend.
---
Fruiticle
Fruiticle enables bars to create straight or curved icicles around a fruit core, for a unique and attractive way to cool cocktails. The unit is self-contained and showcases the icicles.
Fruiticle manufactures customisable icicles to be used as drinks coolers in high-end cocktail bars. The user can create straight or 'wavy' icicles from a skewered fruit core, and place the icicle directly into the customer's glass. The cocktail market is predicted to grow by 50% between 2013 and 2017, and is being guided by the desire for cocktails to be 'instagrammable', with cocktail bars focusing more attention on presentation. The product enables bars to exploit the beauty of icicles in their natural form. Cubed ice is currently the most common form in bars, but our product replaces this with a striking formation that reminds customers of snowtopped chalets and crisp snow.
The product is automatic, self-contained, and easy to use. It consists of two conjoined units: a freezer section where the icicles are grown, and a fridge section where the water is kept cool. The skewered fruit is placed in the freezer across a rack, which can be rotated to create curves in the growing icicles. The rotation is controlled by a stepper motor in a pre-programmed cycle. Water for the icicle is delivered via a feed system designed for the optimum drip rate for icicle formation. This system comprises a feed tube array with sub-millimetre drilled holes and a controlled flow from a chilled storage.
The Fruiticle is simple in style, dominated by a large glass door which allows the customers to see the icicles as they form. It will be sleek and aesthetic, using dark colours to highlight the glittering icicles inside. The controls are simple to use and allow for customisation of the icicles, matching the length to the glass size, or even designing the curvature as desired. We will initially focus on the high-end bar market where the target customer is more willing to pay a premium for this unique attraction. Future market opportunities include novel event decorations, iced drinks in cafés or even everyday home users. In addition, we could integrate new features, for example flavouring the icicles, helical shapes and colour variations.
Team: Chris Barton, Saskia Fullerton-Smith, Karan Gupta.
---
Rotoform
Rotoform uses an innovative rotational moulding machine to produce hollow fibreboard products from a sawdust mixture. Rotational moulding is widely used in plastic manufacturing, with the ability to form thin hollow products allowing lightweight and novel designs. The team has adapted this technology, using an original machine to maximise spinning speeds.
Combining this capability with the use of sawdust allows Rotoform to produce a similar range of fantastic products but using eco-friendly fibreboard materials Using sawdust is part of what makes Rotoform unique. Sawdust is a waste material – 0.4 million tonnes are produced and disposed of every year. Rotoform takes this sawdust and enables the production of eco-friendly products. Achieving the rotational speeds necessary to use the viscous sawdust mixtures was the most significant challenge the team had to overcome. Traditional rotational moulding machines reach rotational speeds of 60 rpm. Rotoform has designed a more rigid machine, which employs powerful motors allowing stable, high speed rotation.
Development of the optimal mixture required lengthy testing, but the ideal ratios of fibres, PVA and water were finally found. This allowed us to minimise drying times and maximise the strength of the fibreboard. A multitude of shaped products can be formed: lampshades, lunchboxes, fruit bowls, stationery pots, etc. The ability to change the inner surface of the mould gives Rotoform a unique selling point. Additionally fibreboard is easily machined and coated, giving the opportunity for post-forming shaping and finishing methods that would be impossible with existing rotationally moulded polymer components.
The use of waste material combined with the ability to form unique, monocoque fibreboard structures enables Rotoform to produce exciting premium products which would be difficult to manufacture in any other way.
Team: Ashkan Ahmadi, Bradley Bull, Jade Evans, Malko Sordo-de Cock.