Stories from recent graduates from MET

Louise Bloom
Medical Logistics Officer, Save the Children
Summary since MET
I worked for 6 months as research assistant in MET on sustainability related projects then 6 months with Engineers Without Borders and another small recycling project in Cambridge. Sept 2008 I started volunteering with Save the Children in the Emergency Team doing Logistics.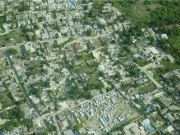 Then started on their Logistics Skills and Development Programme where I spent some time in London learning more about the logistics procedures and policies and then spent 6 months in Myanmar (Burma) working in the Logistics team. I returned from Myanmar in Sept 2009. In Jan 2010 I started working as a logistician for the Haiti Earthquake response, still with Save the Children, I was based in the Dominican Republic for the first 3 months and have recently moved into Haiti.
My job involves
Supply chain management, warehouse management, communicating with our programmes regarding the supply of their goods. Customs clearance, dispatching of goods to our field locations.
The best things about MET
Team work, applied engineering – real life projects in industry. Design elements – allow you to be creative. Developing business acumen and presentation skills.
---

Kate Dooley
Producer, Heston Blumenthal's Great British Food, Channel 4
Summary since MET
On leaving MET I found myself drawn to the communication of science and engineering. Over the last few years I have worked across a range of factual TV programmes from David Attenborough's Micro Monsters on Sky 3D to BBC One science magazine show Bang Goes The Theory. It's my background in engineering which offers me a unique perspective in bringing science to the screen.
My job involves
No day is the same - I could be searching for dinosaur bones in the Wyoming plains, sending an atomic clock around the world to explain the theory of relativity, interviewing James Watson about discovering DNA, filming a rocket launching into space or finding experts to help me work out how to sail across the Channel on a vessel made of ice. The most important and exciting part of the job is finding the people who have amazing stories which capture the imagination and then working out the best way of telling their story on screen.
The best things about MET
MET gives you a brilliant grounding in how to approach any project - whether you are working in television, manufacturing, consultancy or any of the multitude of careers the people I know from MET work in.
---

Daniel Goodacre
Strategy consultant, Roland Berger Strategy Consultants
Summary since MET
Daniel went straight into strategy consulting after graduation and has since worked on a variety of projects in a number of diverse sectors. He is now involved with a performance improvement project at a major international manufacturing company. The project will last three months, and Daniel is currently halfway through.
My job involves
Travel, visiting clients' manufacturing sites in UK and Europe, meeting managing directors and assessing site performance, facilitating workshops, analyzing competitor products.
---

James Strachan
Technical Director, Six Works Ltd
Summary since MET
I set up a company in mid-2007 with fellow MET-er (James Hyde) after getting in touch with a local business angel. We learned how to make all the mistakes, and became jaded and cynical, but capable. Before long, our interests in technical things led us to the area of Order Fulfilment, inspired by a project at a local online retailer. We started Six, with the intention of creating a modern Order Fulfilment service based on the same cloud technologies of the sales channels it serves. Based in South Cambs, Six is an outsourced Fulfilment Warehouse which - as well as packing and despatching orders - helps clients to sell more to their existing customer base by providing a suite of live, rich reporting on top of our efficient fulfilment service.
My job involves
I oversee technical development at Six, which means I'm largely involved in designing and deploying features of our web application. In less techie times, I manage the accounts of some of our smaller clients as well as assisting Other James in matters operational.
The best things about MET
MET is grounded in the reality of business. It's not all interesting at the time of teaching, but it's all true - to this day I get echoes of lectures which I can appreciate more and more with hindsight. The amount of time spent working in real businesses strips away their veneer of un-questionable authority and gives MET students the confidence to question and improve everything.
---

Luke Johnson
Investment Manager (Mobile, Media & Music), Virgin Management
Summary since MET
Following graduation and the Overseas Study Tour to California investigating developments in sustainable technologies, I took 4 months off to study French in Montpellier. After what was effectively a 6 month hiatus from anything serious, I joined L.E.K. Consulting, working for a range of clients including aerospace, marine, telecoms equipment, food & drinks manufacturers, mobile phone operators, television broadcasters, insurance companies and private equity firms.
My job involves
The work at Virgin is incredibly varied, ranging from monitoring the Group's current global telecoms & media businesses to starting-up any new Virgin companies around the world to trying to convince Richard that investing in the ideas that our team has is more exciting than Formula 1 or going to space! Currently, I'm running projects assessing global opportunities in broadband, advertising media and live music as well as helping to raise funding for our future ventures.
The best things about MET
For me, the most valuable part of MET is how the course takes technically minded students and teaches them how to develop their ideas in to successful products. Everything is focussed on fostering entrepreneurialism and commercial problem solving in engineering businesses, something which is just not taught on the other triposes. And of course, it wouldn't be right to leave out the social side of MET. Whatever specialism you choose, you'll get to know the other guys on your courses really well. However, with visits and projects around the country and then the Overseas Study Tour following graduation, on MET you'll develop a very solid group of mates that you'll be in touch with for years to come - I've been living with 3 METers since I left Cambridge, it's been amazing.