Next Generation Converged Digital Infrastructure (NG-CDI)
An ambitious programme geared to create a radically new architecture for the UK's internet and telecommunications infrastructure.
Background
This £5M EPSRC and BT Prosperity Partnership is a collaborative partnership with the Universities of Lancaster, Bristol, Cambridge and Surrey and BT.
Imminent developments such as 5G, virtual reality and self-driving vehicles will require a radical shift in the way our networks perform and the way they are maintained. Demands on the current infrastructure are extremely high both in capacity and given the range of services offered. In line with this, the team aims to develop a future network that is "autonomic", with the capability to react and even predict changes in networking demand, reconfiguring infrastructure accordingly with minimal human intervention. This will lead to new services, improved customer experiences in terms of network reliability, and greater agility for businesses which need digital services that can adapt as they grow with resilience to future demands.
Challenges addressed
The research carried out in this programme is structured around 5 challenges: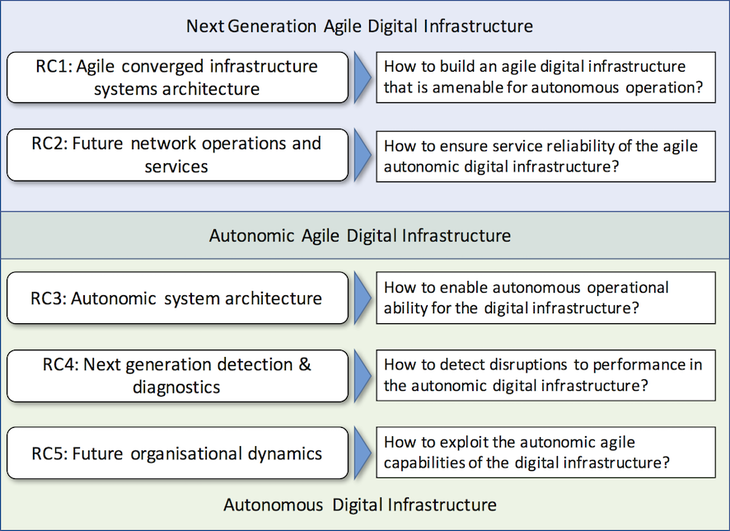 Our work will focus on research challenges 3 and 5.
Research Challenge 3 entails the development of an architecture for control of the network of service & communications nodes. Drawing from knowledge and experience in the domains of cyber-physical systems and industrial internet of things, a blueprint of the autonomic system in which software agents mirror or twin with physical nodes will be developed. Further, this RC will examine issues related to agent communication including the quality of data and any trade-offs that exist between better data quality and ensuing costs. A novel technique involving intelligent data, where data is made to seek the user instead of user seeking data will be explored in addressing this challenge.
Research Challenge 5 will examine how to bring these capabilities together to improve organisational performance through improved service assurance and enhancing organisational capabilities. There are two major focus areas for this RC: (i) to apply the models and building blocks in specific use-cases to show how the organisation can leverage the technologies for enhancing service assurance; (ii) to explore the challenges involved in the transition from technology development to business adoption. RC5 will develop techniques to enable autonomous decision-making for two scenarios – redeployment of functions amongst the nodes based on service risk, and improving service performance through predictive maintenance and spares management. In addition, this RC will examine issues regarding governance and risk management, translating organisational policy to service levels, and the impact of autonomics on organisational culture.
More information about the project can be found here.
People
Project Partners
BT
Lancaster University
University of Bristol
University of Surrey