Managing documents not printing paper
What trigger is the company responding to?
Xerox has been recovering used equipment since the 1960s. In the late 1980s and early 1990s there was a drive to develop a more formal system to maximise the profitability of using recovered equiment in remanufacturing operations. In parallel, Xerox began its 'Waste-free Products and Factories' initiative in 1991.

What was the response?
The company shifted its operation from a product based system (selling a photocopier plus maintenance) to one in which it provides a service (selling the ability to produce copies). The service model is intended both to improve customer experience and to incentivise and enable Xerox to address the minimisation of waste throughout the design, make, use and end-of-life stages. Xerox has produced toner which requires less mass per page, and their High Yield Business Paper can utilise 90% of a tree, whilst typical paper uses only 45%. Modular product design, wide product compatibility across models, integrated return logistics, ease of assembly and disassembly and the development of hi-tech quality assurance methods has allowed reuse of over 90% of components and remanufacturing of products.
The 'Waste-free Products and Factories' initiative passed a major sustainability milestone by diverting more than 900,000 tonnes of electronic waste from landfills around the world.
Bottom line benefits
The remanufacturing of products can lead to significant eco-efficiency gains (see chart below), reducing the resource consumption and waste production of Xerox as a business. Parts that enter local repair programmes in the UK are reported to result in annual savings of $4million.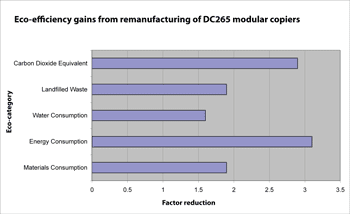 Wider lessons
By bringing the product under their control Xerox have the opportunity and the motivation to deal with both through-life and end-of-life issues. Some analysts suggest that the strength of the Xerox remanufacturing-based business model is inherent in the type of products they produce – the products are large, robust, easy to disassemble and valuable when remanufactured. The company has made a substantial investment in developing the systems and technologies which support a resource-efficient, service-based business model.
Case study sources
Evidence to the House of Lords from Xerox, including presentations and minutes of visit to Xerox UK Ltd, S. A. Jones, Houses of Parliament, March 2008
Eco-ef├»Čüciency gains from remanufacturing. A case study of photocopier remanufacturing at Fuji Xerox Australia, Wendy Kerr and Chris Ryan, Journal of Cleaner Production, 9 (2001) 75-81
http://www.xerox.com/environment/