IfM's Innovation and Intellectual Property Management Lab challenges 2019 Trinity Bradfield Prize winners to think strategically about their IP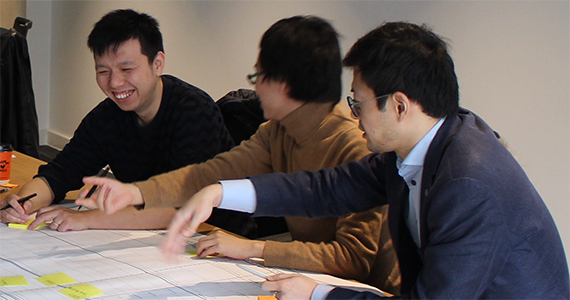 Members of the IfM's Innovation and Intellectual Property Management (IIPM) Lab hosted a workshop for the two winning organisations of the 2019 Trinity Bradfield Prize.
Teams from IsoTagit (an innovative anti-counterfeiting platform offering end-to-end certifiable, encrypted evidence of who, when and where a product was scanned) and Inferina (an AI start-up that has developed the DreamFlow software, offering a breakthrough in cutting-edge self-learning AI research) attended a half-day executive workshop on 2 March at The Bradfield Centre, based in the Cambridge Science Park, using the IfM's IP Strategy Roadmapping tool.
Pratheeba Vimalnath and Graham Bell used the tool, developed from research within the IIPM Lab, to challenge the prize winners to start thinking strategically about the IP their start-up businesses already have and the IP they would need to develop or acquire in the future to meet the ambitions of their businesses.
The Inferina team delegates commented: 'This workshop made us rethink how overall IP strategy plays a critical role in the development of early stage start-ups from the multiple perspectives of business, fundraising and technology development. I highly recommend it to entrepreneurs who are excited about technology innovations.'
The delegates from the IsoTagit team commented: 'Many thanks to Frank and his team for the insightful and highly informative IP strategy session held recently at the Bradfield Centre. As a result I am now much better equipped, more confident and knowledgeable on what exactly I need to do to strengthen our long term IP position in the highly competitive market space we operate in. Thanks!'
Dr Frank Tietze, head of the IIPM Lab, commented: 'For high-tech and IP-centric businesses, a systematically developed IP strategy adds a crucial missing element to many organisations' ability to sustain innovation, and for start-ups provides a framework for thinking about investment prioritisation maximising value. We are really pleased to be able to support Trinity and The Bradfield Centre for the second year.'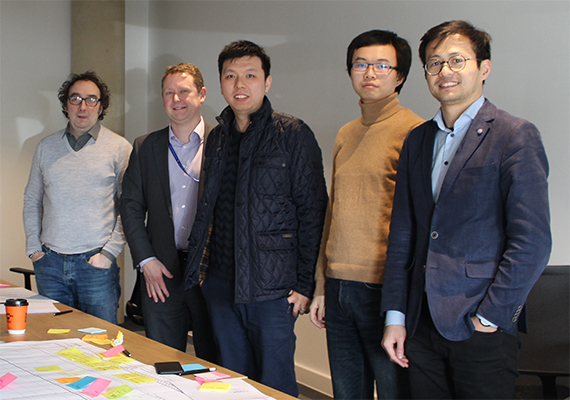 More about IP Strategy Roadmapping
IP Strategy Roadmapping includes a set of tools designed to help organisations develop IP strategies that align closely with corporate and business strategies to help them maximising value creation and capture. The toolkit comprises a set of tools centred around the widely adopted roadmapping approach.
The result is a visible strategy that helps communication and consensus building among stakeholders across different functions within the organization or to external stakeholders, such as investors. The process integrates different levels of strategy in order to increase the prospects for better decision-making in support of developing IP strategies.
IP Strategy Roadmapping is provided as a commercial executive workshop – typically run over one or several days.
Get in touch to see how we can help with upgrading your strategic approach to IP.
More about the Trinity Bradfield Prize
The Trinity Bradfield Prize, established in 2018 by Trinity College and The Bradfield Centre at Cambridge Science Park, is open to researchers and students who are keen to pursue early-stage ideas and commercialise their research. At least one member of each team must be at the University of Cambridge.
This year the competition attracted 88 entries, presenting a challenge to the judging panel – Sir Gregory Winter, former Master of Trinity, entrepreneurs and business angels, Robert Swann and Graham Simister, who are Trinity alumni, and Kerry Baldwin, Partner in IQ Capital.
Date published
13 May 2020
Related People
Share This