Issue 1
---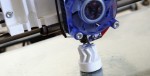 3D printing: The shape of things to come?
Dr Simon Ford, from IfM's Centre for Technology Management, explains why we need to take a clear-eyed view of this much hyped technology if it is to realise its potential.
Dr Dai Morgan from the IfM's Centre for Industrial Sustainability (CIS) reflects on the UK government's recent Foresight report on the future of manufacturing.
Are you happy with your smartphone? Bill O'Neill, Professor of Laser Engineering and Director of the IfM's Centre for Industrial Photonics isn't.
The Centre for International Manufacturing (CIM) is leading the research programme in REMEDIES, a £23m sector-wide initiative.
In October 2013, Mars and the University of Cambridge announced a formal collaboration.
IfM Review is published twice a year.
Sign up to receive a copy by email and to hear about other IfM news here.
Editor: Sarah Fell
Institute for Manufacturing
Department of Engineering
University of Cambridge
17 Charles Babbage Road
Cambridge
CB3 0FS
UK