IfM Green Team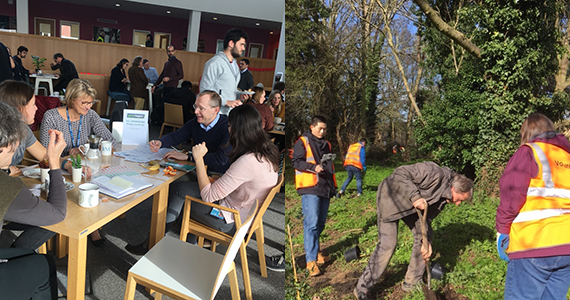 IfM Green Team is a group of volunteers at the IfM who share a passion for inspiring our community to pursue sustainability in life, research and work. Supporting the Green Impact initiative across the University, we run fun and inclusive activities for the IfM community and our neighbours, to create a positive impact and help move towards a sustainable future for all.
Begun in 2018, the Green Team has helped the IfM to win multiple Green Impact awards from the University, including a Platinum Award for the 2019-20 academic year and an 2020-21 Excellence award for our project Regeneration at IfM: Sustainability in the time of COVID.
Electric Vehicles at West Cambridge Q & A can be viewed here.
IfM Green Team Initiatives
We plan fun activities across IfM, including:
Switch Fairies – providing sweet incentives to turn off your monitor
Lunch time documentary screening
Climate Crisis Talks
Implementing Sustainability in your research agenda
New vegetarian menu voting at the servery
Alternative Milk voting e.g. oat milk
Special Recycling Initiatives: crisp packets, batteries, stationery (on-going)
Dr Bike schemes (on-going)
Online biodiversity bite-size campaign
IfM Biodiversity Photo Competition
Biodiversity Garden for IfM Courtyard
IfM Green Marketplace for seeds and plants
Post-Christmas Gift Tombola
Tree planting teams
Litter picking in West Cambridge
Everyone from IfM is warmly welcomed!
We meet regularly to plan and execute exciting initiatives all year round. Contact Dr Curie Park at cp538@cam.ac.uk to join.
For further information please contact:
Curie Park
T: +44 (0) 1223 766389
Share This