Studying at the IfM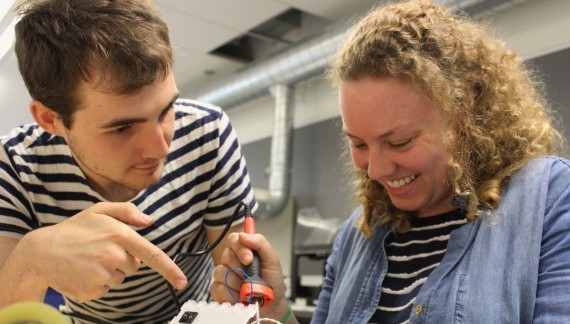 The Institute for Manufacturing is part of the University of Cambridge's Department of Engineering, one of the leading centres of engineering in the world.
Read more about studying Engineering at Cambridge here.
Undergraduate study at the IfM
In their third year, Engineering students are required to specialise. One of the options they can choose is the Manufacturing Engineering Tripos (MET) taught at the IfM. MET is a two-year course at the end of which students are awarded an MEng.
Everything we do at the IfM is focused on real-world, practical applications and our education programmes are no exception.
What is MET?
MET combines academic rigour with a practical, hands-on approach. The course
prepares students to be leaders of business and technology enterprises. It provides a thorough grounding in management and manufacturing technologies, together with an understanding of the full range of industrial activities – from market analysis,
product design and production, right through to sales and distribution – all within a global economic context.
Applying engineering knowledge to real world problems
The content and structure of MET is closely linked with industry. Many lectures are
given by leading industrialists and the first year includes an intensive programme
of visits to a wide range of manufacturing businesses. In the second year industrial
projects provide the chance to put theory into practice and tackle real problems.
Developing versatile skills
The skills acquired on MET are universal: communication, leadership, problem
solving, how to make things happen. As well as manufacturing, MET graduates
are in demand in many areas, including consulting, teaching, finance and research
and typically get fast tracked early in their careers.
Fostering personal development
MET offers students exceptional opportunities to shape their personal
development. Small group and company-based projects and the international
study tour are a chance to build team working, project management and
presentation skills.
Stimulating creativity
MET is intellectually challenging; it develops the skills to solve problems rather
than offering ready-made solutions. By repeatedly having to put theory into
practice during the many company and IfM-based projects, METs develop the
creativity and skills needed to meet a wide range of challenges in their future
careers.
Postgraduate study at the IfM
You can study at the IfM as a graduate either on our one-year taught MPhil
in Industrial Systems, Manufacture and Management (ISMM) or by studying for a research MPhil or PhD in any 'IfM' topic (see our research pages) or for an MRes/PhD in Ultra Precision.
ISMM is a postgraduate programme designed to equip numerate graduates, primarily from Science, Technology, Engineering or Maths backgrounds, with the skills, personal development and industrial experience to be immediately effective in their early careers in industry.

The course covers all aspects of manufacturing spanning marketing, design, production, product/service delivery and industrial sustainability. It is structured around taught modules, company visits and in-company projects solving live business or technical problems. An overseas study tour offers a broader international context and the individual research thesis allows greater depth of study in a specific area of manufacturing.