Criticality based Maintenance
This research addresses an increasing need in the industry to prioritize maintenance activities and investments based on the criticality and associated risk of assets.
Overview
Infrastructure is key to the functioning of all modern societies. Networks of roads, bridges, pipelines, cables, water mains and other assets are critical to our economic, social and cultural well-being. However, these assets are often taken for granted, with people assuming they will continue to work without regular or extensive failures. Since infrastructure assets are continuously being updated and make increasing use of the digital technologies, the task of managing these assets is modernising, with researchers and practitioners continuously adapting to this modernisation. The proper management of infrastructure assets has thus become critical to providing economic services.
Questions of criticality revolve around determining which assets are critical in a particular context: i.e. which assets will have a bigger effect in the performance of the system upon failure. Within the context of infrastructure asset management, criticality analysis could, for example, give insight into which roads or other transportation services are most important with regards to the accessibility of a certain asset, such as a hospital. Criticality analysis can also drive other asset management decisions regarding investment planning, maintenance prioritisation, and monitoring.
Activities
We have two key research projects in this area:
1. Infrastructure criticality analysis using publicly-available data
Carrying out an accurate criticality analysis is often hampered by the availability of good quality information. This project aims to demonstrate the utility of transportation time data derived from Google Maps to generate tools capable to inform public policy by providing logistic (location) recommendations for the management of public assets such as hospitals, schools, et cetera. We seek to show the potential for highlighting different transportation metrics in the world's urban areas, which at the same time is key to evaluate future infrastructure investments and bridge possible inequalities in public transport and road servicing. In addition, this project helps outline the positive impact of infrastructure data on citizen well-being by showcasing examples where an everyday situation, such as choosing the right house to move into vis- à-vis the travel options to one's place of work, can be informed by new digital technologies and techniques.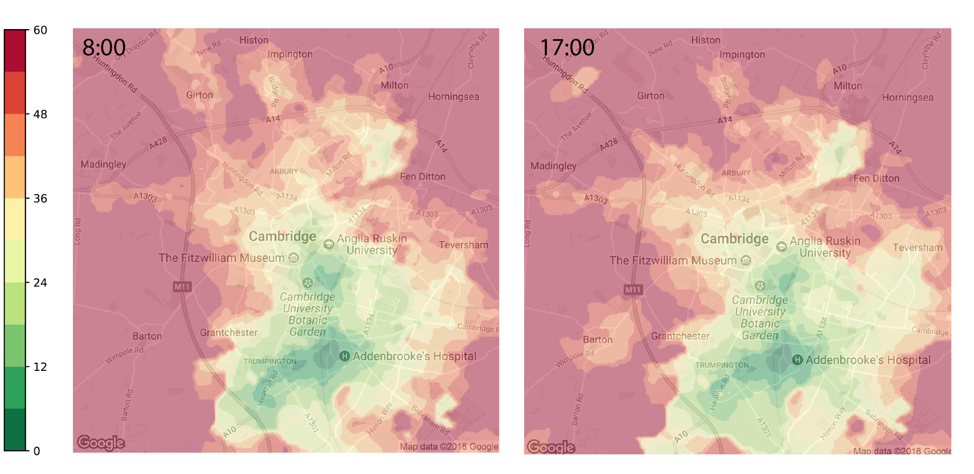 Fig 1. Transportation times by public transport to the Cambridge Biomedical Campus / Cambridge Biomedical Centre (just west of Addenbrooke's Hospital on the map), city level, at 08:00 and 17:00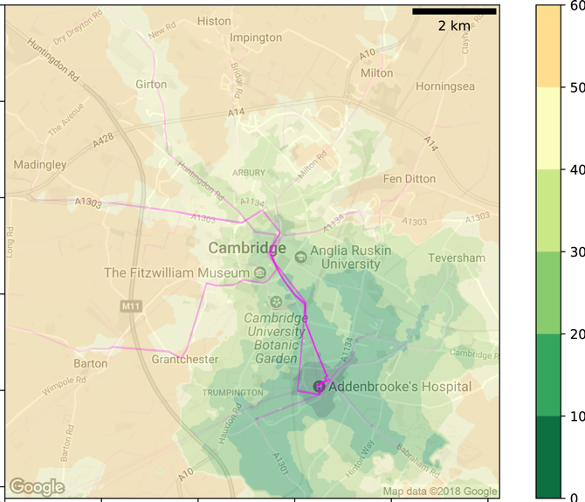 Fig 2. Transportation times and most critical public transportation routes servicing Addenbrooke's Hospital.
2. Understanding the dynamic nature of criticality
This research focuses on developing a maintenance management tool that exploits the dynamic nature of asset criticality to optimise maintenance decisions and plans. Current criticality analysis techniques consider criticality as more or less a static quantity that is not updated with sufficient frequency as the operating environment changes. There is need to continuously monitor, review and update the criticality of assets to ensure maintenance objectives for the assets are aligned to business needs.
People
Adria Salvador
Jon Rozenbeek
Project Partners
Hertfordshire County Council
Cambridgeshire County Council
Anglian Water
EA Technology
ExxonMobil
Bayelsa Electricity
Port Hartcourt Airport
Rutgers State University of New Jersey, USA
Universidad de Sevilla, Spain
University of Pretoria, South Africa
Publications
Adams, J., Parlikad, A.K., Amadi-Echendu, J., "A bibliographic review of trends in the application of 'criticality' towards the management of engineered assets," In Proc. 12th World Congress in Engineering Asset Management, Brisbane, August 2017.
Adams, J., Srinivasan, R., Parlikad, A.K., Gonzalez-Prida, V., Crespo, A.M., "Towards dynamic criticality based maintenance strategy for industrial assets," 3rd IFAC Workshop on Advanced Maintenance Engineering, Service and Technology, Biarritz, Oct 2016.
Adams, J., Parlikad, A.K., "Dynamic maintenance based on criticality in electricity networks," 5th IET/IAM Asset Management Conference, Nov 2015.