What does Brexit mean for UK manufacturing?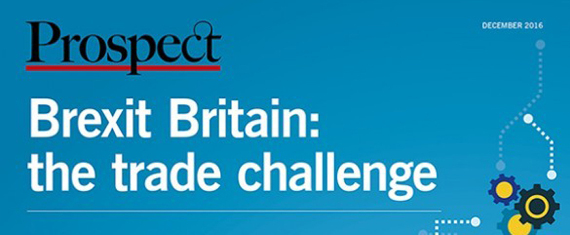 Prospect has published a report on the trade challenge for a post-Brexit Britain, designed as a guide for parliamentarians, policymakers and businesses engaging with the UK's changing relationship with the world following Brexit. Andy Neely and Carlos Lopez Gomez have contributed an article that considers the implications for manufacturing in the UK.
The report was launched on 17 November at a reception at the House of Commons attended by parliamentarians, foreign officials and industry experts from the public and private sector.
Speakers were MPs Barry Gardiner, Peter Lilley and Mark Harper and Miriam Gonzalez, International Trade Partner at Dechert (and contributor to the report).
The IfM team's article looks at UK manufacturing's post-Brexit relationship with the EU single market from three perspectives: the manufacturing trade environment, the impact on foreign direct investment and the importance of manufacturing value chains and networks.
Read the article here.
Download the whole report here
Policy Links at the IfM
Policy Links is a knowledge transfer and consulting unit that has been set up to respond to the changing needs of policy makers, civil servants and agency officials working in the areas of technology, manufacturing and innovation policy.

Drawing on the latest research from the IfM's Centre for Science, Technology and Innovation Policy (CSTI) the team is able to develop new policy evidence, insights and tools and to offer professional advice and education services. The team works closely with clients to offer a number of bespoke services, including practitioner seminars and executive training programmes.
To find out more, contact the Policy Links team.
Date published
17 November 2016
Related People
Share This