Roadmapping in Milan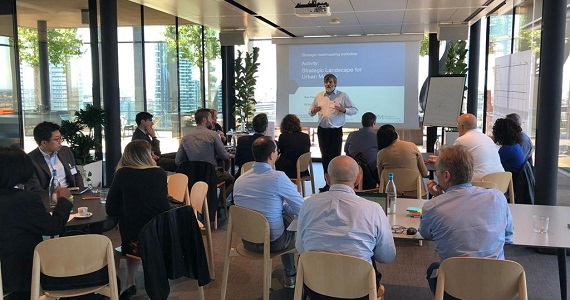 The Institute for Manufacturing recently co-hosted an event 'A roadmap to create effective strategic and innovation plans' in Milan, Italy. The event, organised in collaboration with Strategie & Innovazione, attracted over 20 delegates from Italy and further afield to hear about some of the latest strategic roadmapping research and its practical implications.
Dr Rob Phaal, Principal Research Associate, Centre for Technology Management, spoke at the event alongside Milena Motta, IfM ECS Industrial Associate and Senior Partner, Strategie & Innovazione. Over the course of the day, delegates were able to hear about some of the latest theory and practice in relation to roadmapping, considering how it could help them with their strategic planning and innovation activities.
Milena Motta commented on the event "It was an excellent day and we were delighted that Dr Phaal was able to join us in Milan. It was great to hear about his research and share examples of how roadmapping is being used by companies of all sizes and for such a wide range of challenges. The delegates seemed to get a lot of value from the event – there was great enthusiasm and energy in the room which contributed to positive discussions and lots of ideas."
The day after the event, a STIM (Strategic Technology & Innovation Management) Consortium meeting took place in the same location. The Consortium is a practice-oriented research and networking collaboration between industrial member companies and the Centre for Technology Management.
Date published
9 July 2019
For further information please contact:
Related People
Share This