Roadmapping at the IfM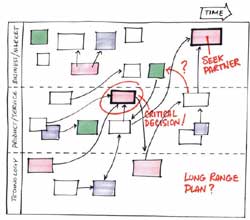 What is roadmapping?
Roadmapping is a powerful strategic planning technique that is integral to creating and delivering strategy and innovation in many organisations. The graphical and collaborative nature of roadmaps supports strategic alignment and dialogue between functions in the firm and between organisations.
The power of roadmapping lies in its flexibility, which can provide clarity and alignment of specific needs at all levels, including functional, organisation-wide and even collaboration between organisations.
How can a roadmap help your business/organisation?
The key benefits include:
Flexible and adaptable to fit the needs of any business, organisation or sector.
Decision-making is consensus-based and transparent, facilitating key stakeholders to take workshop outputs forward.
A proven process that improves communication across teams and organisations.
The visual representation of outputs are easy to communicate across an organisation.
Supports a wide variety of aims, including the alignment of commercial and technical strategy.
"I can't understand how organisations live without it. A roadmap can add immense value in many different ways particularly in the integrity and credibility of product and technology plans and directly for the people doing the technical work – it helps them to see, communicate and substantiate their position as to why they are doing what they are doing."
Tim Handyside,
Global Head of Innovation Processes
BASF's Construction Chemicals Division
---
The Cambridge Approach
The combination of the highest quality research, conducted by researchers from the University of Cambridge, combined with expert application and delivery sets the IfM apart from other roadmapping methods and practitioners. By working with the IfM organisations see the benefit of a unique blend of knowledge, expertise and delivery:
Knowledge transfer - We work collaboratively with companies to help them develop roadmapping capabilities and expertise through a blend of training and consultancy. We focus on developing organisational roadmapping capability, training employees to become experts in roadmapping so it becomes a core component of the strategic toolset. Some of the ways we support knowledge transfer include:
Leading experts - The IfM is recognised as the expert in roadmapping across the areas of research, application and delivery. Read an overview of roadmapping, focusing on how the technique can support innovation and business strategy, building consensus on priorities and actions required to move forward, illustrated with a case study.
We have helped more than 300 organisations with their strategic and technology innovation planning, including:
ABB l Airbus l AkzoNobel l Astra Zenica l Astrium l BAE Systems l BASF l BOC-Linde l BP l BT l Caterpillar l Crown Packaging l Cryovac l Domino Printing Sciences l DSTL l ESAB l Eurotherm l GE Healthcare l General Mills l GKN l Grundfos l GSK l Henkel l Huntsman l IHI Corporation | Ineos l Malvern Instruments l Mars l Microsoft l Proton l Rexam l RNLI | Rolls-Royce l Schlumberger | Siemens l Subsea 7 | Sulzer l UK Department of Transport l Knowledge Transfer Networks l Ministry of Defence l Technology Strategy Board l
See examples of some of these projects on our case study page.
Time and resource efficient - Our lean and agile approach to roadmapping has been carefully developed to be time and resource efficient.
Flexible and adaptable toolkit - We are experts in using roadmapping as the glue with which you can bring other tools in to deliver additional insights and value. Through working with the IfM you get a flexible and complete solution that focuses on the areas that matter to your business strategy
"Roadmapping provides a valuable framework; it doesn't prescribe what to do. Getting the right people involved is vital. 80-90% of the knowledge required is already available but the roadmapping process is required to organise this knowledge and to share it so that collaborative wisdom can be applied."
Dr. Nicky Athanassopoulou,
Senior Industrial Fellow
IfM Education and Consultancy Services
---
How can the IfM help you?

We offer roadmapping services through our knowledge transfer company, IfM Education and Consultancy Services (IfM ECS). IfM ECS can run roadmapping projects on your behalf or train you to run your own.

For more information on any of these services or to discuss any aspect of roadmapping you are interested in, please contact us.




Consultancy – IfM ECS's team of industrial fellows design and facilitate roadmapping projects for your organisation.

Knowledge Transfer Courses - Dr Rob Phaal and his colleagues run a series of open and bespoke courses on roadmapping techniques.

Resources – books, newsletters and toolkits to support your roadmapping activities.

Research – find out more about the underpinning research and current research interests.
For further information please contact:
Rob Driver
T: +44 (0)1223 748263
Share This