Quantum technology in the UK: New white paper examines challenges for commercialisation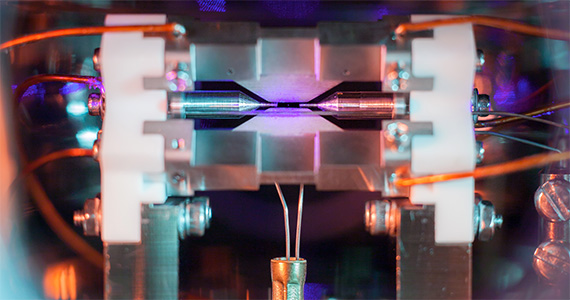 As quantum technologies rapidly mature, firms are considering how they can apply these technologies to industry, and how they can innovate their business models to fully capture the opportunities and deliver value to society.
A new white paper released by the Institute for Manufacturing (IfM) and the Quantum Computing & Simulation (QCS) Hub examines the landscape for quantum technologies (QT) in the UK economy, and how quantum computing and quantum communications can best be translated into increased productivity and economic growth.
Launched at the UK National Quantum Showcase 2022, the paper finds that the UK has important strengths in QT which can help the economy to take full advantage of quantum technologies. These strengths include being leaders in science and engineering of QT, effective funding programmes, a knowledgeable workforce in the field and a healthy start-up community.
But challenges to adoption and commercialisation remain. The paper identifies and analyses these issues, and recommends how best to pursue quantum technology adoption, benefitting both the economy and society in the UK.
These recommendations include:
Mission-driven funding calls to solve industry-wide/societal challenges
Forming a forum of systems integrators in the UK
Introducing strategic initiatives that bring together quantum computing and quantum communications
Developing IP policies that encourage commercialisation as well as accessibility
Preparing scale-up capabilities in technology and manufacturing
Creating training programmes with shorter timescales that increase quantum literacy and skills.
Dominic O'Brien, QCS Hub Director and Professor of Engineering Science at Oxford University says: 'We are very pleased to have been able to collaborate with the Institute for Manufacturing at Cambridge University Engineering Department in their thorough and extensive investigation into the emerging UK ecosystem. This report contains substantive recommendations worthy of serious consideration.'
Chander Velu, head of the Cambridge Business Model Innovation Research Group and Professor of Innovation and Economics at the IfM, believes a focus on new technologies like quantum is essential to enhance productivity and contribute to economic growth.
'A significant number of research studies have attempted to better understand why the UK and other major economies have experienced a significant slowdown in economic growth despite the prevalence of digital technologies – often called "the productivity paradox",' says Professor Velu. 'However, many of these studies have tended to focus on past technological adoption or current challenges in firms adopting digital technologies to improve performance.'
'Firms and policymakers need to prepare to adopt technologies that are emerging from research in science and engineering (such as quantum) but which are only likely to be adopted in the future,' he says. 'Our study aims to better understand the enablers and barriers of business model innovation in order to accelerate quantum technology adoption. We hope our findings and recommendations will help to develop the framework needed to ensure that we get the timely benefits of quantum technologies through productivity improvement and economic growth.'
Date published
16 November 2022
Related People
Share This