Open Innovation Forum moves online with focus on virtual innovation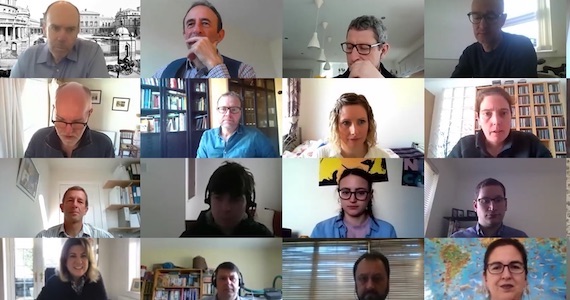 The Open Innovation (OI) Forum held its first virtual meeting on 26 March, bringing the popular format online for the first time after its scheduled meeting, to be hosted by Kerry Group in Dublin, was curtailed due to the coronavirus outbreak. Over 50 participants from 20 member companies participated using virtual collaborative tools.
One of the key topics of the meeting was how to drive an 'intra-prenurial' mentality by bringing entrepreneurial thinking into established companies. It featured keynotes from Peter Robbins of Dublin City University, Milan Samani of TIL Ventures and Mike Pinder of Board of Innovation.
The meeting also included presentations from Letizia Mortara, Shima Barakat and Curie Park on the IfM's work with EIT Food on the MAKEit project, which aims to create smarter and simpler food value chains, and from Erika Minaguchi and Christina Furlong of Kerry on 2020 trends in taste and nutrition.
All of these topics, as well as the group discussions and interactions that form an essential part of the OI Forum, were set in the context of the changes to the workspace and the food and FMCG sector caused by the COVID-19 outbreak. Collaborative discussions explored how innovation can respond to companies' emerging needs and, during the meeting, the groups trialled different platforms such as SharpCloud, as well as different methods of collaborating virtually.
'An important part of OI Forum has always been the community and the opportunity for members to learn from one another as well as from keynote speakers, so it was essential that we found a way to replicate that online,' said Dominic Oughton, head of the OI Forum.
'Fortunately, when we had to swiftly rearrange this meeting to take place online, we were able to call on colleagues from across the IfM to help us to deliver this successfully. We used elements like moderated breakouts and randomised one-to-one chats to replicate the networking synergies that otherwise occur, for example, around the coffee machine. So we were able to retain those benefits that perhaps aren't in the official programme but are very valuable.'
In addition to direct practice with virtual collaboration, the meeting featured a presentation from Robin Ferraby of Cambridge Consultants on practical tips to get the most out of virtual innovation.
'It's no easy task to pull off a digital workshop and keep everyone engaged, so it was great to see how well this worked, especially at short notice,' said Erika Minaguchi of Kerry.
The OI Forum hopes to return to an in-person format for its June meeting, but is also prepared to continue to use its online format if necessary.
'Like the rest of the IfM, we're adapting swiftly to this new reality, and it's encouraging to see that the forum can continue to work well in a new format,' said Oughton.
Date published
2 April 2020
For further information please contact:
Related People
Share This