Open Innovation Forum in the Food and FMCG Value Chain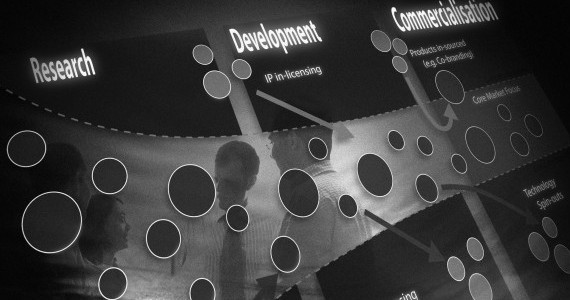 Established in October 2010, the Open Innovation (OI) Forum was created to offer a programme of structured support and opportunity for companies from all stages of the Food and FMCG value chain. Open innovation is a paradigm that assumes that firms can and should use both internal and external 'ideas' and 'paths' to market, as the companies look to advance their technology. In a world of widely distributed knowledge, companies cannot afford to rely entirely on their own research, but should work collaboratively with others. The OI Forum benefits all members, regardless of their position in the value chain, from ingredients and packaging, through brand-owner, manufacturing and the final link: retail.

In times when the global business environment is becoming ever more complex and uncertainty in the global marketplace has given rise to a fundamental change in organisational innovation strategy; the OI Forum has continued to attract leading brand names.
What is the OI Forum?
The Forum is a membership group where members share best practice, explore 'hot topics' along the Food and FMCG value streams and participate in optional, accelerated Open Innovation (OI) collaborations. Key to the success of the Forum is the OI Practice Self-Assessment model which allows individuals and companies alike to assess the maturity of their current OI practice. The model also allows respondents to identify which facets of OI practice are most important to their own context and which are most challenging to achieve.

The benefits of membership
The Forum offers the opportunity to learn from experienced practitioners whilst networking with other members of the Food and FMCG business community. Understand strengths and weaknesses related to your business and develop insights into OI opportunities in FMCG. Receive exclusive access to the OI annual report, links with past and ongoing IfM research and the opportunity for real spin off OI collaborations.
How does it work?
The group gathers together three times a year to attend workshops, an opportunity for members to engage and share experiences with other organisations along the FMCG supply chain. These workshops are hosted by members, with a typical agenda to include an organised plant tour, time to discuss self-evaluation of current open innovation practice and exploration into FMCG 'hot topics'. Networking and engagement between workshops enables continued sharing of experiences and optional initiation of spin off projects between the group in order to further benefit their businesses.
Membership includes
An annual membership entitling 2 practitioners from each company. Limited to a maximum of 20 companies covering all stages of the Food and FMCG value stream: Food and FMCG manufacturers; raw materials and packaging producers; machinery and logistics suppliers and retailers.
What our members say:
"Here is a real opportunity to create a breakthrough in consumer and community value as we further collaborate with our peers in the industry. We at Mars want to create a mutuality of benefits by doing business in ways that are good for our company, good for people and good for the planet. The unique feature of this forum is the focus on our industry value streams, and membership from companies representing every stage. This enables discussions on best practice to be more productive, as they are in a shared context. It also means we can explore real innovation needs and opportunities such as sustainability, traceability, health and wellbeing. These kind of networks and collaborations enable opportunities that can impact our strategy and innovation efficiency."
External Innovation Director, Mars Inc
"As someone coming in new to the world of Open Innovation, I have found the Forum a great way of both learning from the experiences of other organisations and sanity checking what we ourselves are doing. Industry experience is supplemented by access to leading research in this area being performed by the IfM. The participants have a common goal of bringing innovation to the Food and Drink FMCG supply chain through collaboration, but each has a different perspective to bring to the discussions which uncovers insights that are unique to this Forum. The atmosphere is such that we have all established relationships that go far beyond the normal customer/supplier etiquette and are comfortable asking those "stupid" questions in order to benefit from the combined knowledge of the group; it is recognised that every member brings valuable insight to the Forum whatever stage they are at in their OI journey. Equally, the organisation, administration and facilitation by the IfM team has been excellent."
Director Open Innovation, Packaging Company
"We find the opportunity to network with our customers and other businesses in the food and drink field, extremely useful. Both in the areas of generating and developing new ideas, but also in the area of OI best practice".
Director of External Affairs, CROWN Technology
---
Resources and Events
Further OI Forum articles and resources are available on our website and when there are available events for the OI Forum, these will be displayed on the OI Forum events page.
OI Forum Pitching Events
Read about the most recent OI Forum pitching event from 2018 in the news section of our website. The pitching event in 2018 took place alongside a workshop looking at the challenge of rethinking packaging for sustainability.
This dynamic and action-packed workshop was captured on film (see below) as part of the Disruptive Innovation Festival, a global online event organised by the Ellen MacArthur Foundation, which works towards accelerating transition to a circular economy. You can also read about the workshop in the Insights section of our website.
Video: OI Forum workshop looking at the challenge of rethinking packaging for sustainability filmed as part of the Disruptive Innovation Festival.
For further information please contact:
Contact details
T: +44 (0)1223 766141
Share This