Integrating roadmapping into whole of company strategy planning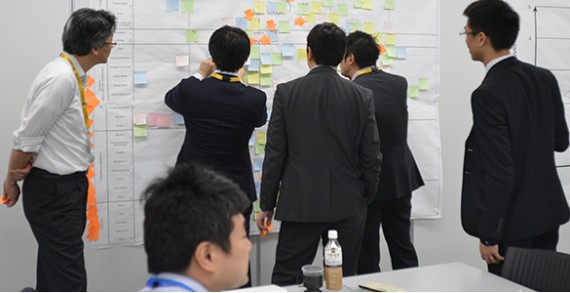 Global heavy industry manufacturer IHI Corporation is benefitting from better goal alignment and increased dialogue across departments within the company as a result of integrating roadmapping into its business planning strategy.
Looking to ramp up its already successful R&D commercialisation program, IHI began investigating potential new approaches to better capture and integrate the expertise from across all its departments into strategy and innovation planning.
Dr Hiroyuki Nose, Manager at IHI's Technology Planning Department, said: "IHI has a long and successful tradition of developing innovations and we wanted to further increase our successful commercialisation of R&D by improving strategic dialogues within and between our internal departments and with external stakeholders to develop new co-created solutions. We needed a structured and interactive approach to include key stakeholders of the company in our innovation and strategy planning ".
IHI approached the Institute for Manufacturing (IfM) at the University of Cambridge, which is a world centre of excellence for roadmapping and has helped more than 3000 public and private sector organisations with their strategic and technology innovation planning using its research-based roadmapping techniques. IfM identified that the graphical nature of roadmapping would be a particularly useful tool for IHI to communicate and discuss strategies with people from different departments and across different levels of the company.
A group of IHI technology leaders initially took part in a short 'training by doing' session with IfM Engage in 2014 to gain experience of IfM's roadmapping processes as part of this wider investigation. This experience, together with an in-house trial of the approach at IHI in 2015, led to a three-day pilot roadmapping programme involving core staff from across all of IHI's departments.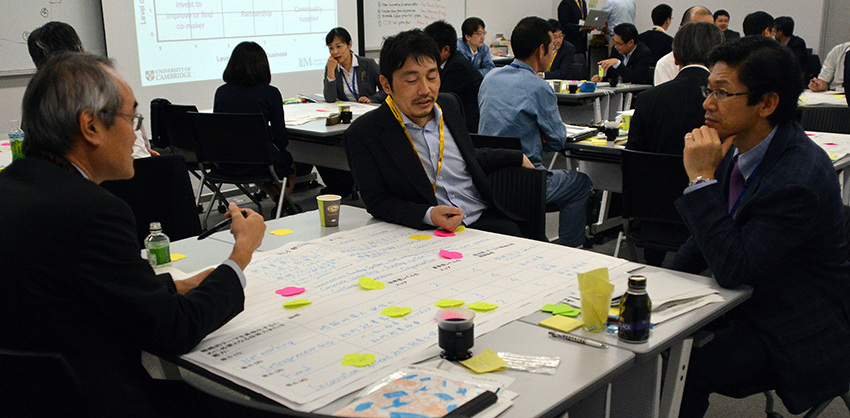 The three-day pilot roadmapping programme, held at IHI's Yokohama office in Japan in November 2016, was an in-company project which aimed to apply IfM's roadmapping processes and other technology management tools to support the development of IHI's long-term goals: 1) Using a structured method to align commercial and R&D strategies, aligning technology push and market pull through co-created solutions, 2) Developing a concrete and common vision, and 3) Identifying approaches for the resourcing and closure of gaps.
Through the roadmapping process, IHI developed strategic themes for its energy business as a pilot, which will be used as a foundation in future energy strategy discussions.
Dr Takahiro Shimada, General Manager at IHI London office, said: "Roadmapping helped us to identify that open innovation could potentially increase our ICT capabilities. The workshop process also revealed the key steps that are required to introduce open innovation into IHI's structure and the different options for commercialisation of R&D and business development, including business model transformation."
A further aspect of the collaboration was the building of in-house capability in roadmapping to support the wider rollout of the approach and to help embed it in formal processes. IHI is implementing the roadmapping technique into the company's organisational systems and business cycle. The core members of the workshops, who are from various departments of IHI, are introducing roadmapping techniques to their departments. Roadmapping is being used as a tool to communicate and discuss strategies in a common language within and between departments, between different levels of the organisation and with external stakeholders.
Dr Robert Phaal of IfM's Centre for Technology Management said: "The collaboration with IHI has been very interesting, as IfM's first application of roadmapping methods within a large Japanese company, building confidence about the general applicability of such methods across sectors and geographies."
For more information about roadmapping opportunities and other related project opportunities with IfM ECS and CTM, please contact Andrew Gill, Robert Phaal or Yuta Hirose.
Andrew Gill:
T: +44 (0) 1223 766141
E: ag471@cam.ac.uk
Robert Phaal:
T: +44 (0) 1223 765824
E: rp108@cam.ac.uk
Yuta Hirose:
T: +44 (0) 1223 766141
E: yh359@cam.ac.uk

Date published
21 February 2017
For further information please contact:
Sarah Fell
T: +44 (0) 1223 748268
Related People
Share This