Inspiring images win top prizes in photographic competition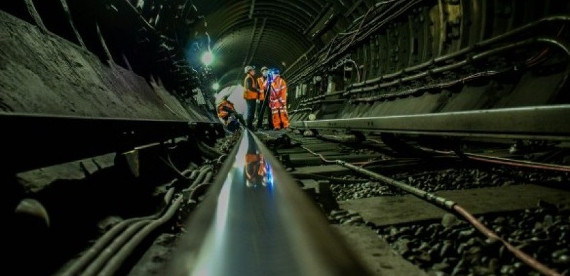 Two stunning images from the IfM secured top prizes in the University of Cambridge Department of Engineering's annual photographic competition.
Laser light diffracted by a hologram, microscopic details from a man-made fabric and photos from the deepest tunnels of the London Underground are among an array of stunning images which have been put online following the annual competition, sponsored by Zeiss, that helps to bring engineering brightly and vividly to life.
Ioannis Mastoris and Ronan Daly, of the Inkjet Research Centre, were the joint winners of the second prize with their electron microscopy image of the reflective coating and fibrous cloth of a man-made fabric.
Their photograph was taken as part of a research project focusing on the lifecycle of these fabrics, from which the findings could be utilised to help decrease the environmental impact of the fibre-dyeing process.
Phil Catton, of DIAL, who works in the Department's Centre for Smart Infrastructure and Construction (CSIC), won third prize for his image entitled "Mirror Finish". In his photograph researchers are using a 3D laser scanner to measure deformations in the London Underground Northern Line station at Euston.
The information collected will then be fed into CSIC-developed models for analysis, in order to predict the behaviour of future complex tunnel geometries. These predictions will be a valuable tool in the future as new underground tunnels are built.
The first place prize was awarded to Ananta Palani's entry entitled "Diffraction Sun". The PhD student shone a laser light onto a small liquid crystal device, causing the light to interfere with itself and become diffracted.
The panel of judges included Dr Allan McRobie, Professor Dame Ann Dowling and Philip Guildford, all members of the Department of Engineering, and Ken Robinson, Senior Applications Specialist at Zeiss.
Philip Guildford, Director of Research, said that entries for this year's competition had once again impressed the judging panel. He said: "The winning images are diverse, beautiful and meaningful. They all tell wonderful stories of engineering students, researchers and academics seeking to discover new scientific truths and advance technology.
"The winners give an eye-catching glimpse of work in the Department of Engineering, but there were over 150 other entrants this year, each communicating their unique message of how engineering is advancing and helping the World. The breadth and quality of work is quite staggering."
The Zeiss SEM prize, awarded for a micrograph captured using an electron microscope, went to Brajith Srigengan for his image of an osteoblast (bone cell) branching across two steel fibres.
The Head of Department prize was awarded to Khaow Tonsomboon for his video showing, step-by-step, how fibre-reinforced hydrogels can be created to mimic the structure and composition of a cornea, the transparent front part of the eye.
For more details and images see here.
Date published
21 October 2013
Related People
Share This