IfM speakers tackle digitalisation strategies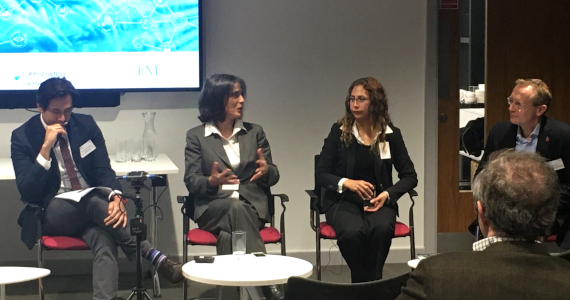 The IfM Briefing on 12th November in Liverpool (part of our Briefings series) was co-located as part of Digital Manufacturing Week 2019, a key event in the calendar for UK manufacturing.
Watch the talks from the Briefing
Chaired by Tim Minshall (Dr John C. Taylor Professor of Innovation and Head of the IfM) the short seminar-style Briefing was on the theme of 'Strategic approaches to digitalisation'. It explored how manufacturing companies can identify and capitalise on the opportunities presented by new technologies, while remaining squarely focused on business strategy and on delivering customer value. The agenda covered research into the current trends in the changing landscape, and evidence of the impact digitalisation is already having on manufacturers. This was bolstered with case studies from industry and international practice, including the example of a pilot project IfM implemented for Caterpillar, and frameworks from IfM business strategy research to support manufacturers with taking decisions about digitalisation initiatives.
Dr Carlos López-Gómez, Head of the IfM's Policy Links Unit, shared findings from recent research by his team for Innovate UK, looking at international evidence from major digital manufacturing initiatives undertaken or supported by national governments. Based on this, Carlos explained the key opportunities that companies are harnessing from new technologies, and where they are focusing their efforts, as well as evidence of value capture and data on business improvements for particular metrics (such as reduction of labour costs or reduction of defects and errors). He also connected this with the most common types of barriers to technology deployment—including people, organisational, technical, market, economic/financial, and regulatory/policy—evident across sectors, and examples of how policy initiatives can mitigate these barriers. Read more about this research here.
Moving to a company-level perspective, Dr Nicky Athanassopoulou, Head of Solution Development for IfM Education and Consultancy Services, discussed how digital initiatives can be set in the context of a firm's strategic business objectives. She presented a framework from the IfM's Business Strategy research centre, developed to support strategic approaches to digitalisation. She discussed an example from Domino's Pizza to show how digital transformation can simultaneously provide new ways to engage with customers, while also improving internal systems and processes.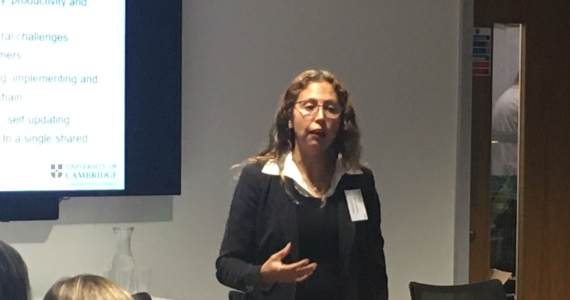 A best practice case was then presented by Dr Veronica Martinez from IfM's Cambridge Service Alliance. Veronica talked about a pilot project she worked on with Caterpillar, for which they identified blockchain as a solution to address particular business problems, and developed a prototype and test implementation at low-cost and within a few weeks. The project is an excellent example of how a company can test a particular technology as a business solution, and learn from the experience, without having to make a huge organisational commitment to it. The pilot resulted in operational efficiencies, reduced time of order processing, improved traceability and visibility to supply chain partners, and increased customer trust. Read more about this pilot project here.
The Briefing was rounded off with a panel discussion to give an opportunity for the audience to ask questions, followed by networking drinks.
Videos from the Briefing
1. An introduction to the IfM Briefing: Strategic approaches to digitalisation
Speaker: Professor Tim Minshall, Dr John C Taylor Professor of Innovation & Head of the Institute for Manufacturing
2. The Digital transformation of manufacturing: opportunities and barriers
Speaker: Dr Carlos Lopez-Gomez, Head, Policy Links, IfM Education and Consultancy Services (IfM ECS), University of Cambridge
3. Using digital initiatives to deliver strategic business objectives
Speaker: Dr Nicky Athanassopoulou, Head of Solution Development, IfM Education and Consultancy Services
4. Best practice case: How Caterpillar's blockchain pilot delivered better business results
Speaker: Dr Veronica Martinez, University Lecturer, Cambridge Service Alliance
5. Panel session
Date published
29 November 2019
For further information please contact:
Related People
Share This