IfM Review Issue 8: The next production revolution
For this issue of the IfM Review we have borrowed the OECD's concept of 'The Next Production Revolution' as a useful way of reflecting on some of our major research areas. Rapid advances in production technologies, particularly when allied with the digitalisation of manufacturing, promise a huge range of opportunities for national governments and individual firms – as well as the challenges that disruption inevitably brings.
I hope you enjoy this issue of the IfM Review. If anything particularly catches your eye and you would like to discuss it further, please do get in touch. We are always delighted to hear from you
Best wishes,
Tim Minshall
Head of IfM and Dr John C Taylor Professor of Innovation
Reading the IfM Review
You can read the IfM Review by clicking on the individual articles listed below, downloading the pdf [2MB] of the magazine or viewing on ISSUU via the link at the bottom of this page.
---
As manufacturing becomes more complex, distributed and interdependent, policy makers are looking for new ways to ensure national competitiveness in the 'next production revolution'.
---
Professor Bill O'Neill, Head of the Centre for Industrial Photonics, discusses the current role that precision industrial lasers and other technologies are playing in increasing capability and productivity.
---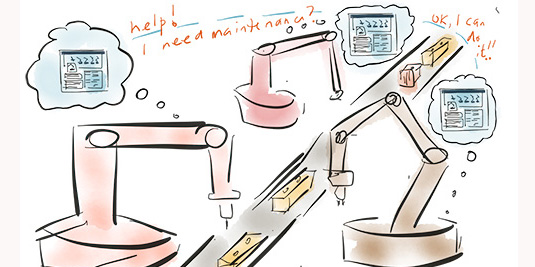 Where will we make things in the future and how will the concept of a factory evolve? IfM's Professor Duncan McFarlane says that how we answer these questions is affecting our priorities for automation.
---
New digital technologies are supposed to bring us unprecedented efficiencies and new opportunities for value creation. So why has the productivity of major economies been slowing down?
---
Additive manufacturing (AM) technologies have resulted in significant changes to the way we design complex components. But the uptake beyond prototyping and small scale production is slow.
---
With new technologies appearing more rapidly than ever before, Dr Letizia Mortara says technology intelligence could help pick those that will deliver competitive advantage and spot the threats.
---
With the advent of new technologies, a changing geopolitical context and ever more pressing concerns about sustainability, are we seeing the emergence of a new form of globalisation?
---
Tom Ridgman explores the history of engineering education and how we should be educating the engineers of the future for the next production revolution.
---
Katjana Lange is developing novel techniques for ultrafast machining of high temperature superconductor nanostructures at the Centre for Industrial Photonics.
---
Newton Director Andrew Hawes shares some of the secrets behind his business and life successes, together with fond memories from his time studying at Cambridge.
---
---
Date published
4 January 2018
Related People
Share This