The alumni interviews: Andrew Hawes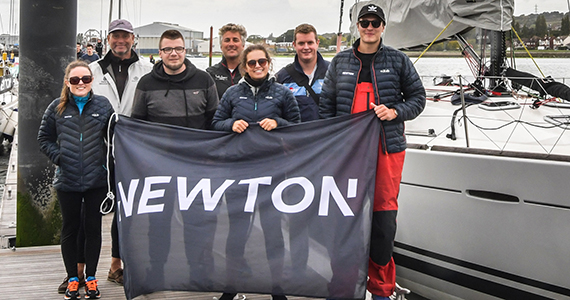 ACDMM alumnus Andrew Hawes, together with fellow Cambridge graduates Tom Wedgwood and Kevin Jones, established Newton in 2001. Together, they have created a highly successful company, which they attribute to their philosophy of putting people first. Andrew shares some of the secrets behind his success in business and life, together with some fond memories from his time studying at Cambridge.
Andrew Hawes
Advanced Course in Design, Manufacturing and Management
(ACDMM) (1996)
Job Title: Director
Organisation: Newton
Location: Oxford
Why did you decide to study ACDMM?
Originally, it was the design element that attracted me to the course. However, the course changed the direction of my life forever. I found the impact that was possible in the manufacturing environment exciting. I enjoyed the practical and real environment of the shop floor. It was far less glamorous than design, but it appealed to me.
Tell us about how you came to establish Newton?
The story of Newton started in 1997 when Tom Wedgwood, Kevin Jones (also Cambridge graduates) and I joined another relatively small consultancy within a few weeks of one another. Looking back, this was an incredibly formative experience where our professional respect for each other and friendship grew strong. We learned a lot from the incredible highs and lows and good and bad of this company. The result was that when I started Newton in 2001, age 26, we knew what we wanted to achieve and what we wanted to avoid.
We wanted to put people first, both in terms of our clients and the people that would work at Newton. We wanted high levels of respect for our clients and their achievements and to see them as part of the team, integral to our success and never to be taken for granted. We wanted to guarantee all our work so that if we didn't add value, we wouldn't be paid. We wanted professional integrity, a team full of exceptional calibre people with drive and energy. A company where being nice to one another is valued and normal. Where friendships are commonplace, fun is integral and personal lives are seen as important. We wanted supporting colleagues to trump scoring points. We knew that success requires a team loyal to one another and in it for the long term. We understood the importance of a shared vision and the buzz of a common goal. We are driven by a belief that everything can be better.
The three of us grew closer and following the employees of our old firm attempting a management buyout that didn't happen, the three of us made a plan together to set up Newton. We had what we thought were ambitious plans to grow to 30 people and we simply didn't have the imagination to picture what it looks like today with a team of 250.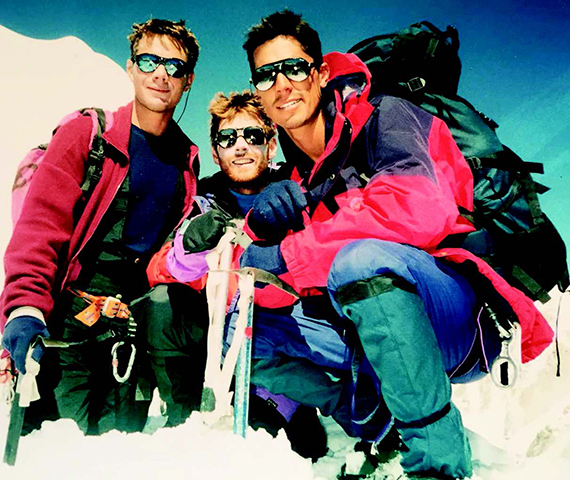 Mountaineering in the Himalayas after graduating, from left, Andrew Hawes, Jim Purves and Greg Thomas.
What were your goals when setting up Newton and have those goals changed as the company developed?
Some things haven't changed; fun, friendship, high performance, guaranteeing the value we add to clients and growing the firm so that we can do bigger and better things are as important now as they were in the early days. However, lots of things that were right back then aren't relevant now. For example, when we set up we were called Newton Industrial Consultants and yet now we do fantastic work in health, social care, finance and business services, hence we are now just Newton. We didn't have a physical office until 2007 but life would be much worse now without the 45 great people we have in our office supporting our client facing team.
One question I have been asked a lot over the years
culture in the future as we grow (we've grown at an average of 25% per annum since 2001 to over 250 people). I don't think that is the right question as we need to ask ourselves what we want to hold on to and what we should change to be better. We've been lucky enough as a firm to appear at or near the top of polls as an employer – Times 100, Glassdoor, Financial Times – and we are proud of our culture and the way it has evolved, and will continue to evolve, for the better.
What type of projects does Newton work on?
We have major programmes with retailers, hospitals, food manufacturers, defence programmes and with social care providers. A really broad set of clients; what unites them is their level of complexity. We believe that the bigger the challenge the better. In fact, there are many projects we work on that other organisations would consider too tough. We work with our clients to help them provide better service and save tens of millions of pounds.
What is the most rewarding experience you have had at Newton so far?
I love the scale of what we can do now – three programmes last year each saved clients over £100m per annum while improving the experience of customers/service users and employees. However, the most rewarding stories I hear from our team are how the work we do helps save and improve lives of vulnerable people in the UK's health and social care system. They have on more than one occasion brought a tear to my eye.
What does an average day look like for you?
Although a cliché, I haven't had more than two days in the same place doing the same thing for 10 years. I meet clients before, during and after programmes, train and socialise with our team, and spend time on HR, marketing, leading and planning across Newton. I use my time travelling between sites to do a lot of my thinking and often spend that time on the phone with people across Newton working on current challenges and new ideas.
Are there any experiences from your time studying at Cambridge that have had a lasting impact?
The three years in my life where I believe I have learned the most are my year on ACDMM, my first year in work and my first year of Newton. ACDMM was an incredible year; the practicality of the learning and the direct, rapid application of theory into real results was a wonderful way to understand and see business and operations in a new way.
I made lifelong friends while studying on the course. I was recently on holiday with my family and three other ACDMM alumni families. In fact, we hired a mini-bus not dissimilar to the ACDMM vans. We did laugh as we had the three adults in the front, just like 20 years ago, but in the back were six of our kids rather than our classmates.
I had an interview for my dream job while on the course and I was worried I wouldn't interview well. One of the lecturers drove from Cambridge to Warrington to spend a few hours helping me. The generosity was not lost on me then and it isn't now. I remember I was worried that I was too unprofessional (in particular always late) and he said that this was just a habit and that I could decide to change this habit if I wanted to.
The main thing that I learned, is that everything and certainly every business ca
be improved and made better. We met lots of good people at (mostly) good companies, but the complexity and dynamic nature of businesses means that there is opportunity everywhere. A lot of the basic concepts we learned at the time such as lean and work studies have stayed with me. At the heart of Newton's methodology is the theory of constraints (The Goal, by Goldratt) which I studied at Cambridge. Much harder to implement than lean, but much better.
Looking back, I also had two horrendous suits. One was green and the other was Miami Vice white. I have no idea what I was thinking; perhaps we needed a lecture on image.
What is the most useful advice you could offer to a current ISMM student?
Graduating from the course offers a world of opportunities. Accept that while you could do almost anything, you actually have to do something, so you can't do everything. I know this sounds obvious, but I have interviewed literally hundreds, possibly more than 1,000 graduates and have the pleasure of working with 250 fantastic people, the majority of whom graduated from Oxbridge and there seems to me to be a common trait to success.
Obviously think carefully and choose a job that excites you, but those that put 100% into the situations they are in seem to achieve the most. The most frustrating people are those that spend their time in a limbo, always wondering if there are better options elsewhere. Ironically, the people who get furthest seem to spend the least time planning their careers, but they do achieve great things wherever they happen to be and they make the most of now. So be curious, ask questions, do lots and throw everything into what you are doing today, in and out of work. From what I see, those that do that end up with a lot more options, have more fun and achieve the most.
What is your biggest passion outside of work?
While at Cambridge we had a visiting lecture from an 'entrepreneur'. He asked us to put our hands up if we wanted to be an entrepreneur and lots of hands went up. He said we should keep our hands up if we were prepared to work all the hours we had to achieve our goal. Some hands went down. He then asked if would we prepared to not see our kids, lose friends, get divorced and put our entire financial future on the line to make it work. He said anyone with their hands still up might make it. I couldn't disagree more. In my opinion what I heard didn't represent success at all. I've worked incredibly hard at times and for sustained periods, but I have always enjoyed lots of skiing, surfing, endurance sports and proper time with my family and friends.
Date published
3 January 2018
Related People
Share This