IfM plugs into new Made Smarter investments in smart manufacturing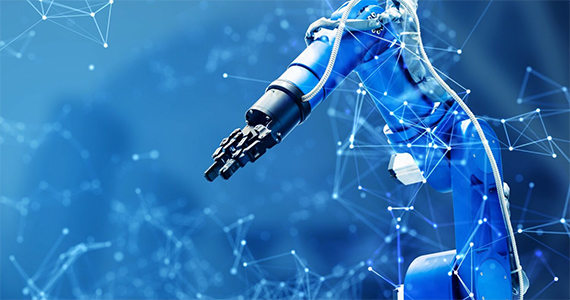 The Institute for Manufacturing is partnering on multiple strands of a new £53 million investment in smart manufacturing and connected supply chains from UK Research and Innovation (UKRI) and Made Smarter.
Leading the IfM contributions will be partnerships in two new Made Smarter Innovation research centres.
The Digital Medicines Manufacturing Research Centre, led by the University of Strathclyde with partnership from Loughborough University and the University of Cambridge, will accelerate the adoption of industry digital technologies (IDTs) across the pharma sector to transform medicines development and manufacturing productivity and drive patient-centric supply.
The Research Centre for Connected Factories, led by the University of Nottingham with partnership from the University of Sheffield and the University of Cambridge, plans to develop new digital manufacturing infrastructure that can autonomously adapt into different configurations to meet specific product and volume requirements, supply chain variations and disruptions.
The research will provide a blueprint for a unique connected network of future smart factories able to cost-effectively manufacture complex products on demand while exhibiting new levels of resilience and responsiveness to rapid and unpredictable change.
As part of the funding awarded from Made Smarter, the IfM will also be undertaking collaborative research as part of the SmartPSC project, where the application of digital technologies will be applied to integrate the pharmaceutical manufacturing supply chain and enhance efficiency, productivity, flexibility, resilience and sustainability.
In addition, the institute will lead on one of several flagship projects of the new Made Smarter Innovation Digital Supply Chain Innovation Hub, focusing on just-in-time medicines supply.
Professor Duncan McFarlane, head of the IfM's Distributed Information & Automation Laboratory and Cambridge lead on the Research Centre for Connected Factories, said: 'This new centre will allow us to explore the ways in which different developments such as IoT, additive manufacturing and human-centred technologies can be combined to produce greater adaptability both within a factory and between factories. The whole notion of a digital systems architecture for manufacturing will be reassessed as part of this work.'
Dr Jag Srai, head of the IfM's Centre for International Manufacturing and Cambridge lead on the three healthcare related projects, said: 'We are delighted to be playing a key role in these initiatives supported by Made Smarter and UKRI. With partners across the pharmaceutical industry, academia and technology providers, these digital supply chain projects in healthcare will enable more responsive production and supply, important to further boost digital healthcare innovation .'
About Made Smarter Innovation
Made Smarter Innovation is a national programme to help businesses who make things capitalize on new digital technologies. The programme will support the transformation of UK's manufacturing capabilities through the development and innovation of industrial digital technologies (IDTs). It gives UK manufacturers access to a digital innovation ecosystem that helps prove their idea, quickly develop it with experts and scale it. The £300 million partnership between government and industry will provide match-funding, specialist advice and result in radical manufacturing solutions. Delivered by UK Research and Innovation.
Date published
27 July 2021
Related People
Share This