How Made Smarter is empowering women in manufacturing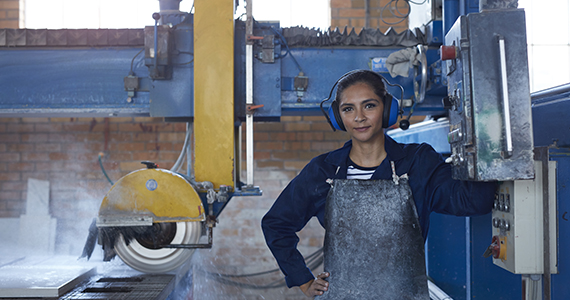 Industry trailblazers Andrea Thompson (BAE Systems), Andrea Hough (ATEC Engineering Solutions) and Donna Edwards (Made Smarter) say manufacturing SMEs can inspire a generation and close the gender gap.
The digital transformation of manufacturing has the potential to kick start a golden age for women in the industry. The number of girls' participating in STEM subjects at A-level and degree level has increased by a quarter in the last decade*. This pipeline of engineering talent has found its way into manufacturing, which has seen a slow but steady growth in the number of women in the industry, over the same period.
This influx has resulted in an organic increase in women in leadership roles.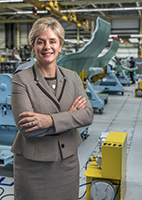 Andrea Thompson has worked her way up from supervising on the shop floor to the top floor and is now managing director for Europe & International Programmes at BAE Systems.
She is now aiming to inspire the next generation of women to follow suit through her role as chair of the Made Smarter Commission's North West Pilot.
Thompson has witnessed significant change during her 30-year career in the automotive and aerospace sectors.
A changing industry
"When I started in manufacturing it was another world," she said. "I was one of very few women going into the automotive industry – particularly the manufacturing end of it. Women's interest in the sector just wasn't there back then in any large numbers.
"The amount of progress is incredible," Thompson said. "Today, the environment has a much higher percentage of females, and in all kinds of ranks. They're on the shop floor, working with machinery, in R&D, in management and senior leadership. Women are everywhere now."
Thompson believes advances in technology and cultural changes in the industry are behind the increase.
"As well as a cultural perspective, it's changed from a manual outlook," she said. "There's no counting. Instead it's analysing data, figuring out how to be more efficient and effective.
"A completely different skillset is required. And women have this. They bring data analytical skills, along with a forward-thinking, strategic and innovative approach.
"I've noticed a growing number of amazing and very confident young women coming into the industry," she said. "They bring a different perspective. They're haven't grown up in our history. Not only do they have a new baseline of manufacturing knowledge and skills, they also expect to voice their opinions. They stand up in front of any audience and make suggestions and challenge those at any level. It's today's normal, and it's thrilling to see."
Thompson believes Made Smarter and the North West pilot offers a unique opportunity to encourage more women to succeed in manufacturing.
"The biggest problem manufacturing has is its historical image," she said. "Manufacturing continues to suffer from outdated misconceptions: that jobs are repetitive and involve working in unsophisticated, dirty factories; and that it doesn't offer fulfilling careers for women. But none of this is true.
"Manufacturing is more innovative than it has ever been. Modern factories are in clean, high-tech buildings rather than dirty environments for metal bashing. Manufacturers are getting things done using advanced technologies like robotics, 3D printing and intelligent machines, and using data, the cloud and analysis to find better ways of doing things."
Inspiring women into manufacturing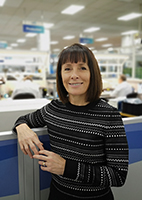 Andrea Hough is another example of someone who started on the shop floor, as an apprentice, and rose through the ranks via IT and production to become MD of ATEC Engineering Solutions.
She believes her tech-focussed route through the company has her well-positioned to lead the company's digital transformation.
"Data has always been at the core of my decision making throughout my career," Hough said. "That is more important than ever given that data and analytics are central to the 4th Industrial Revolution. I believe we have reached a turning point in manufacturing and that technology has the power to inspire a generation of young women."
Hough's career at ATEC benefitted from mentoring, which she has introduced into her own company. However, she passionately believes that to really inspire more women into manufacturing, it must start at school.
"To spark that interest in girls we have to start early," she said. "We need to show them what manufacturing is about. When I visit schools, I drum the message home that the stereotypical views of it being a dirty, unglamorous, butch environment are wrong. They don't have to change their look or style to be an engineer. They can still be 'female' and do the same jobs as men without losing their identity."
Being part of a new industrial revolution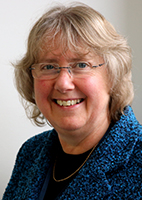 Donna Edwards shares that confidence of the future for women.
Her career started in manufacturing, in a HR and training role. Three decades on in her position as director of the Made Smarter North West Pilot means that she has seen the incredible change manufacturing has undergone.
"I have overseen many projects in my career, but nothing inspires me more than Made Smarter," she said. "Our ambition is kick start a new industrial revolution for the manufacturing sector and turn the UK into a world leader in digital technologies, starting in the North West, has really taken off.
"This is a once in a generational opportunity to boost productivity, create high value and highly paid jobs of the future, for both men and women."
About Made Smarter
Made Smarter is the UK national industrial digitalisation movement to drive productivity and growth of manufacturing industries and put the UK at the forefront of the 4th Industrial Revolution. Backed by world-renowned businesses and working in partnership with the UK government, Made Smarter will make a real, everyday difference to people from the boardroom to the factory floor.
For more information, visit www.madesmarter.uk.
How IfM is involved in Made Smarter
Through a report commissioned by Innovate UK in 2018, we provided key evidence for inclusion in the business case for a £120 million investment in Made Smarter. We are also a registered Made Smarter delivery partner, providing business support through our knowledge transfer arm IfM Education and Consultancy Services.
References
*https://www.gov.uk/government/news/minister-calls-to-dispel-girls-misconceptions-of-stem-subjects
Date published
6 March 2020
Related People
Share This