Good things come in smart packaging: an IfM ECS/Lloyds Bank thought leadership event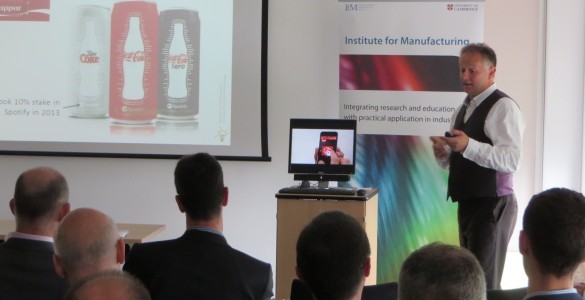 Industry experts and researchers shared their insights on smart packaging and its applications in the food and drink industry in a thought leadership event held at the IfM.
Fifty delegates from the UK's food and drink supply chain heard how advances in smart packaging technologies could produce transformative applications in crucial areas such as food quality and safety, the supply chain, brand protection and enhancement and user convenience.
They included representatives from companies such as Hotel Chocolat, Dufaylite Developments and Rexam, as well as organisations including the Processing and Packaging Machinery Association and the Royal Society of Chemistry.
The event on 19 May was hosted by Dr Karen Smith, Head of Sector Development and SME Support Business Unit at IfM ECS, and Nigel Sandbrook, Senior Manager at Lloyds Bank, the event sponsors.
Dr Cormac Neeson, Director of External Affairs at Crown Packaging, spoke about the drivers in smart packaging, including product security and anti-counterfeiting measures, revenue protection, health monitoring and medication, consumer trends and reducing food waste through condition self-monitoring packaging. He highlighted examples of intelligent and experiential packaging used by leading brands.
He said smart packaging currently accounts for about 5% of all packaging and he discussed the issues and barriers including cost, legislation and liability, recycling and waste.
Dr Luigi Occhipinti, National Outreach Manager at the EPSRC Centre for Innovative Manufacturing in Large-Area Electronics, addressed the manufacturing challenges for sensors and electronics integration in smart packaging, illustrated with the centre's latest research.
Joao De Oliveira, Vice President for Business Development at PragmatIC Printing Ltd, spoke about his firm's unique patented printed logic solution in a presentation about the technologies, functions and costs of smart packaging.
Brian Lodge, Design Manager at RPC Containers, focused on smart packaging in the rigid plastics industry, including the migration from glass and tin to plastic packaging. He said smart packaging technology is not cheap and companies need to consider if it offers a competitive advantage and, if so, for how long, as well as issues such as sustainability and recycling.
Dr Rob Phaal, of the Centre for Technology Management, spoke about applications for roadmapping for strategy and innovation in the food and drink sector and the half-day event concluded with a Q&A session.
The UK food and drink industry has a turnover of £92bn and the sector is showing huge interest in smart packaging technologies.
Date published
21 May 2015
Related People
Share This