Offering support services specially designed for smaller manufacturing companies.
Are you...
Constantly juggling priorities?
Too busy running your company to plan for the future?
Keen to improve your business but not sure how to go about it?
Managers of small companies have little time to spare beyond the immediate day-to-day challenge of keeping their business on track. Our comprehensive programme of support identifies the real priority areas for your business, where improvement will make a significant difference, while using the minimum of resources.
Our support programme for small and medium sized companies can help…
We help you:
Identify the basis on which you should compete and win orders
Assess your firm's strengths and weaknesses and prioritise the areas that need to be addressed most urgently
Develop a strategy for the future, often identifying new markets and products
Produce a practical action plan and build the capabilities needed to put the strategy into effect
How do you want to compete and win orders?
A comprehensive prioritisation exercise, taking in the whole business, is your first step in our structured approach to helping smaller companies. The exercise will identify how your business wins orders - and what are the constraints holding it back. Does everyone in the management team agree with you? Any differences of opinion should be investigated to ensure you all share the same priorities for the business.
How is your business performing and what are the priority areas?
Once you have a consensus on how

to compete and what are the constraints holding you back, the next step is to assess how well the business is doing and to decide where to focus improvements. Our comprehensive question set is designed to rapidly get under the skin' of your business. It assesses the strength of your company's performance across all business areas and reveals how well you are doing in achieving your priorities.
The results of this assessment will reveal the top priority areas for your company – areas that are vital to your business but where performance is poor.

It will also show the low priority areas that are less important to your business but where performance is currently high. Continued investment of resources in these areas should be reconsidered.

Your priority areas will form the basis of a tailored action plan to develop key capabilities and achieve real improvement.

A business strategy to guide decision making
One item that should always be a priority for any company is a clear business strategy. A good strategy will ensure you focus your efforts on the right areas, helping you increase sales and profitability.

If the prioritisation exercise reveals the need for a clearer strategy for your business then we will work with your management team to set one in place. This involves:
identifying the external factors likely to affect the business
assessing your company's strengths and weaknesses
developing and selecting options for your future, often identifying new markets and products
preparing a clear implementation action plan with defined responsibilities and timescales
The business strategy will guide decision making for several years to come and ensure everyone is pulling together in the right direction.

Building capabilities in key areas
Once you have agreed an action plan the next step is to focus on the two or three capability areas (e.g. quality management, delivery performance or product innovation) you have identified as priority areas, where improvement will make a real difference to company performance.
We help you do this in each of the 2-3 key capability areas through…
a half-day management team briefing on how to build the capability, helping you identify short- and longer-term actions
a half-to one day assessment of current and required capability levels, the gaps, leading to a plan to build the capabilities you need
structured approaches to improve key processes and skills
support and mentoring to help you develop and build your business capabilities
We will help you through the change process but the most valuable time will be spent by the company itself deciding how best to tackle the issues involved.
Please get in touch if you would like to discuss how IfM ECS can help you to develop and grow your business.
Order Winners - Click on the image for a larger version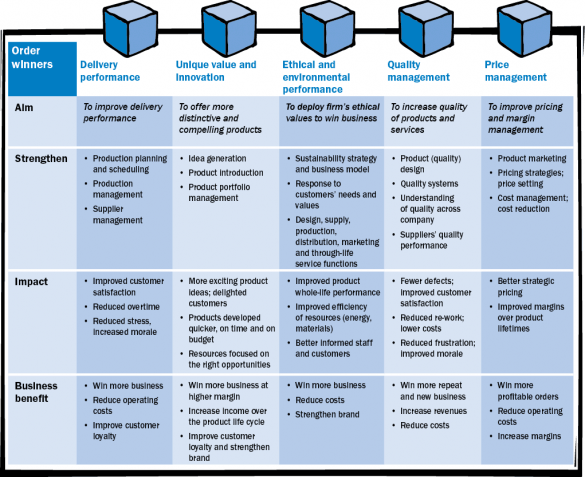 Business Constraints - - Click on the image for a larger version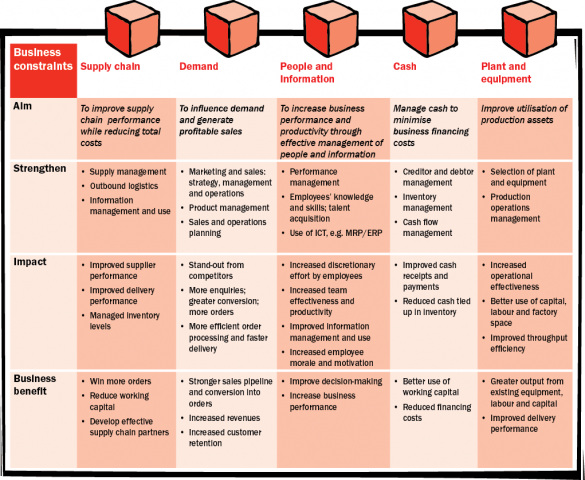 ---
Funded support for SMEs and start-ups
A programme for smaller manufacturers in the Eastern Region, funded by the European Regional Development Fund.
Mentoring scheme for Essex-based manufacturing SMEs and start-ups, funded by Essex County Council
You may also be able to receive funding from the Manufacturing Advisory Service. Please contact us for more information.
---
Contact Us
Please get in touch if you would like to discuss how we can help you to develop and grow your business. T: +44 (0) 1223 766141 E: ifm-enquiries@eng.cam.ac.uk