Mid-size companies are those that sit somewhere between large multinationals and SMEs. They are often very successful, longstanding businesses which play an important part in their national economies.
Our consultants work with mid-size businesses – and with business units of global companies – and understand both the challenges they face and the opportunities they have for growth. All our consultants have extensive industrial experience at a senior level and a commitment to bringing research to bear on real industrial challenges and learning from the results.

All our approaches have robust theoretical underpinnings, derived from University of Cambridge research. Most have been extensively tested through practical application. For others, which reflect the very latest research, we actively seek 'pioneers' to work with us to test and refine our approaches – and seize an opportunity to differentiate themselves by adopting new knowledge and methods.

We have worked with a wide range of mid-size companies including: Carl Zeiss, Domino, Elektron Technology, Redring Xpelair, SecureMeters, Soil Machine Dynamics and Syfer Technology.
Achieving sustainable growth
If yours is a mid-size business, you are already, by definition, very successful. And mid-size companies are often well placed to grow, combining the agility of a smaller company with the resources to invest in new production methods, markets and technologies. But in order to make the right decisions in complex and changeable market conditions, it is important to take a structured and 'whole company' approach to all strategy and capability development activities.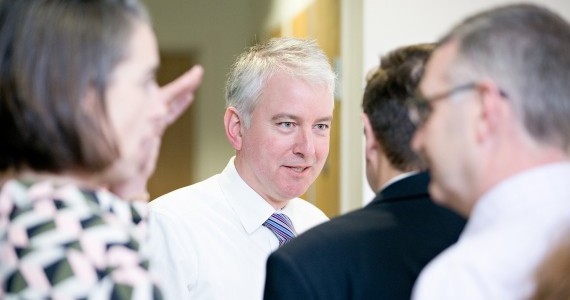 IfM ECS can work with you to:
our 'prioritisation' process helps you focus your efforts on your most pressing needs and those areas of the business which will deliver the most growth.
'prioritisation' often reveals a need to re-assess the business strategy and develop capabilities in a particular area. If so – or if you want help specifically with strategy development – our business strategy process helps you 'choose your future' and create a plan to achieve it.
our market analysis tool can be used to support strategy development, particularly in the context of commercialising new technologies.
we can help you communicate your strategy effectively, implement it and refresh it both on a regular basis, and whenever your internal and external circumstances change.
our range of scaleable approaches and techniques can help you develop a robust innovation and technology strategy and system.
we can work with you to optimise your supply and production networks, choose the right process technologies, understand your opportunities for automation and ensure your factories can respond to change.
around volume, quality, delivery and unit cost, and develop more resilient operations.
with many manufacturers now looking to offer services alongside their products, we provide a set of strategic approaches to support the challenging transition to a more service-based business model.
environmental sustainability is key to achieving long-term growth and we can help you embed 'sustainability' into your business strategy and model, and throughout your functional strategies and capabilities.
---
IfM Education and Consultancy Services (IfM ECS)
IfM ECS provides consultancy and executive development – based on the new ideas and approaches developed at the IfM – to help manufacturing and technology companies around the world create and capture value more effectively. As well as supporting mid-size companies we also work with some of the world's leading multinationals (such as BP, Caterpillar, Linde, Mars and Rolls-Royce) and more than 1,000 SMEs and early stage ventures in the UK.
Why choose IfM ECS?
We are not a conventional consultancy: our approach is highly
collaborative, designed to help you achieve your goals and build your
capabilities.
We get results: companies we have worked with have shown significant
increases in revenue, cost savings and increased confidence about the
future.
We understand that your time and resources are scarce – our approaches are both effective and efficient.
We share our techniques with you so that you can keep on applying them after the project has finished.
Our methods, often workshop-based, are designed to build consensus and communicate the results throughout the organisation and beyond.
Everything we do is derived from research from one of the world's leading universities – and any profits we make help fund future research.
Please download our brochure as PDF or view on ISSUU.
For more information, please contact Peter Templeton, E: pwt23@cam.ac.uk or complete the form below.