Connecting the unconnected: New thinking on next generation supply chains

As the annual Cambridge International Manufacturing Symposium marks its twentieth year Dr Tomás Harrington, Dr Jag Srai and Paul Christodoulou from the IfM's Centre for International Manufacturing (CIM) reflect on the new supply chain thinking that is emerging from companies such as Cisco, Coca-Cola, Jaguar Land Rover, Johnson Matthey, Cambridge University Press and Schneider Electric.
Supply chain directors from some of the world's leading companies come to our annual Symposium to share their experiences, talk about the challenges they face and the steps they are taking to address them. The audience is a mix of academics and industrialists keen to share ideas and consider new possibilities. This year's Symposium represented something of a turning point. We saw a consensus building around the need for radical transformation towards a new type of supply network.
Dr Tomás Harrington, Senior Research Associate, said: "Four key – and connected – themes emerged loud and clear: developing a 'cleverer together' philosophy; designing more agile and customer-focused supply chains; exploiting the potential of the digital revolution; and addressing the environmental impact of supply chain activities." Running through all of this was a common thread which emphasised the need to connect, network and collaborate across the supply chain, whether through enterprise-wide IT integration at one end of the spectrum or by targeting engagement with supply chain partners at the other.
Smarter networking
This drive towards collaboration was articulated through the mantra of 'better together' – developing a more 'sophisticated' approach to networking by sharing more information, aligning KPIs across the network partners and operating as a community. Being 'cleverer together' was perceived to be an opportunity to drive growth by, ultimately, allowing companies to improve the service they could deliver to their customers.
---
"We are looking for increased visibility which allows for proactive resolution leading to better decision-making and, ultimately, a better customer experience."
Senior Vice-President, Global Supply Chain Transformation
---
Which, of course, is easy to say and hard to do. How do you align and collaborate with multiple network partners, scattered across the globe, all with different specialisms and their own strategic objectives?
Dr Jag Srai, Head of the Centre for International Manufacturing, said: "This challenge resonates with many of CIM's research interests. How, for example can you design a connected end-to-end supply chain? How do you develop successful multi-partner service supply chains? How might changing consumer behaviours and new production technologies influence future supply chain design? We are also starting to think about different ways in which we can further reduce supply network complexity by displacing or eliminating traditional intermediaries who may previously have played a key part in the flow of materials or information. Preliminary thinking suggests that these kinds of 'disintermediation' strategies may, in certain circumstances, offer an alternative route to network optimisation than the usual network integration approaches. They may also help reveal the motivations and challenges firms and their respective networks face in terms of future performance and behaviours."
Designing the 'new' supply chain organisation
Our Symposium speakers talked about a strong correlation between innovation and the supply chain, stressing the importance of reducing time to market and delivering more responsive customer service. Shorter product life cycles are also forcing companies to speed up their decision-making. In the future, supply chain-driven companies will look to organise themselves around agile business processes, and better tailor their supply chain KPIs and incentives to their particular business model. It is definitely not a 'one size fits all' approach. Paul Christodoulou, Principal Industrial Fellow, explained: "We see a different type of customer-focused and dynamic organisation emerging with agile supply chains which increasingly cut across business units, functions and geography and a new emphasis on cross-network collaboration. Again, companies will need to make a judgement about the 'level' of collaboration that should exist between partners, whether it should be purely transactional ('arm's length') or strategic (a 'marriage')."
Whichever route they choose, they will need to deal with non-traditional supply chain challenges and to develop a new set of competences across people, processes, products and data to support new business models.
---
"Devising clever ways to get supply chain efficiencies through collaboration, despite not owning the business decisions or relationships."
Supply Chain Director
---
A digital future
One of the answers to this challenge may well lie in the digital future. In recent years we have seen the development of new routes to market, partly driven by innovative e-commerce initiatives, with dominant players such as Amazon having a huge impact on many organisations' supply chains. In the business-to-consumer context, we are seeing vastly improved levels of customer service in various sectors and in the world of business-tobusiness, smart supply chains are able to deliver 'just-in-time' or 'just-in-sequence'.
Those companies with advanced supply chain capabilities are already harnessing 'big data' analytics and social media to innovate their business model and supply chain design. They are also starting to experience real benefits from bringing together the 'physical' with the 'digital' in the context of end-to-end supply chain integration. Meanwhile, the so-called 'internet of things' is beginning to give supply chain professionals a new set of tools to connect people, products and processes.
This trend is reflected in the work we are doing in CIM as part of the ReMediES project, looking at the UK pharmaceutical supply chain (see page 3). Jag, who is Research Director for ReMediES, said: "As part of the project we are going to look at 'informating' next generation supply networks and how IT-enabled and e-commerce-based supply chains are changing the role of information. Equally critical will be how technology developments can reshape the capability of supply chains right through to the consumer or, in this case, the patient.
Sustainable supply networks
Supply chains and sustainability featured prominently across the two days. Companies are operating in increasingly regulated environments. They are under pressure from their shareholders, customers, local communities, employees (and even interviewees) to demonstrate their commitment to reducing their environmental impact. And, as their international manufacturing and supply chains serve increasingly far-flung markets, they may find themselves imposing stresses on natural resources. Indeed, some are already facing water shortages in some of the locations they operate in and serve.
The commitment to sustainability, therefore, represents an integral part of future supply chain thinking. In many cases, companies are already addressing this by setting themselves stringent environmental targets. By 2020 Coca-Cola, for example, is aiming to reduce the carbon footprint of every bottle of Coke by a third. Since 2007 Jaguar Land Rover has reduced its carbon footprint by a quarter and, by using cutting-edge lightweight materials and technologies and more recycling it aims to cut it by a further quarter by 2020.
Making these kinds of commitments has implications for everything from company footprint, location decisions, product format, supply and service models. And, even if the company itself is able to address these challenges, how can it be sure that everyone across its supply network is playing by the same rules? And so we come back to our model of collaboration and transparency, enabled by the emergence of digital supply networks.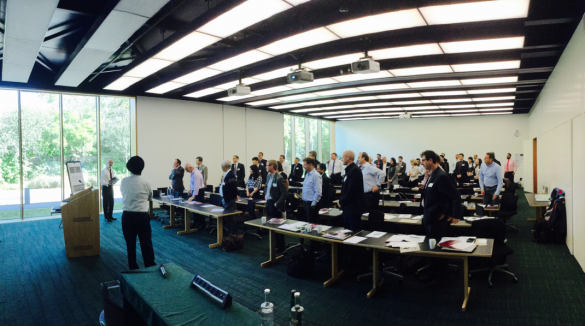 Mike Gregory gets a standing ovation from delegates at the 2015 Symposium in recognition of his contribution to the field of international manufacturing
A new approach to network design?
So what lessons can we learn from this year's Symposium? It seems that the larger companies are taking a radical approach to supply chain development – designing new, more responsive, more customerfocused, more sustainable networks. Within complex organisations and across ever more complex networks, digitisation will inevitably play a key part in this transformation, giving companies the information they need to make better and faster decisions and ultimately to capture value from their ability to serve their customers better than their competitors.
But we must not underestimate the scale of organisational change which will be required and the new set of capabilities supply chain professionals will need to develop. Jag says: "CIM will pursue these themes across a number of projects, including ReMediES, but also by extending our work on sustainable and resilient supply networks in particular. We look forward to sharing our findings at next year's Symposium."
---
The Cambridge International Manufacturing Symposium
We held our first Symposium in 1995 and since then it has become an integral part of the CIM research programme. It allows us to engage with senior industrialists from a wide range of non-competitive sectors who are willing to share their experiences and insights in open session. As a result, we often find ourselves identifying 'hot topics' – such as re-shoring – well before they hit the newsstands. The Symposium helps us to understand companies' challenges and opportunities, test our thinking and develop shared research agendas.
On day two of the conference we look to integrate rich insights from day one with those from leading academics on the analysis, design and operation of global supply networks, in order to 'connect' our future research activities with practice.
Symposium Director 2015: Dr Tomás Harrington, Senior Research Associate
Email: tsh32@cam.ac.uk
Symposium Chair and Head of Centre for International Manufacturing: Dr Jag Srai
Email: jss46@cam.ac.uk
Practice Lead: Paul Christodoulou, Principal Industrial Fellow, IfM ECS
Email: pac46@cam.ac.uk
The 21st International Manufacturing Symposium: Globalisation 2.0 -
Rethinking supply chains in the new technological and political landscape will be held on Thursday 28 to Friday 29 September 2017. For more details, please see here.
---
Find us on
Date published
30 October 2015
Related People
Share This