CIM Symposium 2018: The impact of advanced technologies on supply chains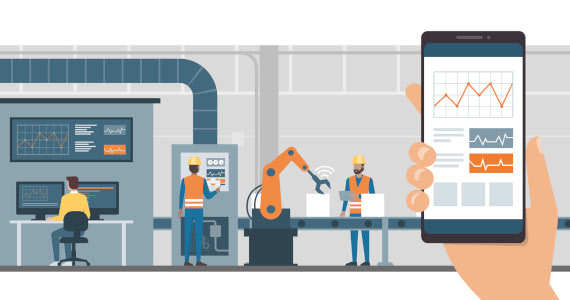 A packed programme at the 22nd Cambridge International Manufacturing Symposium, on 27-28 September 2018 in Cambridge, featured keynote talks from senior business executives and academic thought leaders. The event continued in its successful tradition of bringing together representatives from industry and academia for fruitful exchange of ideas and experiences.
Dr Jag Srai, Symposium Chair and Head of the Centre for International Manufacturing (at the University of Cambridge's Institute for Manufacturing), opened proceedings with an overview of this year's theme: 'Supply Chain Transformation Enabled By Advanced Technologies: Implications for Producers, Consumers and Society'. He set out the theme's central question - whether new digital and production technologies represent a fundamental disruption to the extent that we are rethinking how supply chains work. As indicated in the event title, these developments are significant not just for producers and their supply chains, but also for consumers and society at large. Jag provided a brief update on how research from his centre has developed over the past 12 months, working to explore and address some of these headline challenges.
Industry perspectives
The first day of the Symposium was focused on industry perspectives, with outstanding senior industrial speakers representing exemplars of manufacturing supply chain initiatives. The agenda included senior executives from AstraZeneca, Cisco, Ford Motor Company, Innocent, Schneider Electric, Siemens UK, and Signify (formerly Philips Lighting).
The first speaker was John Fleming, former Executive Vice President Global Manufacturing and Labour Affairs at Ford Motor Company, on how Ford has achieved digital transformation in the production of the aluminium F150 truck. He posed the question of how you know where to start if you want to increase productivity levels – how do you identify where a problem lies, or an opportunity to improve efficiency? Ford were already generating huge volumes of data, so spent time getting better at understanding how to use datasets and what questions to ask of them to gain the insights needed. They brought together data and analytics departments with a large group to support logistics across the supply chain. John particularly underlined that manufacturers need to cultivate and develop people with a range of technical skills to harness the opportunities of ongoing change.
This emphasis on people was developed further in the second keynote, Michelle Shi-Verdaasdonk, Vice President, Head of Global Manufacturing, Signify (formerly known as Philips Lighting), asking 'What is beyond Industry 4.0?'. Michelle's primary focus was on putting people at the heart of technology strategy.
As she eloquently expressed, customers and their needs and demands are changing, so companies need to change capabilities to meet this. Rather than asking first how we can implement exciting new technologies, it is vital instead to start by asking what technologies could help us to meet customer needs. She gave some specific case studies which demonstrated the value of competing through customisation and sustainability to meet customer needs (and therefore the technologies which enable this), rather than assuming that price or production processes are always the route to competitive advantage. She also highlighted how Signify have been working with the IfM to model and realise plans for distributed manufacturing. Manufacturing things physically nearer to the customer has significant advantages, such as giving the customer more of a voice a part of the value chain, as well as reducing carbon footprint.
Cisco's Senior Director of Supply Chain Operations, Edwin de Boer, shared insights on how to drive an agile and adaptive supply chain. He explained Cisco's drive to implement a digital supply chain, which needed to address several key imperatives: to improve productivity, to transform the company from a hardware focus to a software focus, to support new innovations, to achieve agility along with scale, to meet customer expectations, and to manage rapidly growing global reach. Cisco implemented a number of technologies to achieve this transformation, including 3D printing and a prototype portal to support product development, and a supplier collaboration platform to improve global planning and fulfilment. Cisco Energy Management system was developed to monitor energy usage in factories, which has saved the company millions in power costs as well as reducing greenhouse gas emissions.
Schneider Electric's journey towards a fully integrated digital supply chain was outlined by Alain Leroy, Senior Vice President of Global Supply Chain Strategy & Transformation. Building on a culture of continuous improvement, Schneider Electric are moving towards a fully digitalised end-to-end supply chain, with streamlined connections between customers, internal operations and suppliers. The development of the organisation's 'Tailored Supply Chain' has achieved breakthroughs towards customer-centricity and cash efficiency while delivery improved productivity. At the same time it is driving reduced energy consumption, and improving cyber security.
Following this, Chris Fielden, Group Supply Chain Director at Innocent addressed the topic of the importance of supply chain agility to enable business growth. He described the inspiring growth story at Innocent where revenues have doubled in the last 5 years. During this time, the supply chain has required complete reconfiguration in terms of physical structure but also in terms of digital infrastructure and business processes. This has involved developing a modular, plug-and-play design philosophy for scaling the network without adding complexity and cost. New, cloud-based ERP systems were selected based on simplicity and introduced with careful consideration of digital business process re-engineering led by a cross-functional team. This enabled the "replacement of the engines mid-flight" and set a stable platform for further growth.
Juergen Maier, CEO of Siemens UK, and leader of the Made Smarter Review commissioned by the UK government, delivered an energetic update on the UK's Industrial Strategy. He underlined work done so far to move the UK towards playing a leadership role in global digitalisation initiatives, arguing that the productivity of British manufacturing and digital industries would be raised by an estimated 30% as a result of adopting industrial digital technologies. The strategy for implementing these technologies has four pillars—leadership, innovation, adoption and skills—and he provided an overview of the challenges, possibilities and plans within each.
The final keynote of day one was from Jon-Paul Sherlock, Global Technology Strategy Director at AstraZeneca, on transforming the development, manufacture and supply of medicines. AstraZeneca have been aiming to work collaboratively internally and externally, building a more entrepreneurial culture to innovate and accelerate adoption of new technologies. He provided insights into experience of large collaborative projects: CMAC (Continuous Manufacturing and Crystallisation) Future Manufacturing Research Hub, as well as ReMediES, a major four-year collaborative project working alongside GlaxoSmithKline and the Institute for Manufacturing among other partners.
The first day was rounded off with a Symposium Dinner at Christ's College in Cambridge.

Academic insights
Day two of the Symposium, as in previous years, focused on research with academic speakers.
The first keynote was from Professor Jan Olhager of Lund University on designing and redesigning international manufacturing networks. Jan presented research findings which show a significant crossover between companies who score high on innovation, with companies who are 'back-shoring' (bringing off-shore operations back into their home country). He also explained the different networks and logistics options for component manufacture and assembly plants, with three levels of capability: type 1 plants with production only, type 2 plants with production plus supply chain development, or type 3 plants with production, supply chain development and R&D capability.
Dr Fabrizio Salvador of IE University was the next speaker, on work analytics – 'the human side of Industry 4.0'. He discussed the impact on workers of task automation, as well as the ways in which Industry 4.0 will affect managers and how they make decisions. He discussed 'dark data' – the information assets that organisations collect, process and store, but often don't use during regular business activities – and how operations managers and researchers could learn more from dark data analytics.
Hot-footing it straight from Heathrow after a delayed flight from India, Professor Sandeep Kapur of Punjab Agricultural University, Ludhiana, provided an engaging final presentation, explaining how a quantum leap was achieved in agricultural production in the Punjab in the 1970s due to the introduction of new technologies, irrigation, credit and transport systems. But there are still significant problems in the current agricultural system, including the illegal practice of burning paddy straws to clear the fields in November which causes huge air pollution problems, and that the net profit of the farmers is decreasing despite income increasing. Food sustainability and supply chain improvements will be a research area for collaboration between Punjab Agricultural University and the University of Cambridge.
Following these keynotes, delegates chose from parallel tracks on research topics, including global supply networks, automotive, supply chain transformation enabled by advanced technologies, digital supply chain design, analysis and operation, global value chains, and global manufacturing and China, food, and sustainability and the circular economy.
Read more
Presentations from the keynote speakers can be found here:
cimsymposium.eng.cam.ac.uk/symposiumprogramme/talkcontent
Interviews with Alain Leroy of Schneider Electric, and Michelle Shi-Verdaasdonk of Signify can be found here:
cimsymposium.eng.cam.ac.uk/symposiumprogramme/Interviews
The academic papers are on the University Repository, Apollo, for DOI purposes, available here:
www.repository.cam.ac.uk/handle/1810/280371
The 2019 CIM Symposium will take place at the Moller Centre on Thursday 26 and Friday 27 September 2019. Other events organised by the Centre for International Manufacturing in 2019 include:
Date published
15 October 2018
Related People
Share This