20th Anniversary of the Distributed Information and Automation Laboratory (DIAL)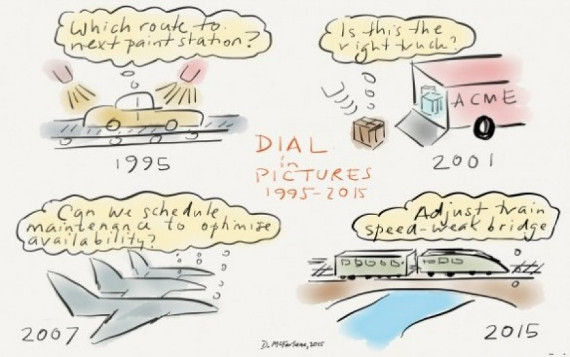 This year marks the 20th anniversary of the Distributed Information and Automation Laboratory (DIAL) – having started in 1995 as the Manufacturing Automation and Control Systems Group and briefly morphing into the Centre for Distributed Automation and Control or CDAC in the early 2000s.
The centre was set up with the intent of "bridging the gap between control and automation theory and practice". In order to do this we placed a requirement on each and every student, researcher and project in DIAL that the work would: a) involve an industrial partner and, b) be assessed against the dual criteria of both academic novelty and industrial importance.
In 20 years there has been no real exception to this approach and today the philosophy is so tightly ingrained into our work that PhD students are required to insert an additional section entitled "Industrial Importance" or similar into their thesis.
It is also interesting to note that DIAL's three core focus areas (in the box below) have not changed over the 20 year period.
Managing systems subject to disruptions and change.
Smarter, distributed ways of automating systems.
Getting better value from industrial information and quantifying it.
The management of disruption and change is, if anything, more important today as resilience sits high on the agenda for factories, companies, governments and society as a whole. Automating distributed operations is key to the development of manufacturing networks and logistics operations spread across the globe. The German Industrie 4.0 initiative is just one recent example of this area. And finally, extracting maximum value from information has the potential to underpin and guide the rather expansive Big Data and Internet of things ambitions.
In one of the future Newsletters in the 2015/2016 academic year we will review some of the main developments DIAL has been involved in over the 20 years but for now I would just like to thank the long list of students, staff, industrial partners, sponsors and academic collaborators for their inputs and support over the years.
Date published
29 October 2015
Related People
Share This