Videos
3D printing
Dr Tim Minshall who leads the EPSRC/ESRC-funded 'bit-by-bit' project at the IfM explains why Additive Manufacturing (or 3D Printing) could have huge application in sectors from cars to space stations.

Does the 3D printing revolution mean I will be able to print anything I want from the comfort of my own home?
Advanced manufacturing

Dr Steve Hoath, Senior Research Associate at the Inkjet Research Centre of the IfM explains how his and colleagues? work is focused on understanding the underlying science of inkjet printing.

Dr Ronan Daly describes new research into sensors and smart surfaces can be designed and deployed to extend the operating life of machinery and manufactured products.
Automation

Alan Thorne describes some of the work of the IfM's Distributed Information and Automation Laboratory (DIAL) and how it can help companies improve their automation systems.
Big Data and the new analytics

Dr Mohamed Zaki describes recent research from the Cambridge Service Alliance into data-driven business models.
Business model innovation

Dr Doroteya Vladimirova explains sustainable business models and why they are important to firms which want to remain competitive in the current environment.
Business tools

IfM's Head, Andy Neely, stresses the importance of measuring the right things.

In this video, learn the IfM approach to strategic make-or-buy decisions, and how you can use our tools to take strategic action in your own organisation.
Kate Willsher, COO of IfM Education and Consultancy Services, presents a rapid method developed at the Institute for Manufacturing to assess the opportunity and feasibility of new business initiatives.
Design for transformation

James Moultrie, Head the IfM's Design Management Group, argues that good design is just as important for industrial products as it is for consumer goods such as cars and electronics.
Education

PhD student Karen Yu explains how George Lucas' Star Wars novel has influenced her work in the field of photonic lasers as part of the University of Cambridge's 'Novel Thoughts' project.

Dr James Moultrie has been awarded one of the University of Cambridge's Pilkington Prizes - awarded to individuals who have shown teaching of exceptional quality. Watch James talking about his teaching and the IfM Design Show.
Global supply chains

Dr Mukesh Kumar shares research and guidance from the Centre for International Manufacturing which can help multinational companies manage their supply network risk more efficiently.

Paul Christodoulou, Principal Industrial Fellow at IfM Education and Consultancy Services in this video discusses the IfM process for Production Footprint Strategy.
Manufacturing a better world

Tim Minshall, Dr John C Taylor Professor of Innovation and Head of the Institute for Manufacturing, shares an overview of how teams of Cambridge engineers have helped the local, national and international response to the COVID-19 pandemic, and how we can use the lessons learned to support a strong and sustainable recovery.

Three teams of students from the MPhil in Industrial Systems, Manufacture and Management course at the Institute for Manufacturing worked with the NHS on issues including testing processes, oxygen supply mapping and patient flow modelling during the COVID-19 outbreak.
Manufacturing matters

Dr Tim Minshall, Senior Lecturer in Technology Management recently gave a TEDx talk based around the perception of what primary school children think engineers do.

In this talk, Tim talks about how new technologies enable ordinary people to collaboratively design solutions to the problems they face in daily life.

Andy Neely, Head of the IfM, explains why he thinks this is a wonderful time to be involved with manufacturing.
Servitization

The Cambridge Service Alliance, part of the Institute for Manufacturing is committed to helping organisations develop new revenue streams through improved services.

Businesses are increasingly looking to sell services rather than products as they respond to strategic, economic and even environmental factors.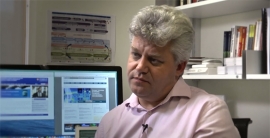 Many manufacturers are choosing to adopt a service-based model to create new and longer-term revenue streams. But how will servitization evolve in the future and affect businesses and consumers?
Technology management

Dr Rob Phaal from the Centre for Technology Management at the IfM in this short video makes the case for lean and agile strategy as a source of competitive advantage.