Women in Manufacturing: Changing Perceptions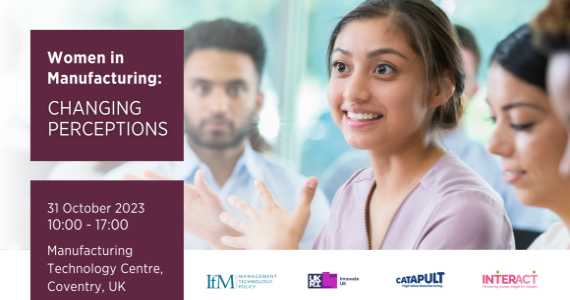 Although women represent around half of the labour force in the United Kingdom, they account for only 26% of all workers in the manufacturing sector. Gender norms and stereotypes still segregate women and men into different occupations and economic activities. Women are also underrepresented in leadership positions, and this lack of diversity influences decision-making and firm performance.
Changing Perceptions is a one-day conference led by the IfM and Innovate UK's Made Smarter Innovation programme. It is open to anyone with an interest in driving positive change and improving gender representation in the manufacturing sector.
Held at the Manufacturing Technology Centre (MTC) in Coventry on 31 October, the event will include inspiring speakers, interactive workshops, and networking opportunities.
The morning will consist of plenary sessions and panel discussions, with ample opportunities to connect with others. During the afternoon, there will be an interactive workshop carousel where participants break out into smaller groups and attend expert-led workshops on themes including mentorship, social media and digital technology.
Speakers include the IfM's Jennifer Castañeda Navarrete who will talk about manufacturing perceptions from an international perspective, and Zoi Roupakia who will lead a workshop on gender and digital technology opportunities.
Other speakers include: Dr Megan Ronayne (Innovate UK KTN), Elizabeth Bonfield (Skills 4), Ninder Johal DL, Philippa Glover (OMRON Group), Jo Britton (PACE Development Ltd), Nipuni Karunaratne (Rolls-Royce), and Carolyn Hobdey (The Broad Room).
The conference is part of a series of activities organised by the Women in Manufacturing Initiative, a network of industrial and academic professionals with a shared interest in encouraging diversity and inclusion in the sector.
---
The conference is led by the Institute for Manufacturing, and Innovate UK's Made Smarter Innovation programme, with support from the High Value Manufacturing Catapult, InterAct Hub and Lloyds Banking Group.
Date published
13 September 2023
Related People
Share This