Women in Manufacturing initiative launched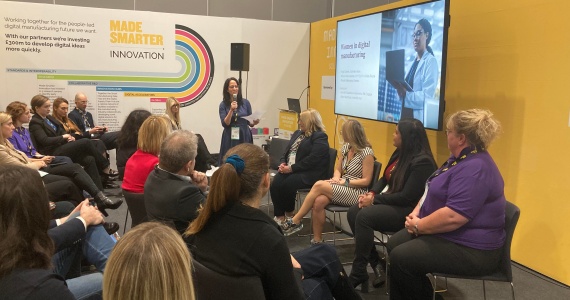 Although women represent almost half of the labour force in the United Kingdom, they account for only 26% of all workers in the manufacturing sector.
Gender norms and stereotypes still segregate women and men into different occupations and economic activities. Women are also underrepresented in leadership positions, and this lack of diversity influences decision-making and firm performance.
To encourage more diversity and inclusivity in the sector, a network of academics, practitioners, and professionals working in the field of manufacturing have come together to establish the Women in Manufacturing initiative.
Founding organisations include the Institute for Manufacturing (IfM), the Department for Business, Energy and Industrial Strategy (BEIS), Made Smarter, Innovate UK, the Knowledge Transfer Network, High Value Manufacturing Catapult, Mestec, InterAct Hub and the University of Strathclyde.
Jennifer Castañeda-Navarrete, Senior Policy Analyst at the Institute for Manufacturing, explains the motivation for the initiative: 'There remains a lack of understanding of the opportunities available to women in manufacturing,' she says. 'It's essential that women from different backgrounds are represented and are recognised as contributing to the sector.
'We hope the initiative will increase the visibility of role models in a wide variety of manufacturing roles – from traditional shop-floor jobs to less traditional roles associated with the industry. Also, although women may be better at networking, we usually have less opportunities for networking so we hope the initiative can create more spaces where we can all participate.'
To help shape the initiative's future direction, we invite anyone interested in working together to answer this short survey.
Survey responses will help identify the challenges preventing equitable opportunities and rewarding careers for women in manufacturing, as well as help map out events and activities which will support and grow the community.
Past events
Women in digital manufacturing
16 November 2022, Digital Manufacturing Week
To raise awareness of gender inequalities in digital manufacturing, a discussion panel and networking reception, funded by InterAct, took place during Digital Manufacturing Week 2022.
For more information, contact: Ella Whellams at erd30@cam.ac.uk
Date published
9 February 2023
Related People
Share This