Thought-leadership at the UK's biggest manufacturing conference
Optimism in the face of challenge and change was the prevailing mood at the 2018 Smart Factory Expo and Manufacturing Leaders' Summit in Liverpool on 14-15 November. Delegates, speakers and exhibitors exchanged ideas and strategies for securing a successful future for manufacturing at the heart of the UK economy.
The Institute for Manufacturing was a key event partner, bringing thought-leadership and research insights to the biggest manufacturing conference and exhibition in the UK. Professor Tim Minshall, Head of the IfM, chaired the first day of the event's 'Manufacturing Leaders' Summit' conference, setting out in his Chair's opening remarks the vision of the IfM to manufacture a better world. He explained that by bringing together leaders from industry, academia and government, the IfM aims to foster cohesion across manufacturing sectors to create value and enable innovation.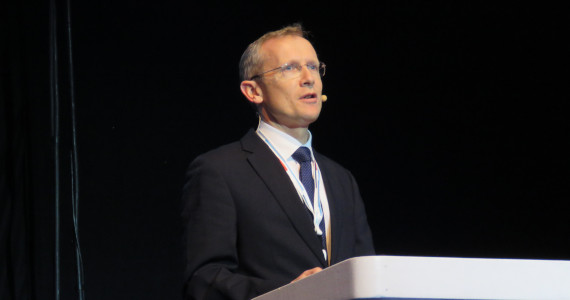 Professor Tim Minshall chaired day one of the conference, emphasising IfM's drive to foster collaboration across manufacturing.
Leading the way in manufacturing
Tim Minshall introduced an opening session from Richard Harrington MP, Minister for Business and Industry, and Juergen Maier, CEO of Siemens UK and industry champion for the flagship Made Smarter programme. Their talks chimed with the Chair's introduction, emphasising the importance of shared vision and purpose across the UK's manufacturing base. Juergen Maier stressed that creators are essential for rebalancing the economy through stimulating high value employment, and urged leaders to 'put the mojo back' into UK manufacturing.
The Made Smarter website (madesmarter.uk) and North West pilot project, recently boosted by additional funding from the Budget, were launched at the event. Juergen Maier described Made Smarter as critical to the success of the UK economy, affecting every sector. The website and pilot project will channel funding and support to around 3,000 businesses, particularly targeting SMEs for R&D funding.
The important manufacturing contribution from the North West region was highlighted by Steve Rotherham, Metro Mayor of Liverpool City Region, who reflected on the proud legacy of Liverpool in leading the way in industry. He spoke positively about the opportunities for Liverpool in continuing to build on this industrial heritage, with the roll out of ultra-fast connectivity, transatlantic connections and clean energy.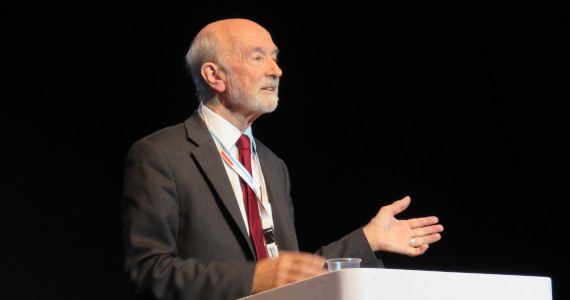 In his opening remarks on day two, Professor Sir Mike Gregory praised strong links between industry and world-class research in the UK.
Professor Sir Mike Gregory, former Head of the IfM, delivered the opening talk for day two of the Manufacturing Leaders' Summit. He emphasised how far we've come in UK manufacturing, capturing value by evolving from a process-driven to systems-focused perspective, and reflected on expansions into digital and automation. He praised the assets the UK has in manufacturing, including a world-class research base, which is now better connected to industrial practice than ever before. He also shared his optimism on the opportunities for the UK to grow its manufacturing role and contribution to the global economy, if we harness our thought-leadership and innovation.
Focusing on people and skills
Tim Minshall chaired a panel discussion on the UK's role in the Fourth Industrial Revolution, with panellists including Juergen Maier alongside Neil Anderson of Caterpillar Skinningrove, and Naveed Khawaja from AstraZeneca.
Sharing thoughts on the question of how leaders in the manufacturing sector should be preparing for the future, panellists focused on people and skills issues. Juergen Maier talked about the importance of leaders giving their employees space and permission to experiment, to do different and innovative things, suggesting that a proportion of time should be set aside for people to explore 'off-line' activities – a practice which is followed at Siemens and widely elsewhere. Neil Anderson also discussed people and culture, and the importance of businesses linking with training and education providers to engage with local communities via internships and apprenticeships. Naveed Khawaja made a plea that leaders should foster creativity and provide variability in roles, to avoid demotivation. All the panellists voiced views on the importance of lifelong learning and in-work training.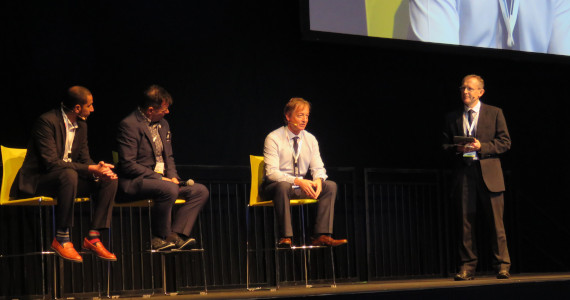 Panel discussion focused on people and skills.
IfM talks and workshops
There was a buzz around the IfM's exhibition stand within the Smart Factory Expo, which welcomed 6,000 visitors over the two days.
The IfM hosted a series of free workshops, as one-hour taster sessions to give delegates an experience of IfM's business strategy tools and to stimulate thought-provoking discussion of issues. These included a roadmapping workshop delivered by Imoh Ilevbare, an automation assessment workshop with Liz Salter, a workshop on prioritising opportunities for innovation delivered by Duncan Hurlstone, and an ecosystem mapping workshop with Florian Urmetzer. The sessions were designed to help participants understand how these methods can help them to tackle real challenges within their organisations.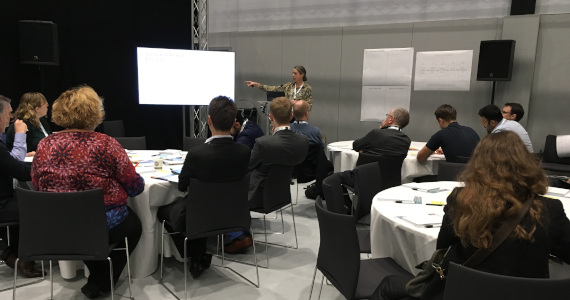 IfM workshops shared business tools and best practice strategies.
In the Innovation conference stream, Tim Minshall's talk on 'Developing Skills for Innovation' considered why innovation matters for manufacturing firms now. He drew on research into open innovation to emphasise the value of working collaboratively beyond organisational boundaries, and spoke about the importance of company culture in developing skills and structures that allow people and ideas to flourish.
Judith Shawcross opened the Talent Management stream with a presentation on the secrets behind the success of the IfM's award-winning 'Gold for Experts' professional development programme with Atos, which develops leadership skills in people with a technology background. She shared ideas on how delegates could rethink approaches to professional development to deliver impact and retain talent.
Insights into current research
The IfM's recently launched research project 'Digital Manufacturing on a Shoestring' was presented in a workshop and a talk by researcher Benjamin Schönfuß. The project involves working with SMEs to investigate how readily available technologies could be implemented on a low-cost basis to support growth and productivity.
There was also a live demo of augmented reality and virtual reality technologies to show skills development in action from researchers Lukas Kemmer, Benjamin Proyer and Christoph Rieger. They were demonstrating how wearable technologies offer potentially effective solutions for training. This drew on a recent research experiment in conjunction with EEF, in which IfM researchers developed a VR application to train people to assemble a tractor clutch in a virtual environment.
Get in touch…
If you missed IfM at Digital Manufacturing Week, or would like to contact us for information about how we could work with your organisation, please get in touch: +44 (0) 1223 766141, ifm-enquiries@cam.ac.uk.
Date published
22 November 2018
For further information please contact:
Related People
Share This