Students aim to patent life-saving design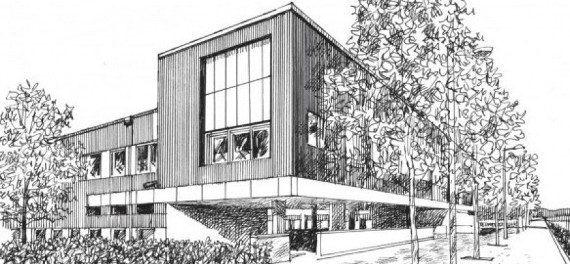 "Mechanisms have recently been invented to prevent syringes from being used more than once – but no-one has found a way to ensure the syringes are then disposed of safely. Our solution involves separating the 'sharps' or needles from the less dangerous plastic syringe body at the point of use."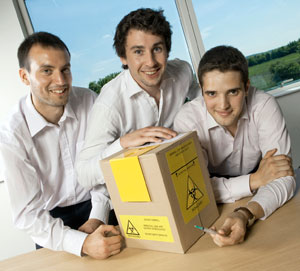 SharpSure Team:
Adrian Wallis, Harry Simpson and Luke Jesson
Three students have come up with a new design for a syringe which may have the potential to save hundreds of thousands of lives in the developing world. The trio of third year MET students, Adrian Wallis, Harry Simpson and Luke Jesson, are now planning to apply for a patent for their design. The syringe is one of nine new product ideas developed as part of the Manufacturing Engineering course. They were on display at the IFM's annual Design Show, supported by Shearline Engineering. The annual showcase is a chance for students to show off their ideas to local inventors, industrialists and designers.
The syringe design, named SharpSure by the students, aims to tackle the risk of infection faced by millions of people in the developing world caused by inadequate disposal of syringes.
"The reuse of syringes causes an estimated 1.3 million early deaths worldwide each year," explained team member Adrian. "Mechanisms have recently been invented to prevent syringes from being used more than once – but no-one has found a way to ensure the syringes are then disposed of safely.
"Our solution involves separating the 'sharps' or needles from the less dangerous plastic syringe body at the point of use – making it much easier to ensure they are safely disposed of. We have re-designed the syringe itself to make the separation action as cheap, simple and safe as possible."
The three students are now in conversation with Cambridge Enterprise – the University-owned company which supports the commercialisation of ideas generated within the university – about patenting their invention.
Date published
15 June 2010
Related People
Share This