Open Innovation Forum hosted by Mars at 'The Biggest Chocolate Factory in the World'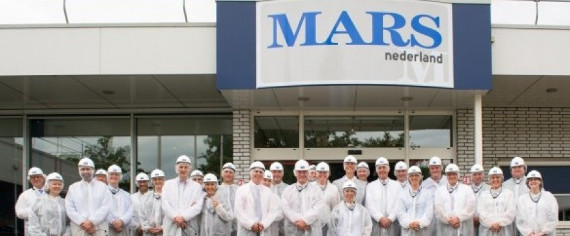 More than 30 innovation leaders from major companies were hosted by Mars in Veghel, Netherlands for the June 2014 meeting of the Open Innovation Forum in the Food and FMCG Value Chain.
The forum, set up in 2010, currently has 19 member companies from all stages of the food and FMCG value chain who share best practice, explore 'hot topics' and participate in accelerated open innovation collaborations.
The main focus for the first day at Mars was around 'Innovation for Retail', with the group sharing case studies of successful innovation and then exploring the future context of multi-channel "clicks and bricks" retailing and the implications for the whole value chain.
Experts from Mars' sensory team lead the group on an exploration of the subtleties of chocolate taste and experience before a tour of the facility. The group was impressed by the Veghel operation which serves most of the central and eastern European market with products such as Mars Bar and Bounty with a remarkably efficient workforce. The pride of Mars' Associates was evident as they showed off the latest investment in the new Twix line that was opened this year.
Day two of the event focused on sharing best practice in how to find the right partners for external collaboration and how best to manage and access the knowledge that exists within large corporations. The group then set about bringing the power of their combined insights from across the value chain to solve real innovation challenges identified by five of the members.
Potential solutions and ecosystem partners were identified for challenges including mess-free dispensing; new taste experiences; recyclable packaging; extended innovation networks; and even better barbecues.
The group thanked their hosts at Veghel who truly lived up to the Mars Principle of Mutuality in the context of open and collaborative innovation.
See a list of current forum members.
The forum is operated by IfM Education and Consultancy Services. For more information contact Dominic Oughton (do251@cam.ac.uk) or visit here.
Date published
8 July 2014
Related People
Share This