Lord Sainsbury gives a talk as part of the Babbage Lecture Series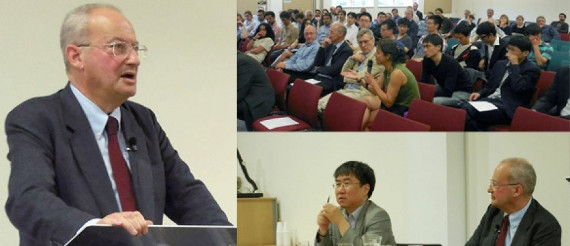 On Thursday 20 June, the IfM hosted a talk by Lord Sainsbury of Turville, Chancellor of the University of Cambridge, on Linking science, engineering and economics a progressive capitalism approach.
About 150 academics, students, government and industry people attended the event, which was part of a lecture series run by the Babbage Industrial Policy Network and sponsored by the Centre of Science, Technology and Innovation Policy (CSTI).

The Babbage Industrial Policy Network is a collaboration between academics from CSTI, the Faculty of Economics and the Centre of Development Studies at the University of Cambridge. It brings together leading figures as well as young researchers from the fields of economics, engineering and operation management, all with a common interest in manufacturing and industrial policy. As part of the initiative, a series of lectures is held throughout the year where key figures from academia, government and industry are invited to discuss innovation and industrial policy-related issues. The first year of the Babbage Lecture Series hosted five events and saw the participation of: Mike Gregory, Ha-Joon Chang, Mario Sergio Salerno, Patrizio Bianchi, Ken Warwick, Bob Rowthorn and Lord Sainsbury of Turville.

Lord Sainsbury is the former Minister of Science and Innovation, the Chancellor of the University of Cambridge and the founder of the Gatbsy Charitable Foundation, which provides financial support to independent research organisations involved in public and economic development policies. Drawing from his recent book Progressive Capitalism, Lord Sainsbury illustrated how his concept of progressive capitalism is based on a strong belief in a specific form of capitalism – the one incorporating three distinctive ideas of progressive thinking: institutions play a critical role in regulating socio-economic relationships; the state has to be involved in their design because conflicting interests have to be resolved; and finally, in addition to economic growth, social justice is a key measure for the evaluation of the functioning and performance of any economic system. Within the broad 'varieties of capitalism', the progressive capitalism framework proposes a new perspective on the role of the state as key enabling actor, going beyond both the vision proposed by traditional socialism and neoliberalism.

For more information on the Babbage Industrial Policy Network and its activities visit this page.


Date published
1 July 2013
Related People
Share This