Key IfM role in new research centre to help manufacturers improve efficiency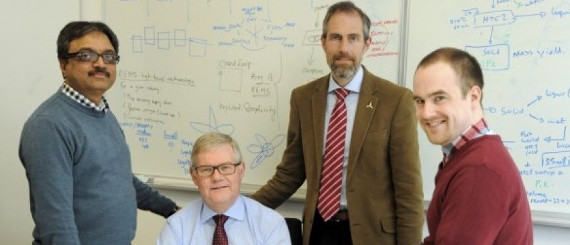 The Institute for Manufacturing's research skills will be a key component of a new specialist centre dedicated to finding ways to help businesses improve efficiency in manufacturing.
The Centre for Resource Efficient Manufacturing Systems (REMS) has been set up as a collaborative partnership which combines the research skills of the IfM, the research and business-facing expertise of Teesside University and the manufacturing innovation abilities of the Centre for Process Innovation (CPI).
It is based at Teesside University and will research and investigate manufacturing processes and supply chains to help companies improve production processes by reducing emissions, saving time, reducing cost and minimising the resources they use.
The REMS centre's director is Dr Graham Hillier, the director of strategy and futures at CPI, who will work with Dr Richard Court and Callum Campbell as well as PhD student Mangesh Gharfalkar.
Dr Hillier said: "There is a finite amount of raw materials in the world and, at some point in the future, some of the most important could start to run out. The challenge is to use the resources we have as efficiently as possible.
"The REMS centre will work with companies to help them to understand how to make better products with lower environmental impact while still making enough money to succeed economically – in short, to become more resource efficient.
"Many companies are aware of what needs changing but are afraid of making that change. At the Centre, we want to do the research that will give them the models to demonstrate the real improvements that can be made and convince them to make the change.
"We want to link together a lot of different disciplines to demonstrate how whole manufacturing systems work. Even if a company is only a small part of a system, it can do things to make its operations run smoother and to make the whole supply chain run better."
Professor Sir Mike Gregory, Head of the IfM, and Professor Steve Evans, the director of the IfM's Centre for Industrial Sustainability, are on the steering group of the REMS centre.
The Centre for Industrial Sustainability aims to develop knowledge and tools that help accelerate the transition towards a sustainable industrial system. Part of its research focus is related to resource efficiency – sometimes referred to as "more is less" – and on redesigning the whole manufacturing system, rather than just particular elements. It has also developed expertise in taking materials and turning them into products.
The REMS centre offers the opportunity to draw on the IfM research for project-based collaborations, particularly in the chemicals sector.
A number of UK-based companies have already expressed an interest in working with the REMS centre to understand their supply chains and investigate ways to improve their whole manufacturing system to increase efficiency and reduce resource consumption.
Photo: From left, Mangesh Gharfalkar, Dr Graham Hillier, Dr Richard Court and Callum Campbell
Date published
3 July 2014
Related People
Share This