Insect protein steals the show – OI Forum pitching event won by Protifarm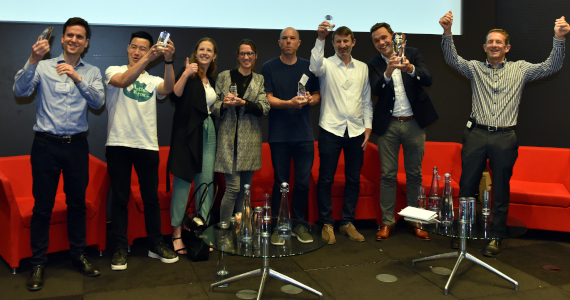 An entrepreneurial producer of alternative protein, Protifarm, has been voted as the winner of the IfM's Open Innovation Forum Spring pitching event, held in London on 26th June.
Protifarm is a Dutch innovator producing sustainable ingredients for the food industry from food-grade farmed insects. The company was one of six inspiring entrepreneurial ventures chosen, addressing this pitching event's focus on 'end-to-end sustainability for the food and drink sector'. The six had been selected as finalists and given the opportunity to pitch to a panel of food industry 'dragons' and an audience of senior executives from across the food sector at the Forum's pitching event.
A chance to for food industry start-ups pitch to global decision makers
The June meeting of the Open Innovation (OI) Forum was hosted as part of the Food Tech Matters conference (which was also co-located with the IfM Briefing on Innovation for Food Security and Sustainability, held the previous evening). Pitching sessions are organised by the OI Forum, convened by IfM Industrial Associate Dominic Oughton, to provide an opportunity for innovators and technology spin-outs, start-ups and SMEs to pitch their ideas or business to some of the world's largest food, drink and FMCG companies.
The Open Innovation (OI) Forum is a group which brings together major multinationals from across the food, drink and FMCG industry, spanning the supply chain from ingredients and materials through processes and technology, to brand owners and retail. These companies come together regularly to consider strategic and collaborative approaches to innovation, actively looking outside their own organisations to harness external innovations.
The start-up companies pitched their businesses for a vote from the industry audience as well as a panel of 'dragons', which included James Ede (Sustainability Manager at Cargill), Nathan Wrench (Head of Sustainability Innovation at Cambridge Consultants) and Gary Punter (Visiting Fellow at the Institute for Manufacturing and formerly Head of Innovation at AB Sugar) along with Dominic Oughton.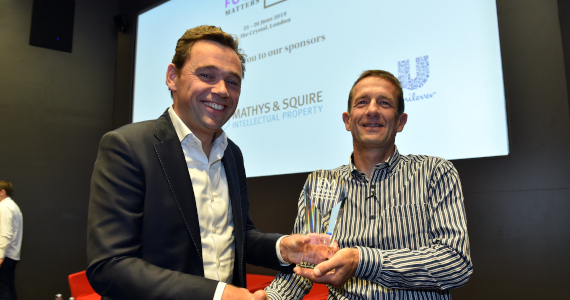 Tom Mohrmann (left), CEO of Protifarm, receives the winning pitch award from Dominic Oughton.
Protifarm's CEO Tom Mohrmann impressed the audience with his company's insect-based protein, an alternative and high-quality protein, which can be sustainably farmed and is highly scalable for mass production. He highlighted some of the environmental issues caused by conventional livestock farming, and showed how buffalo beetles can be farmed in large, vertical warehouses with a carbon footprint a fraction of the size of that created by farming larger animals. For audience members sceptical about eating insects, the presentation showed some appetising-looking end products including baked goods, pasta and burgers.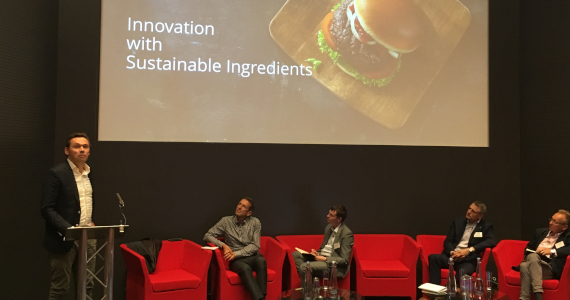 Pitch finalists: end-to-end sustainability for the food and drink sector
The six finalists had been successfully shortlisted from among all the innovative start-ups who applied to the June pitching competition. It was open to entrepreneurial companies with business concepts which are helping to solve challenges around reducing food waste and re-purposing waste streams, driving down energy, water and resource consumption, raising the end-to-end efficiency of supply networks or improving the sustainability of raw materials, ingredients and packaging.
The five runners-up were: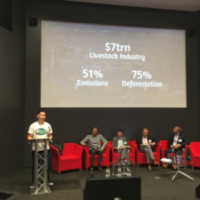 Another start-up focusing on alternative proteins, Better Nature offers a range of food products made using tempeh, applying fermentation techniques originating in Indonesia to make natural plant-based proteins from legumes, nuts, grains and seeds.
Co-founder Christopher Kong highlighted the emissions and deforestation caused by the livestock industry, and the level of consumer interest in alternative products which help to reduce meat consumption.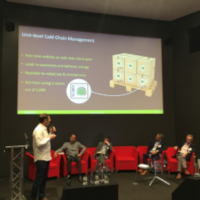 Providing unit-level cold chain management, Evigence aims to address food wasted in the supply chain before it reaches consumers. This well-informed pitch emphasised the issues of the cold chain in food, where freshness is critical yet difficult to assess while food is being transported.
The company has developed simple, printable sensors which provide smart visual information to indicate freshness history and temperature – changing colour to show freshness level. The sensors are readable by the naked eye and by smartphones.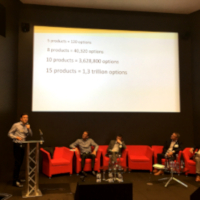 Next up to pitch to the dragons was Flexciton, a company using AI-based software to optimise production schedules for manufacturers.
Giving an effective explanation of the difficulties for factories of translating market demand into production schedules in a tight-turnaround window, and emphasising the extreme complexity of production scheduling, this pitch illustrated how AI-optimised schedules can help to reduce operating costs and help firms make more efficient use of energy and resources.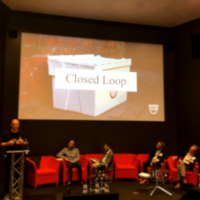 Tackling a different area of the food chain, the next pitcher, Good Club, is building an online grocery shop for sustainable staples products. These food and FMCG products are not fresh, thereby avoiding the cold chain.
Good Club is looking to create a 'closed loop' approach to packaging, by recovering as much of the packaging as possible from consumers and reusing it. It has adopted a membership model, and aims to keep costs low for customers, with a vision to bring sustainable products to a wider audience at a lower price.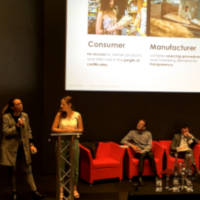 The final pitcher was Seedtrace, an app-based platform aiming to improve traceability with more efficient certification. The app uses QR codes on products to track all the steps in the supply chain from origin to sales, so producers, retailers and consumers have more visibility of the product history and journey.
The entrepreneurs also explained that this transparency provides new market opportunities for food producers and new sourcing opportunities for global food companies.
Get involved: November pitching event applications are open
The OI Forum's next pitching event is being held in conjunction with FoodBytes! by Rabobank on 6-7 November 2019 in London.
The Foodbytes! event is part of an international series "with the aim of showcasing the very best in food, foodtech and agtech game-changers creating sustainable alternatives to feed the world's growing population, whilst minimising the carbon footprint of the food and agriculture industry."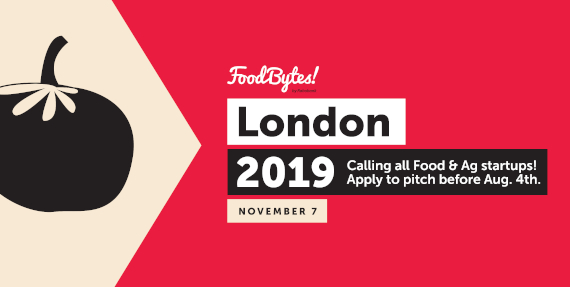 London 2019 will see fifteen early-stage startups compete live on the FoodBytes! stage at Victoria House. Participants will benefit from intensive mentorship sessions from industry experts, whilst connecting with leading corporates, investors and fellow startups to help scale their business.
Apply to pitch by the deadline of 4th August.
Find out more here: https://www.foodbytesworld.com/foodbytes-returns-to-london/
Date published
9 July 2019
Related People
Share This