Innovative food technology start-up wins Open Innovation Food and FMCG Pitching Event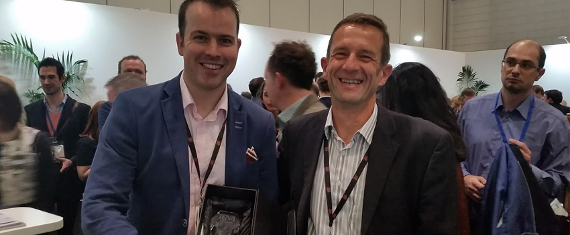 A start-up which uses artificial intelligence and DNA analysis to create health-benefiting ingredients has won the 5th Food & FMCG Innovation Pitching Event held in London on 23 November at Food Matters Live.
Dublin-based Nuritas discovers and unlocks ingredients from food sources in a new way, providing natural, sustainable and scientifically-proven health solutions for a variety of applications from medical food to cosmetics.
Dominic Oughton, who leads the OI Forum, said: "Nuritas scored especially highly for how innovative its solution is – significantly ahead of what was a very strong field."
The company was one of 18 start-ups, spin-outs and research groups who pitched their innovative ideas and products to a group of senior leaders from Mars, Tesco, Procter & Gamble and Pepsico among others. These are part of the Open Innovation (OI) Forum, a programme that provides support and opportunities for companies involved in the Food and FMCG value chain.
Other highly commended pitchers were:
We're already open to receive applications for 2017, so to register your interest (or if you know of an organisation with a great innovation to share) please see: http://www.ifm.eng.cam.ac.uk/events/oipitching17/
The OI Forum was set up by IfM Education and Consultancy Services, the dissemination arm of the University of Cambridge Institute for Manufacturing. To learn more click here or get in touch with Dominic Oughton.
Date published
30 November 2016
Related People
Share This