IfM works with Domino Printing to improve performance in continuous inkjet printers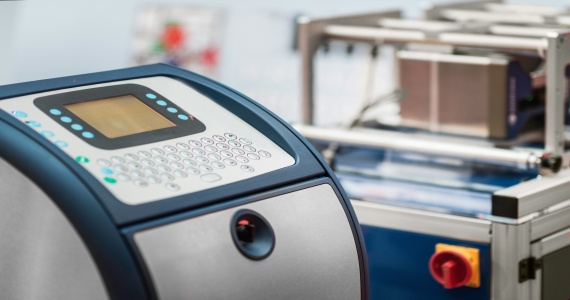 The IfM has worked with global printing company Domino to help optimise ink designs for different production environments.
The collaborative venture, which looked at the jetting process in continuous inkjet (CIJ) printing systems, paves the way for more efficient and sustainable printing processes and consistent, reliable print quality.
Dr. Cristina Rodriguez Rivero worked with researchers in Domino to study the jetting process of CIJ printers at the micro level. By looking at how to tackle particle build-up of CIJ printers – which can lead to frequent cleaning and subsequent downtime – the project has led to a better understanding of why particle build up occurs, and how to overcome it.
'By running a series of high-speed experiments using illuminating lasers and smoke to observe build-up, the project has provided insights to help Domino optimize ink designs,' said Dr Josie Harries, Group Programme Director, Domino Printing Sciences [Domino].
'It has also allowed us to explore where we can develop in-house capabilities, similar to the visualization techniques employed by the IfM, so that we can conduct further research as part of new ink development processes. That way, we can continue to provide reliable solutions for our customers in the future, as and when new production processes arise.'
Dr Ronan Daly, head of the Fluids in Advanced Manufacturing research group at the IfM said: 'Our work with Domino Printing shows how collaboration can lead to real industrial impact. There is a long history of advanced imaging at IfM, to help build further scientific understanding of manufacturing processes. We hope our work with Domino will contribute to their printer design process and add real value for customers.'
Read more from Design Solutions.
Read more about the project: 'Deflecting the Issue: The Origin of Nanoscale Material Build-up in Continuous Inkjet Printing'.
For more information please contact Ronan Daly [rd439@cam.ac.uk]
Date published
24 September 2021
Related People
Share This