IfM publishes report highlighting opportunities and challenges for UK manufacturing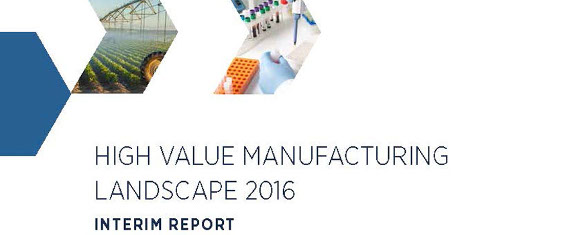 The Institute for Manufacturing (IfM) has published a new consultation paper looking at the UK's High Value Manufacturing (HVM) landscape over the next 15 to 20 years.
Building on the 2012 High Value Manufacturing Landscape, this work was commissioned by Innovate UK and carried out by the IfM and its dissemination arm, IfM Education and Consultancy Services (IfM ECS). The study takes account of the new insights and capabilities that have been developed since the previous report, focusing more directly on the challenges facing manufacturing industries. The aim is to help the UK's policymakers, manufacturers and researchers make decisions about how best to support the growth of HVM - an industry currently worth around £275 billion to the UK economy.

The report comes at a time when global manufacturing is going through a period of rapid change. New technologies are emerging which have the potential to transform the way we make and sell products. By analysing what the UK is good at and the threats it faces, the report highlights new areas of both challenge and opportunity. Many of these derive from the digitalisation of manufacturing – using digital manufacturing technologies and systems to, for example:
Customise products and services
Bringing new products to market much more rapidly
Develop 3D printed electronics for the next generation of smart devices
Create wearable devices with built-in sensing for use, for example, in healthcare and diagnosis.
Other areas which are likely to have an impact on the HVM landscape include:
Greater investment in automation and robotics
National infrastructure projects in rail, energy and building and construction
Key sectors such as aerospace, automotive and defence strengthening their supply bases and developing new product and process innovations that could also benefit other sectors.
This study is based on widespread consultation with manufacturers, government bodies and research institutions. It will directly inform the development of Innovate UK's Manufacturing and Materials strategy and the direction of the High Value Manufacturing Catapult.
Zoe Webster, Head of High Value Manufacturing for Innovate UK said: "Innovate UK continues to develop the manufacturing and materials strategy and has commissioned this work to identify new themes and changed priorities as one of a number of inputs to that strategy."

Clare Marett, Head of Manufacturing at the Department for Business, Energy and Industrial Strategy, said: "We are in the middle of a global shift in the use of digitally-enabled technology and connectivity across the manufacturing value chain which has the potential to transform conventional production processes and business models, enabling a new era of products and services for more demanding customers and consumers. These changes have the potential to open new markets, improve UK manufacturing productivity, increase jobs and improve manufacturing sustainability. This report outlines a number of very important challenges which the UK needs to exploit in order to be at the forefront of this global revolution."

Dick Elsy: CEO HVM Catapult, said: "The HVM Catapult has been recognised as providing significant support to innovation in UK Manufacturing, as demonstrated by the national and industrial investment attracted to support its work. This report will help to develop the priorities for the Catapult and it reflects many of the themes on which industry is increasingly focused. It is a valuable input to the continuing work to develop a national strategy for High Value Manufacturing."

Alex Amey, Associate Head of Business Interaction, Biotechnology and Biological Sciences Research Council, said: "Bioscience is at the heart of key UK industries and it plays a vital part in supporting economic growth and social well-being. This report reflects that importance and in particular highlights some of the significant ways in which the UK's bio-manufacturing capabilities for the production of chemicals, biopharmaceuticals, food and fuels through industrial biotechnology can be advanced. Industrial biotechnology is predicted to have significant growth and impact over the next decade and is an important component of the UK bio economy."

Professor Ian Youngs, Dstl Fellow, Defence Science and Technology Laboratory, said: "This report, together with other related studies by the IfM, identifies many themes in common across the civil manufacturing sectors which are directly relevant to defence and security and thereby, the work underlying the report, also makes a valuable contribution to our own S&T strategy development."

Professor Andy Neely, Head of the IfM, said: "High value manufacturing has always had a major part to play in securing national prosperity. Now that we are leaving the European Union, having a strong industrial strategy is more important than ever before. By providing a rigorous and structured approach to understanding the high value manufacturing landscape, this report will help policymakers, manufacturers and researchers arrive at a shared vision of what our priorities need to be if the UK is to capitalise on its existing strengths."

Katie Daniel, Manufacturing the Future Lead, Engineering and Physical Sciences Research Council, said: "Manufacturing's contribution to the UK economy is supported by new developments emerging from the UK's research base. EPSRC aims to invest in manufacturing research that will help solve some of the most serious challenges facing the UK today and in the future. This report highlights a number of important themes that will help inform the future direction of manufacturing research within the UK."
The consultation paper is available to download here.
Date published
19 September 2016
Related People
Share This