IfM joins innovative 5G trial at Port of Felixstowe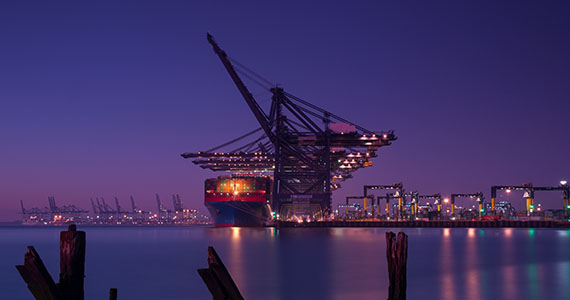 The IfM will be helping to explore new applications for 5G technology as part of the UK government's 5G Create competition, which aims to test how Britain can seize the full benefits of 5G and help British industries capitalise on the power of modern technology.
Working with Three UK, Blue Mesh Solutions, Ericsson and Siemens, the project will test the potential of 5G at the Port of Felixstowe.
It will explore two use cases: enabling remote-controlled cranes via the transmission of CCTV; and deploying Internet of Things sensors and artificial intelligence to optimise the predicative maintenance cycle of Felixstowe's 31 quayside and 82 yard cranes. Harnessing the speed, low-latency and high-capacity of 5G, the project will demonstrate the productivity and efficiency gains of such technology, whilst reducing unplanned outage.
Dr Ajith Parlikad, head of the Asset Management research group at the IfM, said: 'This is a fantastic opportunity to explore how we can bring together the advances in Industrial Internet of Things (IIoT), 5G, and advanced machine learning and artificial intelligence to radically transform the way in which assets are managed and maintained in a complex industrial environment.'
Date published
19 January 2021
Related People
Share This