Innovation management methods identify how to address root causes of depression in young people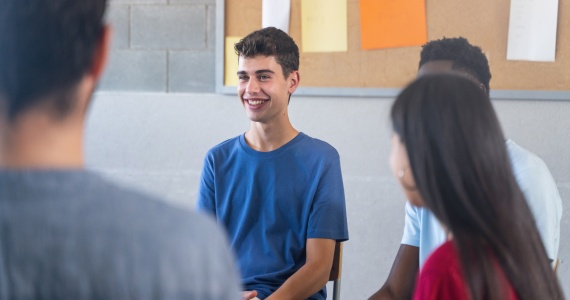 More young people than ever are suffering from depression. One in seven young people aged 10–19 experiences a mental disorder, accounting for 13% of the global burden of disease in this age group. The condition has a vast and potentially devastating impact on them, their family, and their friends, impairing their physical and mental health and extending into adulthood.
Despite the availability of effective treatments for depression, up to 80% of affected adolescents do not receive appropriate care and 50–75% experience a relapse, even after successful treatment.
A new way forward: Changing Minds, Changing Lives
Contributing to the need for a new way forward, the Changing Minds, Changing Lives report sets out innovative, evidence-based approaches to help prevent the development of first-episode depression in children and young people, enable their recovery from depression, and allow them to remain in remission.
The report is the result of a collaboration between researchers from the Institute for Manufacturing (IfM), innovation management specialists from IfM Engage (the IfM's knowledge transfer company) and the William Templeton Foundation for Young People's Mental Health (YPMH), with funding from the Aviva Foundation and the Waterloo Foundation.
Evidence-based innovation management methods from the IfM's Centre for Technology Management were used to generate consensus from key stakeholders (schools and colleges, employers, public health organisations, clinicians, researchers, families and the food industry) on factors which cause or could be used to address depression.
"These evidence-based innovation management methods, such as roadmapping and portfolio selection, have been widely used in industry for many years and have a track record of enabling innovation. We are now using them to address complex, multi-stakeholder healthcare issues in the mental health ecosystem", explains Letizia Mortara from the Centre for Technology Management at the IfM.
"These methods allowed the project team to bring together different parties, including patients, parents, general practitioners, clinical psychologists and psychiatrists, educators and researchers, so that we can build broad partnerships to develop, pilot, validate and implement innovations that meet real needs and better support young people's mental health and well-being," she added.
New insights into how to address depression
Peter Templeton, Executive Director of Strategic Development at IfM Engage and founder of YPMH, said: "This report offers new insights into how depression develops in young people, spanning societal factors, individuals' options and choices, their underlying conditions and experiences, and psychological factors; and related physiological changes.
"It identifies forty-five projects to help enable the prevention, early detection, diagnosis, management and treatment of depression in children and young people."
The Changing Minds, Changing Lives report provides:
a model of vulnerability factors and mechanisms for the development of depression in young people over the life course.
opportunities for collaboration on projects with real potential to make a difference.
straightforward suggestions for how actors across society can work more effectively to prevent and intervene early to address depression.
promising areas for further research that have the potential to underpin impactful innovations in the future.
"Taken together, these opportunities can change the current trajectory of depression – and change society for the better," says Peter.
Professor Peter Jones, Department of Psychiatry, University of Cambridge said: "Understanding and responding to depression in young people, like virtually all mental health disorders, is a contested professional space. This report from IfM and the Foundation for Young People's Mental Health is a most welcome approach that should act as a Rosetta Stone for different explanatory models and offer hope of real, interdisciplinary progress for prevention, early identification and treatment."
Identifying 'gaps' in the system
Alex Christopoulos, Foundation Lead & Senior Strategic Adviser and Consultant, the Aviva Foundation, reflected on the importance of taking a joined-up approach to understanding the causes of depression:
"By identifying gaps in the system and how they can be fixed, the report identifies the kinds of innovative collaborations needed to make a real difference to young people. It challenges different stakeholders in society – from education to health, policymakers to community leaders, industry and employers – to understand their role in building more supportive, resilient communities that are responsive to the needs of young people.
"The Aviva Foundation is proud to have supported the report. The initiative will make an important contribution to the evidence base that informs how depression in young people is understood, prevented, managed and treated."
Dr Jon Wilson, Consultant Psychiatrist for Central Norfolk Youth Service, Norfolk and Suffolk NHS Foundation Trust concluded: "This is a fantastic, timely document. It will be essential reading for any policymakers wanting to understand the drivers for our national mental health crisis."
---
Changing Minds, Changing Lives builds on an earlier collaboration between the partners that developed a multidisciplinary understanding of how depression develops, published as Changing Hearts, Changing Minds in September 2021.
Date published
23 April 2023
Related People
Share This