IfM Head, Andy Neely awarded Institution of Engineering and Technology Achievement Medal for Manufacturing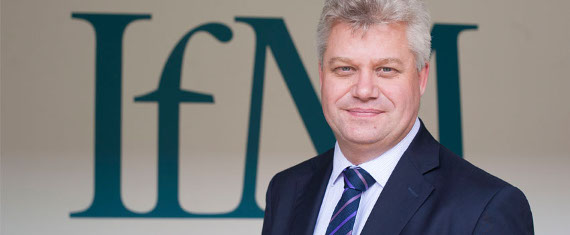 Professor Andy Neely, Head of the University of Cambridge's Institute of Manufacturing and Founding Director of the Cambridge Service Alliance, has been awarded the Achievement Medal for Manufacturing, one of the Institution of Engineering and Technology's (IET) Achievement Awards.
The IET Achievement Awards, which recognise some of the world's top engineering talent, acknowledge individuals who have made an exceptional contribution to the advancement of science, engineering and technology in any sector, either through research and development in their respective technical field or through their leadership of an enterprise.
Dr Ian Nussey OBE, Awards and Prizes Committee, said: "Founding Director of the Cambridge Service Alliance, Professor Andy Neely has been at the forefront of research on manufacturing industries for over 25 years. He is one of the most widely cited scholars in the world on two primary topics of research and has personally advised four governments.
His work on servitisation - the tendency for manufacturing firms to sell services and solutions rather than products - has ensured long term survival and success for many UK firms. His ideas on key performance indicators have influenced numerous organisations to rethink how they position themselves for long term success, including their wider responsibilities to society."
Dr Tim Constandinou, Chair of the IET Awards and Prizes Committee, said: "These awards enable us to recognise the huge impact that leading engineers and technologists have made within the engineering profession and on all our lives. Whether they are a young professional demonstrating outstanding ability or an engineer at the pinnacle of their career, the Achievement Awards are a way for the IET to celebrate their success. All of those who have been shortlisted, as well as the winners, should be extremely proud of their achievements."
The winners, who were nominated by their peers, and selected by a panel of IET judges, are leading engineers and technologists, who will now be invited to collect their awards at a prestigious awards ceremony on 16 November.
About the IET
The IET is one of the world's largest engineering institutions with over 167,000 members in 150 countries. It is also the most interdisciplinary – to reflect the increasingly diverse nature of engineering in the 21st century. Energy, transport, manufacturing, information and communications, and the built environment: the IET covers them all.
The IET is working to engineer a better world by inspiring, informing and influencing our members, engineers and technicians, and all those who are touched by, or touch, the work of engineers. The organisation wants to build the profile of engineering and change outdated perceptions about engineering in order to tackle the skills gap. This includes encouraging more women to become engineers and growing the number of engineering apprentices.
Date published
19 September 2016
Related People
Share This