Digital transformation in the energy sector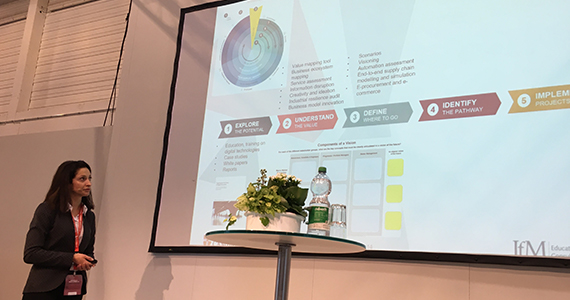 Dr Diana Khripko was recently invited to speak at E-World Energy and Water in Essen where she presented IfM tools and case studies relevant for the energy sector.
Digital technologies are key to energy transition as they open up a multitude of possibilities for the energy industry and its customers. Diana presented a keynote in the Innovation Forum on digital transformation in the energy industry.
Diana also co-hosted a workshop in the Congress with Dr Imoh Ilevbare which explored in more detail the 'five steps for digital transformation' framework developed by IfM ECS. The model helps to explain the challenges faced during transformation and how different IfM tools and approaches can be used at different stages of the digital journey.
Following the talks and workshops, many companies were interested in topics presented and there have been some interesting follow up discussions.
Date published
17 February 2020
For further information please contact:
IfM Communications
T: +44 (0)1223 766141
Related People
Share This