Policy Links seminar for government on UK's value chain capabilities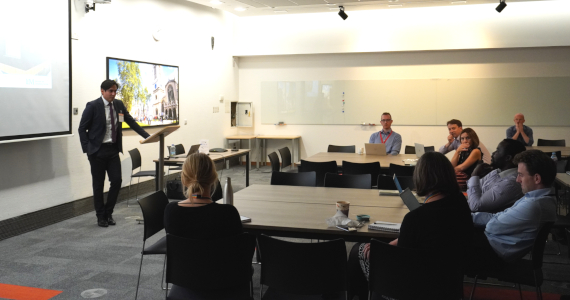 The UK government's Industrial Strategy emphasises the importance of strong domestic supply chains, arguing that the health of the UK's industrial sectors depends on a 'vigorous ecology of suppliers'.
To inform policy thinking in the UK, the Department for Business, Energy and Industrial Strategy (BEIS) asked the IfM's Policy Links team to look at the experiences of other countries. The findings and recommendations of the resulting report, "New Industrial Capabilities For New Economic Growth:
a Review of International Policy Approaches to Strengthening Value Chain Capabilities" , were presented to a group policymakers by Dr Carlos López-Gómez, Head of Policy Links, at a 'Brown Bag Lunch' seminar at BEIS on 5th September.
Key opportunities for UK manufacturing
As part of the study, the Policy Links team developed a framework to compare different approaches taken by national governments to develop national 'value chain capabilities'. These are capabilities that underpin innovation and competitiveness for the country as whole rather than at the firm level. Value chain capabilities are not just about the physical flow of materials, but also the flow of data, knowledge and innovative ideas, as well as the collective ability to adapt and reconfigure to respond to new opportunities.
The framework identifies four key areas of opportunity for the UK:
First, 'exploiting domestic supply chain opportunities' considers how value can be captured from efficiency gains and improved trade balance. The report highlights that the UK currently sources only half of manufactured parts domestically, compared with 90% of services. Increasing domestic sourcing could be done by developing competent local suppliers and connecting them to domestic demand. This is about developing stronger connections between enabling firms to be more responsive to market demand fluctuations, sharing resources, enhancing collaborations, reducing of inventories, and reducing carbon footprint.
The second opportunity is 'technology diffusion along value chains', encompassing value capture from improved productivity and competitiveness. One of the issues in this area is that firms are not always aware or capable to adopt technologies that are already available in the market. Large UK businesses might underinvest in supplier development, partly due to fear of sharing strategic information that may help competitors. Opportunities include the potential for UK SMEs to achieve productivity gains through the adoption of disruptive technologies, enabled by larger firms and government initiatives supporting technology adoption across the value chain.
'Promoting research and development (R&D) among SMEs in the value chain' is the third opportunity outlined, which considers the potential for improved value capture from a more inclusive national innovation system. Evidence shows that even in advanced countries only 2% of small manufacturing firms are conducting R&D. SME research associations and partnerships between large and small firms can be a source of innovation for both.
The fourth opportunity identified in the report is 'enabling development of the value chains of the future'. This covers developing new value chains for next-generation technologies, products and industries, and presents opportunities to build shared supply chain capabilities in strategically important sectors. This opportunity is particularly important for the UK, as the country seeks to capture value from its leadership position in a number of technologies.
For each of the four opportunities, Dr Carlos López-Gómez referred to examples from other countries to show how these areas can be developed for improved value capture and competitiveness. Case studies included the Manufacturing Extension Partnership in the US, Japan's Kohsetsuchi network, Canada's Industrial Research Assistance Program, Germany's Federation of Industrial Research Associations, and SIMTech in Singapore.
Considerations for policy making
The report identifies a number of pivotal policy implications for the UK. These include:
The need to have a national institutional infrastructure for decentralised policy delivery, including ability to support firms across regions.
The need to build a robust evidence base about the opportunities and challenges across UK sectors to inform policy design and delivery.
The need to systematically account for the particular challenges faced by SMEs for engaging in research and innovation activities.
The need for efforts beyond R&D and knowledge generation to ensure policy impact.
The need for performance metrics beyond productivity and R&D.
Further information can be read in the case study, available here:
https://www.ifm.eng.cam.ac.uk/uploads/Content_Images/CASE_STUDY_Supply_Chain_Capability.pdf
IfM Briefings
The seminar on 5th September was part of the IfM Briefings series, which includes events for industry, government and academic audiences. Find out more about the series here.
Date published
30 September 2019
Related People
Share This