Cambridge engineering students display their design skills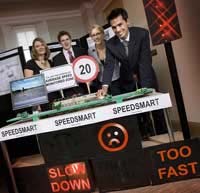 The Speedsmart Team
with their road safety project
Manufacturing Engineering students at Cambridge University held their 2007 Design Show on Wednesday 6th June, displaying a range of new products that they have developed as part of their course, including a pocket Braille reading tool and a system that holds up speeding motorists.
The Design Show is held each year for an invited audience of local industrialists and designers. Students put together displays to explain the technical and business ideas behind the products, together with design details and prototype models of the products themselves.
"The students have been working on their projects for most of the past year and the results are fantastic," said Lecturer Dr James Moultrie. "Some ideas have real commercial potential and they will be seeking finance to take them further."
Dr Moultrie said: "These designs not only reflect the imagination of our students, but the emphasis we place on turning technology into products that are attractive, user-friendly and above all meet a real customer need. Hopefully some of the ideas will see the light of day in a commercial setting in the not-too-distant future."
Date published
4 June 2007
Related People
Share This